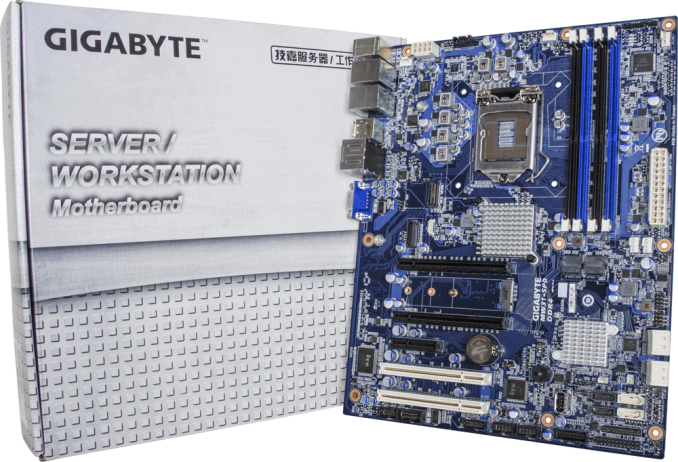 With the new E3-1200 v5 processors announced today we also get a new series of workstation/server motherboards under the C230 series. Aside from standard workstation and Xeon markets that these platforms typically target, due to a set of increased limitations these new processors will not work in consumer grade motherboards, meaning that even for home use the C230 series will be at the front and center for enthusiasts who are interested in going down the Xeon route. Today GIGABYTE Server announced a quartet of motherboards for end-users and business customers alike, including ATX and mini-ITX configurations with IPMI management and NVMe support.
MW31-SP0 (link)
First up is a dual graphics workstation board for SLI or Crossfire with dual Intel network ports (I210+I219-LM), a COM port, TPM support, M.2 support and an interesting proprietary connector between the CPU socket and the PCIe slots for expansion cards: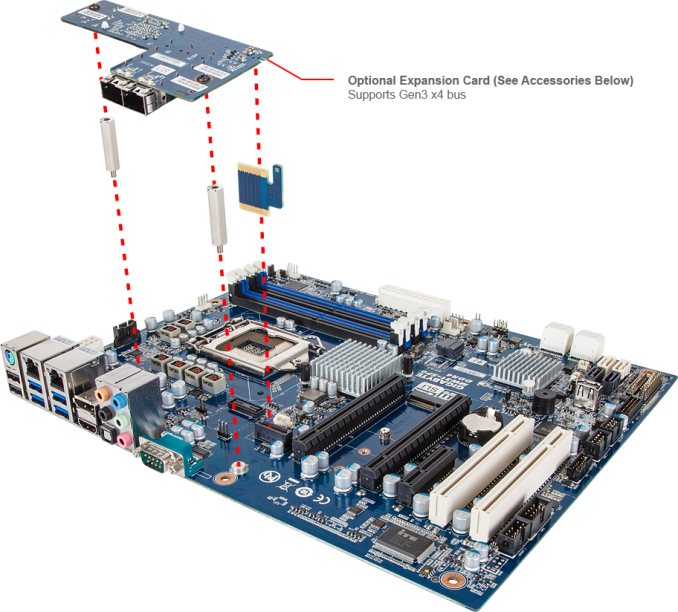 GIGABYTE Server sells cards for 10 gigabit Ethernet, Thunderbolt 3 via Intel's Alpine Ridge controller, or additional M.2 slots as required. This proprietary connector has bandwidth for up to four PCIe lanes, and the range of cards that will be offered will most likely depend on the take-up of this connector and how many customers are interested in customizing parts of their motherboard like this.
Other features include an on-board USB Type-A port for software license dongles and the use of a low-end Realtek ALC887 audio codec that we normally find on low end motherboards. Interestingly rather than take the full eight SATA ports from the chipset, here there are four as expected but another four from a Marvell 9230 controller, which does not support RST but its own control storage system for RAID. The PCIe x4 slot in the middle of the motherboard is only a PCIe x2 by design, and we also get USB 3.0 support via a VLI controller rather than the chipset. There is no IMPI control on this motherboard either.
MW21-SE0 (link)
Moving to micro-ATX, this model is somewhat stripped out providing a base entry into a Skylake Xeon workstation. There is no onboard audio for example, only a single PCIe 3.0 x16, only one Intel I219-LM network controller, a TPM, some SATA ports and USB headers, plus four DDR4 slots for up to 64GB of memory. Add in a COM port, VGA for the AST1400 control and that's about it.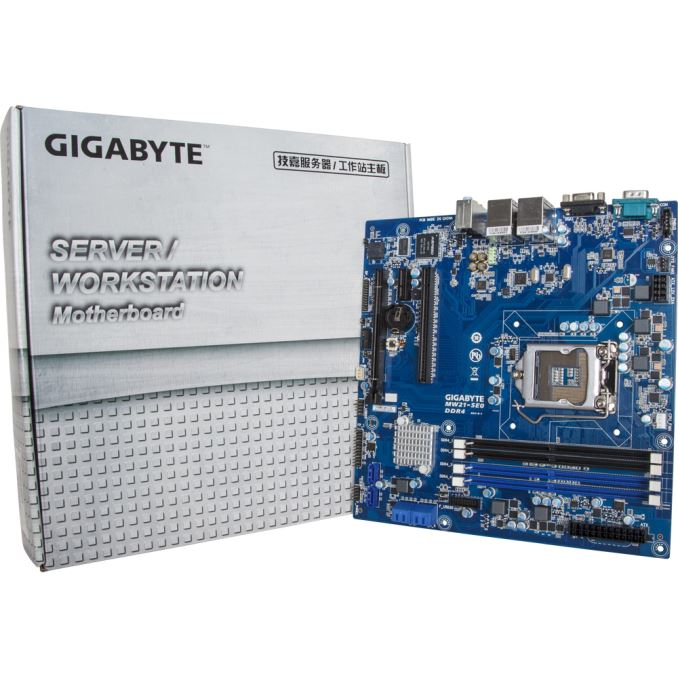 The design is offers a four-phase processor arrangement, with the final PCIe slot at x4 from the chipset. Despite the image above looking as if the DDR4 memory is inserted sequentially, it seems that this 'stock' photograph is from a mockup where the slots were placed in the wrong colors.
MX11-PC0 (link)
On the server side, the MX11-PC0 actually looks like an interesting mini-ITX motherboard for the rest of the ecosystem to consider. It somewhat attempts to adhere to the thin mini-ITX standard with a half-height rear IO, but there are a number of interesting elements to this worth noting. The DRAM slots are positioned for server use, but the power ports are still on the outside of the motherboard in such a way that a couple of features stick out.
First up is the U.2 port, where the battery is stuck to. This uses the SFF-8639 connector which we've seen on Intel's SSD 750, and runs at PCIe 3.0 x4 speeds with NVMe support. We've seen this connector on a couple of ASUS ROG boards so far (the Impact and Extreme), but the more the merrier. Aside from the PCIe 3.0 x16 slot and SATA ports we also get an AST2400 controller IC with an associated memory chip, and a pair of Intel I210 network ports.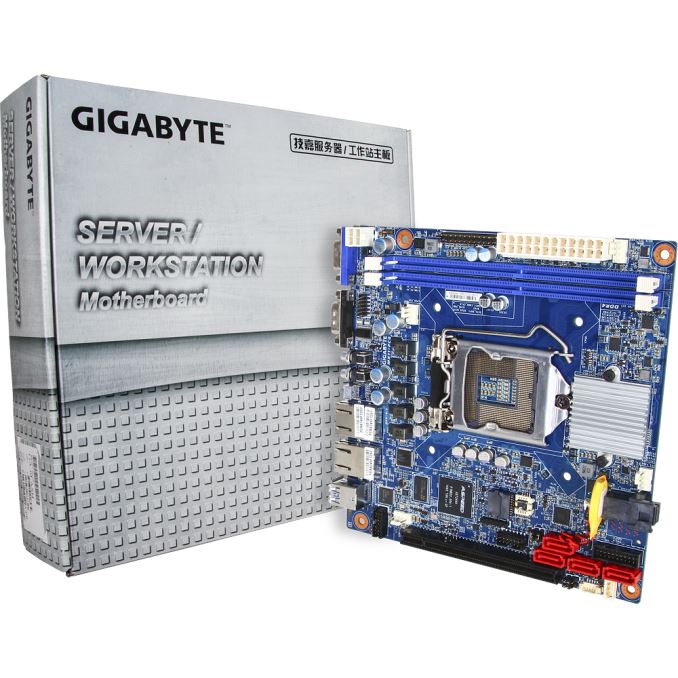 The rear of the board also gets co-locator LED buttons and power/reset/NMI buttons.
MX31-BS0 (link)
In a similar server style, the MX31-BS0 also puts the socket/DRAM orientation more suited for server airflow but also attempts to aim for that low to mid-range implementation with IPMI control via an AST2400, dual I210 network ports, an M.2 slot supporting SATA and PCIe 3.0 x1, onboard USB 2.0 Type-A and what amusingly looks like a Realtek audio codec onboard but the system comes without rear-panel audio jacks, leaving the audio solely for SPDIF output.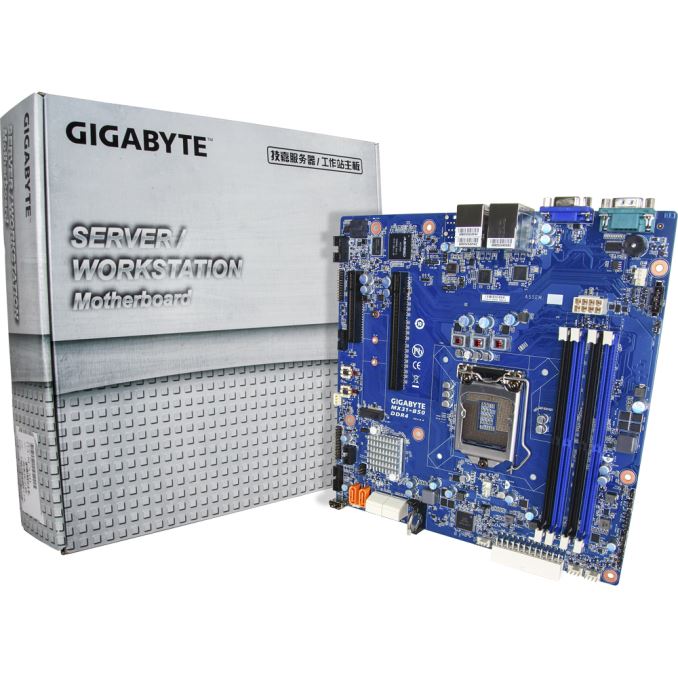 Typically motherboards from GIGABYTE's Server business unit start as B2B sales only and the more consumer focused models should end up on select retailers over the next few months.
Source: GIGABYTE Server