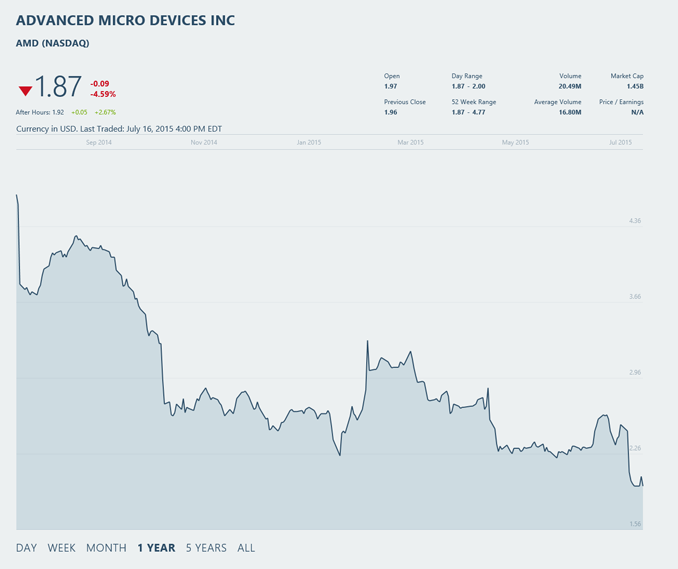 As financial week rolls along this week, today AMD announced their second quarter 2015 financial results. Earlier this month ahead of today's announcement the company issued a warning for their Q2 earnings, significantly revising down their projections for revenue and gross margin. As a result of AMD's earlier warning today's announcement doesn't have too many surprises in it, but it's none the less an important and unfortunately painful quarter for AMD.
AMD Q2 2015 Financial Results (GAAP)
Q2'2015
Q1'2015
Q2'2014
Revenue
$942M
$1.03B
$1.44B
Gross Margin
25%
32%
35%
Operating Income
-$137M
-$137M
$63M
Net Income
-$181M
-$180M
-$36M
Earnings Per Share
-$0.23
-$0.23
-$0.05
For the quarter AMD recorded $942 million in revenue. This marks the first time in quite a number of years that AMD's quarterly revenue has dipped below $1 billion, indicating the challenges the company has faced as the PC market continues to be soft and AMD CPU/APU sales have declined. All told the company's revenue has dropped 8% compared to Q1, and on a year-over-year basis it has dropped 35%
Unsurprisingly given AMD's low revenue, operating and net income for the quarter were both losses. On a GAAP basis operating income was a $137 million loss while the net loss was $181 million, both of which are virtually unchanged from AMD's Q1'15 performance. Meanwhile on a non-GAAP basis the operating income loss was $87 million and the net loss $131 million, both of which were accelerated versus the last quarter. On a year-over-year basis both GAAP and non-GAAP show a significant increase in losses versus Q2'14.
AMD Q1 2015 Financial Results (Non-GAAP)
Q2'2015
Q1'2015
Q2'2014
Revenue
$942M
$1.03B
$1.44B
Gross Margin
28%
32%
35%
Operating Income
-$87M
-$30M
$88M
Net Income
-$131M
-$73M
$38M
Earnings Per Share
-$0.17
-$0.09
$0.05
Meanwhile AMD's gross margin has taken a hit as well. The GAAP gross margin is just 25%, while the non-GAAP gross margin is slightly better at 28%, the difference being due to AMD's $33 million charge to move 20nm products to FinFET. Both metrics are well below the kind of 30-35% margins AMD wants to sustain in the long run.
In discussing their financial results for the quarter, AMD cited the soft PC market as the biggest factor pulling down the company's performance. Historically in turn Q2 is typically the softest quarter for technology companies, however in AMD's case it has been especially soft. With AMD's single biggest product line being APU sales and with those sales weaker than expected, it has significantly impacted AMD's bottom line.
Of particular note, AMD is stating that they believe the impending launch of Windows 10 was a significant factor in their weak sales for the quarter, as consumers held back on buying new systems until the new OS is out, and OEMs held back in releasing newer designs in order to align those releases with the new OS. This has particularly impacted Carrizo, AMD's latest generation mobile APU, given that it was released only two months before the launch of Windows 10. AMD is expecting that mobile sales will rebound once Windows 10 launches, though as we've seen with the launch of Windows 8 in 2012, that isn't necessarily a given.
AMD Q2 2015 Computing and Graphics
Q2'2015
Q1'2015
Q2'2014
Revenue
$379M
$532M
$828M
Operating Income
-$147M
-$75M
-$6M
Breaking down AMD's revenue by business, soft APU sales pulled down the Computing and Graphics business overall, and led to Enterprise, Embedded, and Semi-Custom carrying a larger share of the company. Computing and Graphics revenue was down 29% over Q1'15 and a staggering 54% over Q2'14, primarily due to weak sales of notebook APUs, while graphics revenue was also down. Despite this the ASPs for both CPUs/APUs and GPUs were up on both a sequential and year-over-year basis, as while overall sales are lower, the prices of what AMD has sold has increased thanks to a richer product mix and the launch of the R9 300/Fury series at the tail end of the quarter.
AMD Q2 2015 Enterprise, Embedded and Semi-Custom
Q2'2015
Q1'2015
Q2'2014
Revenue
$563M
$498M
$613M
Operating Income
$27M
$45M
$97M
Enterprise, Embedded, and Semi-Custom on the other hand had a much stronger quarter, with revenue there increasing 13% sequentially, though year-over-year revenue was still down by 8%. As part of AMD's long-term plans they are attempting shift more of their resources and revenue over to this business, so any kind of growth is welcome growth for the company. However for this quarter in particular AMD was not prepared for such a high ratio of revenue from this business group, with the lower margin of AMD's semi-custom products dragging down the overall gross margin.
Finally, compounding AMD's difficulties this quarter was the impact of their previously announced plan to move the rest of their in-development 20nm products to a newer FinFET node. This project resulted in a further $33 million hit to AMD's books, driving up losses and decreasing gross margins. The good news for AMD is that this is a one-time charge, so they won't have to pay for it again.
Looking forward, AMD's projections for Q3 are that sales will pick up in both the Computing and Graphics business and the Enterprise, Embedded, and Semi-Custom business. AMD is expecting improved PC sales as a result of Windows 10 and Carrizo reaching the market – in particular shoring up the company's poor notebook sales – while orders for semi-custom processors for the game consoles will pick up in order to build up inventory for Christmas. AMD expects overall revenue to be up 6% (+/- 3%) sequentially, though the non-GAAP gross margin is expected to come in at just 29%, which is below where AMD would like to be and means there's a good chance AMD will be in the red again for Q3.
Longer term, the company is still working on bringing their expenses under control and better aligning them with revenue, a task that becomes harder after quarters like these, with AMD admitting that the profitability timeline for the company has been pushed out. As it stands AMD still has over $800 million in cash and equivalents on-hand, however the company has also mentioned that restructuring to further cut expenses is not off the table, and that the company is assessing the option.
Source: AMD Investor Relations