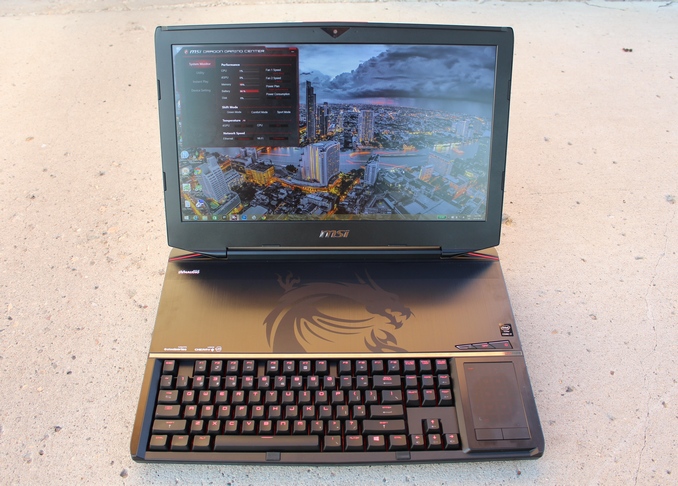 I was lucky enough to be on-hand when MSI launched the GT80 Titan at CES. It was a big event for them, and all of the MSI people were quite excited about the unique device they had come out with. Over the last couple of years, there has been a lot of traction in the enthusiast market for mechanical keyboards, and MSI decided it was time to put a fully mechanical keyboard into a gaming laptop.
MSI turned to SteelSeries for the keyboard, and wedged one of their Cherry MX Brown keyboards into the GT80 Titan, creating one of the more uniquely designed laptops in quite some time. The keyboard is placed right at the front since a mechanical keyboard requires a lot more vertical depth than traditional notebook keyboards. This poses a slight problem for the standard trackpad placement, so MSI shifted it off to the right side and have made it both a trackpad and number pad. The layout works better than you might suspect, but since this is a desktop replacement, using it with a mouse would likely be the preferred option.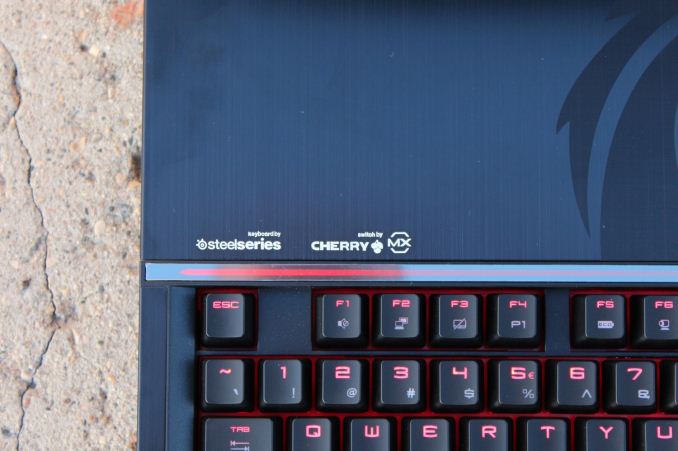 What's behind the keyboard is equally as important, since this is first and foremost a gaming laptop. Here MSI has not disappointed either. Intel has finally released quad-core Broadwell parts, and MSI has shipped us the just recently updated version sporting the Intel Core i7-5700HQ processor. This is one of the new breed of 47 watt processors on 14 nm, with a base of 2.7 GHz and a turbo of 3.5 GHz. MSI pairs this with 16 GB of memory, and not one but two GTX 980M GPUs in SLI.
This plentiful processing power pushes polygons to a 1920x1080 pixel panel with proportions past the purview of most portable PCs (and try saying that five times fast). Alliteration aside, the display is right at the upper bounds of a notebook computer, with an 18.4-inch diagonal, making this one of the largest laptops around. It seems like the push for high PPI displays has been slow to come to the larger 17-inch panels, and the even rarer 18.4-inch one like in this device likely means sourcing one is even tougher. This display size at 1080p only results in 120 pixels per inch. At a point we hope that MSI might look into a 4K display at this size, although sourcing 18.4-inch 4K displays might be tricky. The device also does not support NVIDIA's G-SYNC technology, but at least there should be fewer worries about frame rates dropping under the refresh rate of the panel.
MSI GT80 Titan
As Tested, Core i7-5700HQ, 16 GB RAM, 256 GB SSD + 1TB HDD, 1920x1080 PLS display
Processor
Intel Core i7-5950HQ (4C/8T, 2.9-3.7GHz, 6MB L3, 14nm, 47W)
Intel Core i7-5700HQ (4C/8T, 2.7-3.5GHz, 6MB L3, 14nm, 47W)
Memory
16GB-24GB DDR3L-1600 MHz
Graphics
2 x NVIDIA GTX 980M 8GB each
2 x NVIDIA GTX 970M 6GB each
2 x NVIDIA GTX 965M 4GB each
Display
18.4" 1920x1080 PLS Matte
Storage
128GB SSD x 2 (RAID 0) boot drive
1 TB HDD
Networking
Killer e2200 Gigabit Networking
Killer N1525 Wireless-AC plus Bluetooth (2x2:2 866 Mbps max)
Audio
Dynaudio Premium Sound Technology
Four Speakers plus subwoofer
Microphone
Battery
80 Wh Battery
330 Watt A/C Adapter
Right Side
2 x USB 3.0
Left Side
3 x USB 3.0 Ports
Headphone Jack
Microphone Jack
SD Card Reader
Blu-Ray Burner
Line-in Jack
SPDIF
Rear
2 x Mini DisplayPort v1.2
HDMI 1.4
A/C In
Dimensions
456 x 331 x 49.0mm (17.95 x 13.02 x 1.93 inches)
Weight
4.50 kg (9.90 lbs)
Extras
1080p Webcam
Backlit Mechanical Keyboard with Cherry MX Brown switches
Pricing
$2500-$3800, as tested $3400
There are a couple of different configurations available, with the processor, memory, GPU, and storage options determining price. On the low end, you can get it with SLI GTX 965M GPUs, SLI GTX 970M or just a single GTX 980M card. All of the upper tier models though are SLI GTX 980M. Memory is 16 GB as the base and 24 GB on the top model, but the laptop can support up to 32 GB if you want to add it. Ultimately the versions that end up for sale will be determined by the SIs that decide to stock the device. For our review, we have the Core i7-5700HQ processor, 16 GB of RAM, and GTX 980M SLIs graphics cards.