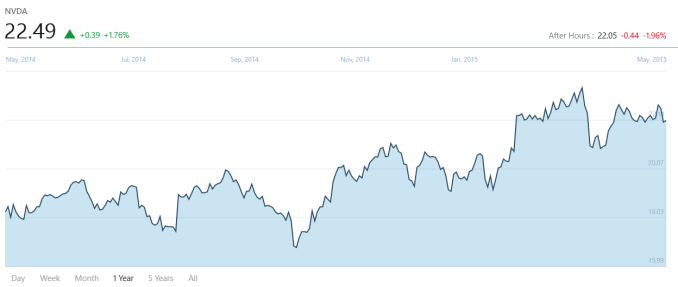 Today NVIDIA released their earnings for quarter one of their 2016 fiscal year (and no, that's not a typo, NVIDIA is almost a full calendar year ahead with their fiscal year) and revenue was up for the quarter 4% over the same period last year, coming in at $1.151 billion. NVIDIA had a record quarter for gross margin, with 56.7% this quarter. However net income was down 2% to $134 million. Compared to Q4 2015, revenue was down 8% and net income was down 31% due to the seasonal nature of the GPU market. Earnings per share came in at $0.24, which is flat year-over-year.
NVIDIA Q1 2016 Financial Results (GAAP)
Q1'2016
Q4'2015
Q1'2015
Q/Q
Y/Y
Revenue (in millions USD)
$1151
$1251
$1103
-8%
+4%
Gross Margin
56.7%
55.9%
54.8%
+0.8%
+1.9%
Operating Expenses (in millions USD)
$477
$468
$453
+2%
+5%
Net Income
$134
$193
$137
-31%
-2%
EPS
$0.24
$0.35
$0.24
-31%
flat
One of the things that will be impacting their financials for fiscal year 2016 is the winding down of the Icera modem operations. The company is open to sales, but regardless it is expecting restructuring charges of $100 to $125 million. It will re-invest the money it had been using for modems and put it into deep learning, self-driving cars, and gaming, which are all areas where NVIDIA has seen some success at (I've heard they are known for gaming even).
NVIDIA has also announced Non-GAAP results which exclude stock-based compensation, acquisition costs, interest, and taxes on these items. On a Non-GAAP basis, gross margin was 56.9%, and net income was $187 million, which is up 13% year-over-year. Non-GAAP earnings per share came in at $0.33.
NVIDIA Q1 2016 Financial Results (Non-GAAP)
Q1'2016
Q4'2015
Q1'2015
Q/Q
Y/Y
Revenue (in millions USD)
$1151
$1251
$1103
-8%
+4%
Gross Margin
56.9%
56.2%
55.1%
+0.7%
+1.8%
Operating Expenses (in millions USD)
$425
$420
$411
+1%
+3%
Net Income
$187
$241
$166
-22%
+13%
EPS
$0.33
$0.43
$0.29
-23%
+14%
Breaking the results down into the individual segments, the GPU unit accounts for the bulk of the revenue for the company. GPU revenues were up 5% year-over-year, coming in at $940 million for Q1. They attribute this to revenue from GeForce gaming desktops and notebooks growing 14% with strength in their Maxwell GPUs being one of the keys. Notebooks have also been a source of strength, and although they did not release numbers, notebook GPU sales were "well above year-ago levels". Tesla GPUs also increase due to project wins with cloud service providers, but the Quadro line of professional graphics declined.
NVIDIA Quarterly Revenue Comparison (GAAP)
In millions
Q1'2016
Q4'2015
Q1'2015
Q/Q
Y/Y
GPU
$940
$1073
$898
-12%
+5%
Tegra Processor
$145
$112
$139
+29%
+4%
Other
$66
$66
$66
flat
flat
Tegra, once the tablet and possible smartphone SoC, has found its niche is the automotive infotainment field, but it is also the SoC inside SHIELD devices sold by NVIDIA. Revenue for Tegra was up 4% year-over-year, and up 29% as compared to Q4 2015, which was attributed to automotive systems and development services.
The final piece of NVIDIA's pie is their licensing agreement with Intel, which is the standard $66 million per quarter.
For Q2, projections are revenue of $1.01 billion, plus or minus two percent, and gross margins of 55.7% plus or minus 0.5%.
It was another good quarter for NVIDIA, and during the quarter they launched the TITAN X GPU, as well as the NVIDIA SHIELD set top box. Yesterday, AMD announced that they will have a new GPU coming out this quarter, so it will be awesome to see how that plays out in the never ending GPU battle.
Source: NVIDIA Investor Relations