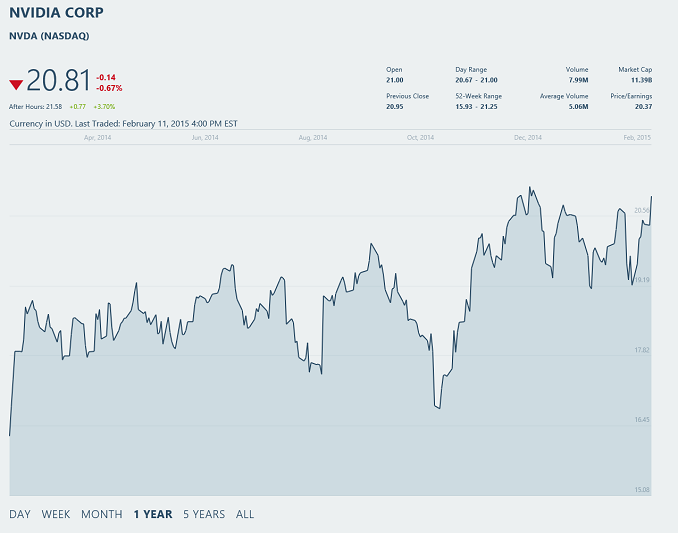 NVIDIA released their earnings report for the fourth quarter of their fiscal year 2015, which ended January 25th, 2015. FY 2015 was a record for the company, with revenues coming in at $4.68 billion, up 13% from 2014. Q4 also had record revenue, following Q3 2014 which was also a record for NVIDIA. For the most recent quarter, NVIDIA had revenues of $1.25 billion, up 9% from 2014 and up 2% from Q3 2015. Gross margin for Q4 2015 was $699 million, or 55.9% which is up 1.8% over Q4 2014, and 0.7% over Q3 2015. Net income came in at $193 million, also up quarter-over-quarter 13%, and year-over-year 40%. Earnings per share were $0.35 (GAAP), up 13% over last quarter and 40% over last year, and beating analysts expectations.
NVIDIA paid back $46 million in cash dividends, and bought back 200,000 shares in Q4, bringing the 2015 fiscal year up to a total of $186 million in dividends and 44.4 million shares repurchased for $814 million, meaning NVIDIA was able to return $1.0 billion during the year. For FY 2016, NVIDIA intends to return an additional $600 million through these methods. The next dividend will be $0.085 per share, paid on March 19 to all shareholders on record as of February 16.
NVIDIA Q4 2015 Financial Results (GAAP)
Q4'2015
Q3'2015
Q4'2014
Q/Q
Y/Y
Revenue (in millions USD)
$1251
$1225
$1144
+2%
+9%
Gross Margin
55.9%
55.2%
54.1%
+0.7%
+1.8%
Operating Expenses (in millions USD)
$468
$463
$452
+1%
+4%
Net Income
$193
$173
$147
+12%
+31%
EPS
$0.35
$0.31
$0.25
+13%
+40%
NVIDIA has also released Non-GAAP figures which exclude the stock-based compensation, legal settlements, acquisition costs, investments, and a credit related to weak die/packaging material set.
NVIDIA Q4 2015 Financial Results (Non-GAAP)
Q4'2015
Q3'2015
Q4'2014
Q/Q
Y/Y
Revenue (in millions USD)
$1251
$1225
$1144
+2%
+9%
Gross Margin
56.2%
55.5%
53.8%
+0.7%
+2.4%
Operating Expenses (in millions USD)
$420
$415
$408
+1%
+3%
Net Income
$241
$220
$187
+10%
+34%
EPS
$0.43
$0.39
$0.32
+10%
+34%
The GPU business is still the main part of NVIDIA, and they had a nice boost. During Q4, NVIDIA launched the GTX 960 GPU, as well as the GTX 965M. This, combined with the GTX 980 , 970, 980M, and 970M launches recently have propelled the GPU revenue up to $1.073 billion for the quarter. This is an 8% increase over Q3 2015, and a year-over-year gain of 13%. Maxwell based cards have been very popular, and NVIDIA has seen strength in the PC gaming market for their high-end offerings. Notebooks with discrete GPUs have also been selling well, showing sales well above year-ago levels.
Tegra sales fell quite substantially this quarter, after several quarters of strong growth. For Q4 2015, Tegra revenue was $112 million, down from $168 million in Q3, and $131 million a year ago. This represents a decrease in revenue of 33% quarter-over-quarter, and 15% year-over-year. Smartphone and tablet design wins featuring NVIDIA Tegra drove the decline, however automotive Infotainment sales more than doubled. This helps explain why NVIDIA focused solely on the Tegra X1 at CES this year, as it has been a very strong market for their processors.
The remaining revenue is $66 million, which is a licensing fee paid by Intel to NVIDIA every quarter.
NVIDIA Quarterly Revenue Comparison (GAAP)
In millions
Q4'2015
Q3'2015
Q4'2014
Q/Q
Y/Y
GPU
$1073
$991
$947
+8%
+13%
Tegra Processor
$112
$168
$131
-33%
-15%
Other
$66
$66
$66
flat
flat
It was a great FY 2015 for NVIDIA. Strong GPU sales offset the weaker smartphone and tablet SoC sales, but Tegra in the automotive space continues to perform very well.
For Q1 FY 2016 (yes, NVIDIA's fiscal year is almost an entire year ahead of calendar year) the company is expecting revenues of $1.16 billion, plus or minus 2%, and GAAP margins of 56.2%, with Non-GAAP margins of 56.5%.
Source: NVIDIA