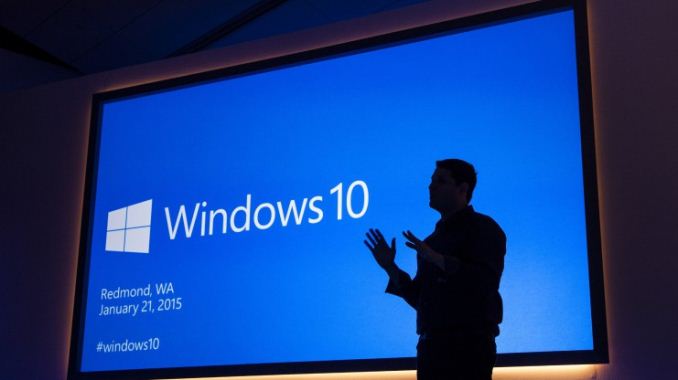 Today in Redmond, Microsoft took the wraps off of the updates for Windows 10 that they have been busy with, and will be offering these new updates as part of the Windows Technical Preview program. There was a lot to cover, and this is the first big event since the initial announcement of Windows 10 back in September. The first release was initially aimed at the enterprise, although more likely was labeled that to keep the average user from using it since it was a much earlier build of Windows than we have been used to seeing for quite some time. There were a lot of technical issues, which will hopefully be sorted out as we move towards the more consumer focused build of the technical preview. The update should be available within the next week for people in the Windows Insider program. The Phone version will come shortly after.
Likely the biggest announcement was that Windows 10 will be a free upgrade for all Windows 7 and 8.x users, at least for the first year after launch. Once devices are updated to Windows 10, they will be kept current for the lifetime of the device. Windows will now be a service, and Microsoft will be able to move it forward over time much quicker than they can now.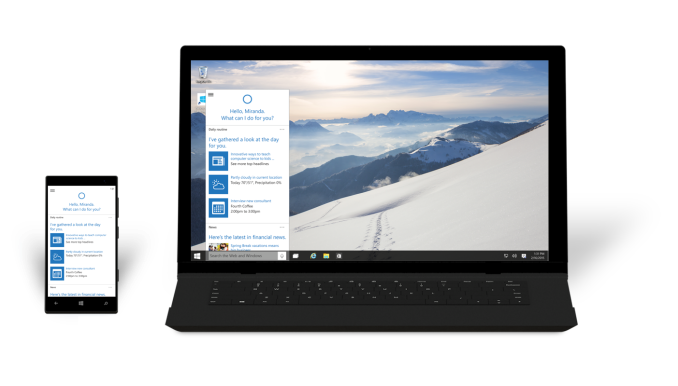 The next big announcement was something that most people knew was coming – Cortana is coming to the PC. For those that have not heard of it, Cortana is Microsoft's personal assistant software which debuted with Windows Phone 8.1 and has improved over time. It can deal with natural language, and includes a very capable speech recognition engine. The backend of Cortana is of course Bing, which powers the search results if needed. Cortana will live in the taskbar, ready to perform tasks as needed, and interaction can be either through voice or text. Cortana can recognize phrases like "Do I need a coat tomorrow" and answer accordingly, and will respond in the same manner as it was given the question. If you typed the question, it will appear as text, but if you used voice, it will reply to you with the Cortana voice. I have used it on Windows Phone, and it is very good at capturing speech, so it will be interesting to see how useful it becomes on the PC. There will likely be some great use cases, and not so great, as with most software.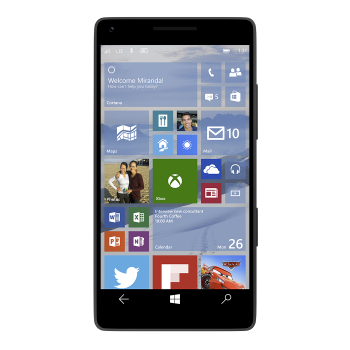 Bringing this feature from the phone was not an accident. The final version of Windows Phone software will be the current version – Windows Phone 8.1. When Windows 10 launches, it will be just Windows 10. Windows 10 for phones and small tablets will feature an interface much closer to Windows Phone, but the underlying platform will be Windows 10 which will flesh out the idea of Universal Apps which Microsoft first began to talk about at the BUILD developer's conference last year. With a common platform, APIs and share libraries will truly bring out the idea of Universal Apps, with a large portion of common code with different UIs based on device type.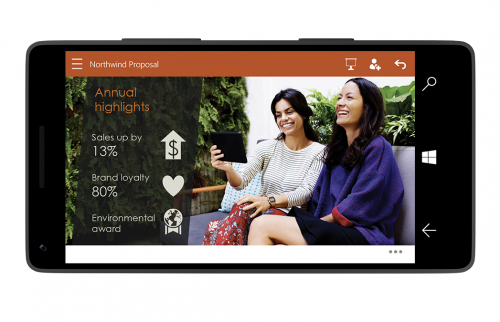 Microsoft has gone all-in on Universal Apps, and practically all (or maybe even all) of the app demos today featured Universal Apps, so things like the People app will no longer be different entities on the different platforms, but rather two different views into the same app. They expanded this to include everything from the mail client, to the Xbox app, and even PC Settings. This means that Windows Phone users will no longer have to deal with the poorly sorted Settings page, and instead will get the same sort of experience that they would on the PC. Office will also be available as a universal app, and Microsoft announced that a beta version of the touch version of Office will be available a bit later in the Windows 10 preview cycle.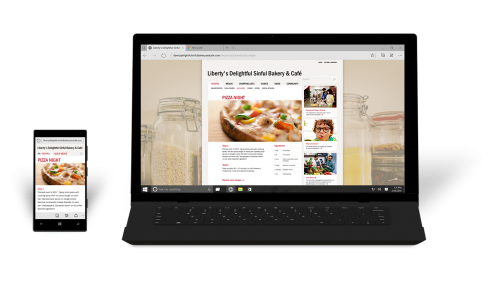 Likely the most important universal app discussed today was a new web browser, with the codename of "Project Spartan". This next generation of browser will likely replace Internet Explorer, however it is not quite ready for the next Technical Preview update. This will be a major departure from Internet Explorer, with a new extensions model, and a promise of much better performance due to the jettisoning of older code from past builds. Sources have said that IE will still be available on the platform as a fall back in the event businesses have built out line of business apps which do not work with modern web standards. It also includes some new ways to interact with the web, including the ability to perform note-taking on web sites through pen, touch, or keyboard input, an updated version of the Reading View including an offline Reading List which syncs across all of your devices, and built in Cortana integration to give you answers to questions as you type them into the address bar. Although I have read leaks and rumors of Project Spartan, I am eager to get some hands on time and some more information on what has changed under the hood. Stay tuned for that.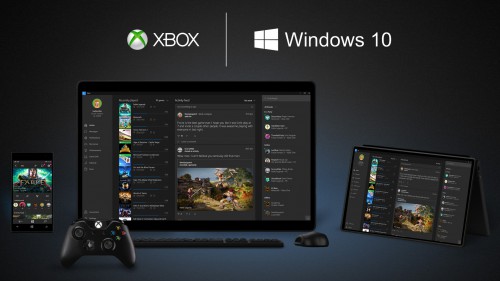 Next, Microsoft brought the head of Xbox on to the stage to discuss the new Xbox app. As expected, the Xbox app will allow someone to perform social interaction with their Xbox Live contacts, and see feeds and achievements, but there was more unveiled as well. Windows 10 will feature a system level Game DVR, to allow players to capture clips from any game running on Windows. Players will be able to play certain games across platforms as well, with co-op and multiplayer capabilities for Xbox One and Windows 10 players to join the same games. DirectX 12 was also brought up, and while none of the technical details were discussed, Microsoft is claiming that games moved to DX12 can render the same scenes with 50% of the power requirements which will enable both more complex games on mobile devices, and the ability to play games on battery powered laptops for longer between charges. Likely the biggest Xbox news though was that Microsoft is adding game streaming from the Xbox One to any connected PC or tablet (phones were not mentioned yet). While game streaming is not new, this is a great way to provide capabilities across their various platforms and give a compelling reason to stay in the ecosystem. I have questions about how it is going to function which we will hopefully get answered in the near future, such as can the Xbox One be used for TV/Media while game streaming to a Windows 10 device.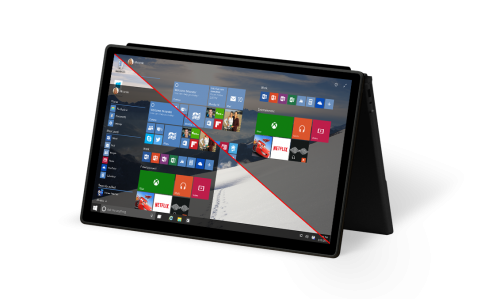 Back to the Windows 10 PC, Continuum was demonstrated, which allows a 2-in-1 device to change from desktop to touch mode. The example was a Surface Pro 3 having the keyboard removed, and then Windows prompts to enter touch mode, and when the keyboard is attached again, you will be prompted to go back to desktop mode. This is one of the core ideas which will move Windows 10 past Windows 8, as you will no longer be forced to use a touch interface on a laptop or desktop. Similarly to Continuum, a new version of the start menu was demonstrated which has a simple full screen option if a user wants to use a full screen start menu (notice I did not say Start Screen!) and just as easily it can be moved back to a normal start menu. This should make the transition from Windows 7 or 8 easy for any user.

More features were demonstrated as well, including the new Action Center, which borrows the customizable action buttons from Windows Phone. More action will be able to happen right in the action center. There will be quite a few UI updates coming with the next couple of builds, and I can't wait to check out the changes once we can get our hands on the latest version.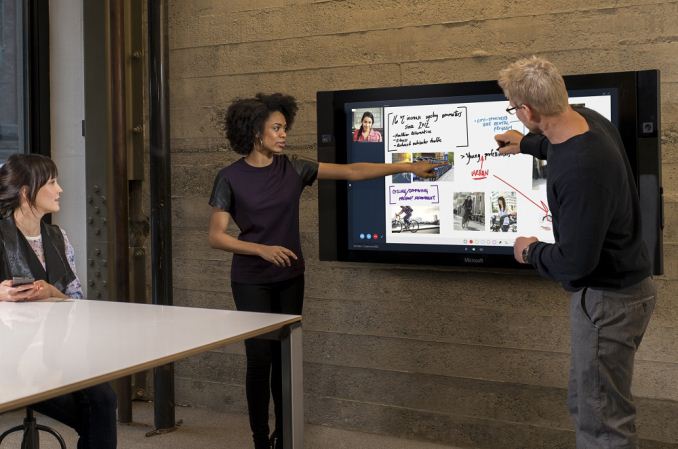 Microsoft then took the wraps off of two new pieces of hardware, which I saw no leaks for at all during the build up to the event. The first was the 84 inch 4K display Surface Hub, which is a conference room in a box. It includes cameras, microphones, sensors, touch, a digitizer, and compute, and includes some great looking software to change the way meetings are held. The display can be used as a white board, which also allows you to copy and paste the contents into OneNote (no more taking pictures of your white board after a meeting!) as well as full video conferencing with Skype for Business, where all of the participants can see what is being presented on the display. Microsoft has had the Perceptive Pixel brand for a while, so it is great to see them moving this into the Surface brand and bringing it to the masses.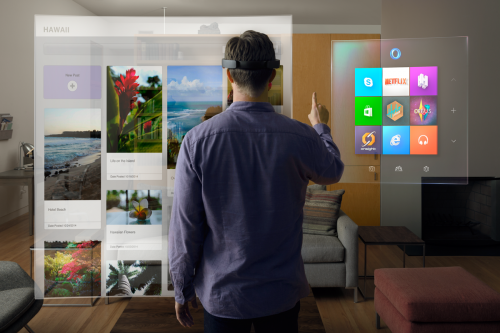 Finally, the wow moment of the keynote was the announcement of Microsoft HoloLens. Powered by Windows 10, this is a pseudo-virtual reality headset, but instead of creating virtual reality, it augments actual reality. This is the world's first holographic computer, and it requires no tethering to any smartphone or PC. The entire unit is self-contained, and allows you to view holograms projected into your space. At the consumer level, there is likely less need for this than was show in the video, but you can imagine tremendous opportunity in the business space, and with engineering and the like. Microsoft did not specify exactly what is powering the device at this time, but they did say that they had to create their own holographic processing unit. Windows 10 will include the holographic computing platform, including the APIs that allow developers to create Universal Apps which also work for the HoloLens. HoloLens does not appear to be virtual reality either, with Microsoft promising to deliver it within the Windows 10 timeline.
Windows 10 looks to be very ambitious, with Microsoft using it to power everything from desktops, laptops, tablets, smartphones, televisions, Xbox, IoT, and the HoloLens. While release dates were not given yet, a fall release seems to be the most likely at this time. Those that want to join the preview and get early access to the unfinished software can find it at https://insider.windows.com/ and if anyone wants to catch the live stream, it is available here http://news.microsoft.com/windows10story/
Once we get the new versions of the builds, we can dig into them and provide more information so stay tuned!
Source: Microsoft