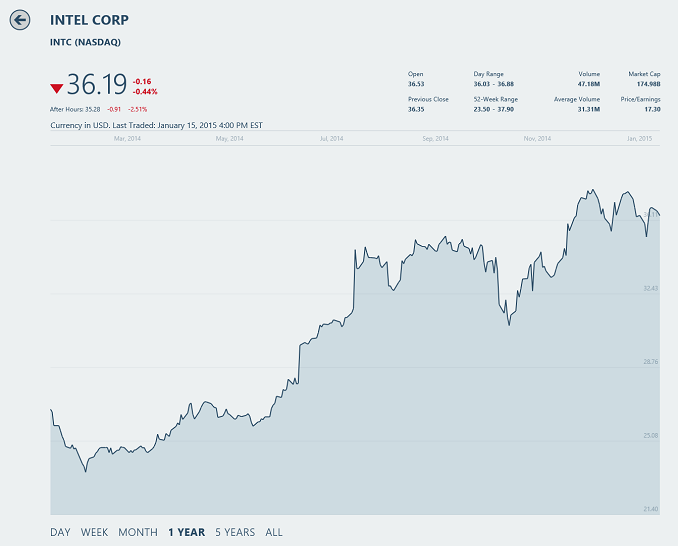 Intel released their Q4 FY 2014 results today, and they capped a record year with another record quarter. Revenue for Q4 came in at $14.7 billion, up 6% year-over-year, and for the full fiscal year 2014 revenues were a record $55.9 billion, also up 6%. Gross Margin for the quarter was 65.4%, up 3.4% over the same quarter last year, and Q4 net income was $3.7 billion, up 39% over Q4 2013. Net income for the fiscal year was $11.7 billion, up 22% over 2013. Earnings per share for the most recent quarter came in at $0.74, beating analyst's expectations of $0.66 per share.
With numbers such as those, one would think Intel is on top of its game, and in the PC market it certainly is. Mobile is a different story for Intel, where it has struggled to gain traction compared to competitors using ARM's ISA. Intel announced a contra revenue plan in November 2013, where it would subsidize the cost difference and help manufacturers implement Intel based mobile devices rather than ARM. It certainly has been successful, with Intel at the heart of many devices launched last year, including such low cost devices as the HP Stream 7. The plan has been so successful that it has cost Intel an additional $1.1 billion in operating income in Q4 alone, which brings the FY 2014 total to $4.2 billion in loss from this one division, up from the $3.1 billion loss in 2013. Clearly Intel has work to do in order to become cost competitive in this space, and they are likely hedging their bets on their 14 nm process which has just come on-line and the next generation Cherry Trail Atom core.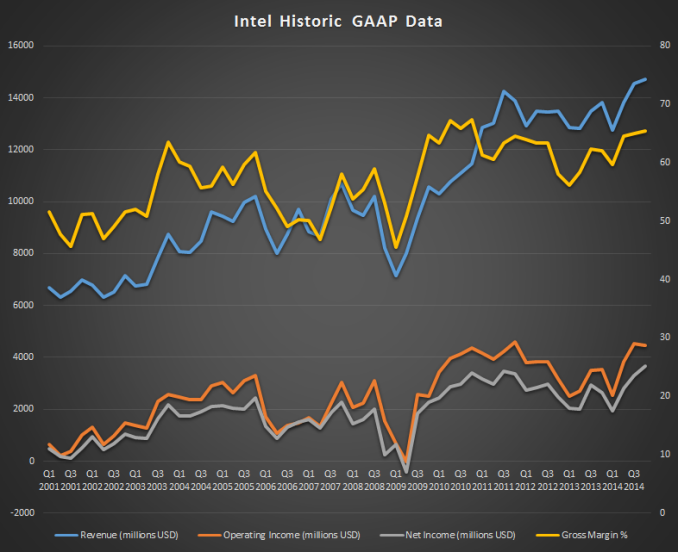 Looking at the individual groups, the PC Client Group had revenue of $8.9 billion, which was up 3% over the previous year. Volume was up 6%, but average selling price (ASP) was down 2%. Desktop platform volumes were down 1% with a flat ASP, and notebook platform volumes were up 11% with ASP down 3%. As compared to last quarter, revenue was down 3%, platform volumes were down 5%, and ASP was up 3%. While industry analysts IDC and Gartner debate whether the PC slowdown has slowed or rebounded, Intel's numbers seem to indicate that 2014 was a much better year than was originally projected for the PC market.
The Data Center Group had revenue of $4.1 billion for Q4, which is up 25% year-over-year. Platform volumes were up 15% and ASP was up 10% year-over-year. Quarter-over-quarter, revenue was up 11% and volumes were up 5%, with ASP up 7%. The Data Center Group has been very strong this year, and now accounts for almost 30% of Intel's revenue. The Xeon line is very strong right now, especially when data centers are often power constrained. Competition from ARM based alternatives is in the early stages, but it will be a tough market to penetrate at the moment.
Internet of Things was all the rage at CES this year, and Intel's IoT group had revenue of $591 million, up 10% as compared to last year, and up 12% from the previous quarter.
The previously mentioned Mobile and Communications group actually had negative revenue for the quarter, coming in at negative $6 million, which is down from $1 million in revenue last quarter.
Software and services had revenue of $557 million, down 6% year-over-year and flat as compared to Q3.
The "other" group had revenue of $617 million, up 23% over Q4 2013, and up 7% over last quarter.
Intel Q4 2014 Financial Results (GAAP)
Q4'2014
Q3'2014
Q4'2013
Revenue
$14.721B
$14.554B
$13.834B
Operating Income
$4.453B
$4.918B
$3.549B
Net Income
$3.661B
$3.317B
$2.625B
Gross Margin
65.4%
65.0%
62.0%
PC Group Revenue
$8.871B
-3%
+3%
Data Center Group Revenue
$4.091B
+11%
+25%
Internet of Things Revenue
$591M
+12%
+10%
Mobile Group Revenue
-$6M
-700%
-102%
Software and Services Revenue
$557M
0%
-6%
All Other Revenue
$617M
+7%
+23%
The big story for Q4 was the availability of the first 14 nm parts, with Core-M devices being launched later in the quarter. The Core-M parts are the very low power offerings though (around 5 watts) and the U series 15-28 watt parts just launched at CES last week. 22 nm was alive for a bit longer than Intel would have hoped, and hopefully the 14 nm delays do not impact the next generation Skylake CPUs.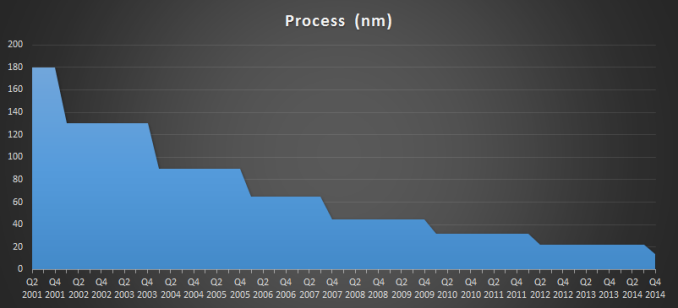 Outlook for Q1 2015 is revenue of $13.7 billion, plus or minus $500 million, which is down 7% from Q4 2014. Intel says this is normal due to the average seasonal decrease for the first quarter. Gross margin for Q1 is pegged at 60%, which is down 5.4% from Q4, and this is due to higher platform costs for 14 nm products, lower volumes, factory start-up costs, and Skylake pre-qualification costs. Intel is projecting revenue for 2015 to grow in the mid-single digits, and an overall gross margin of 62%.
2014 was a fantastic year for Intel, with record revenues overall. The mobile sector is still a sore spot, and there have already been some changes there with mobile being moved into the PC unit. Many people expected that to be done to mask the losses, but Intel did report it as a separate group for Q4, although that may change in the future. More Core like processors in mobile may be exactly what Intel needs, with higher IPC and the ability to run at a lower clock speed due to good IPC.
Source: Intel Investor Relations