The ARM Based Challengers
Calxeda, AppliedMicro and ARM – in that order – have been talking about ARM based servers for years now. There were rumors about Facebook adopting ARM servers back in 2010.
Calxeda was the first to release a real server, the Boston Viridis, launched back in the beginning of 2013. The Calxeda ECX-1000 was based on a quad Cortex-A9 with 4MB L2. It was pretty slow in most workloads, but it was incredibly energy efficient. We found it to be a decent CPU for low-end web workloads. Intel's alternative, the S1260, was in theory faster, but it was outperformed in real server workloads by 20-40% and needed twice as much power (15W versus 8.3 W).
Unfortunately, the single-threaded performance of the Cortex-A9 was too low. As a result, you needed quite a bit of expensive hardware to compete with a simple dual socket low power Xeon running VMs. About 20 nodes (5 daughter cards) of micro servers or 80 cores were necessary to compete with two octal-core Xeons. The fact that we could use 24 nodes or 96 SoCs made the Calxeda based server faster, but the BOM (Bill of Materials) attached to so much hardware was high.
While the Calxeda ECX-1000 could compete on performance/watt, it could not compete on performance per dollar. Also, the 4GB RAM limit per node made it unattractive for several markets such as web caching. As a result, Calxeda was relegated to a few niche markets such as the low end storage market where it had some success, but it was not enough. Calxeda ran out of venture capital, and a promising story ended too soon, unfortunately.
AppliedMicro X-Gene
Just recently, AppliedMicro showed off their X-Gene ARM SoCs, but those are 40nm SoCs. The 28nm "ShadowCat" X-Gene 2 is due for the H1 of 2015. Just like Atom C2000, the AppliedMicro X-Gene ARM SoC has four pairs of cores that share an L2 cache. However, the similarity ends there. The core is a lot beefier and it features 4-wide issue with an execution backend with four integer pipelines and three FP pipelines (one 128-bit FP, one Load, one Store). The 2.4GHz octal-core X-Gene also has a respectable 8MB L3 cache and can access up to four memory channels, with an integrated dual 10GB Ethernet interface. In other words, the X-Gene is made to go after the Xeon E3, not the Atom C2000.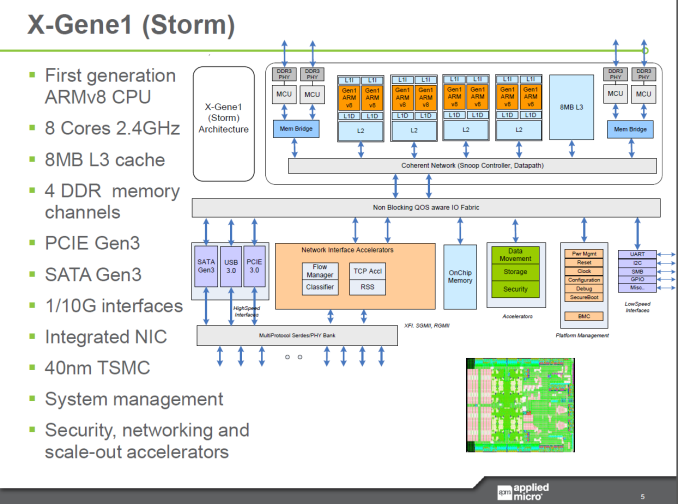 Of course, the AppliedMicro chip has been delayed many times. There were already performance announcements in 2011. The X-Gene1 8-core at 3GHz was supposed to be slightly slower than a quad-core Xeon E3-1260L "Sandy Bridge" at 2.4GHz in SPECINT_Rate2006.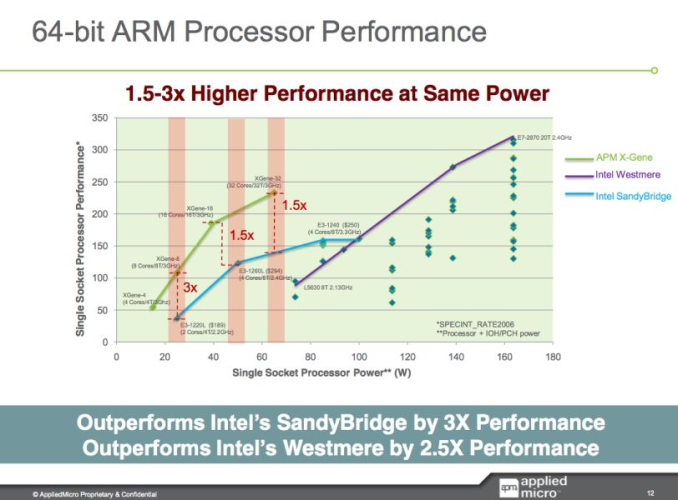 Considering that the Haswell E3 is about 15-17% faster clock for clock, performance should be around Xeon E3-1240L V3 at 2GHz. But the X-Gene1 only reached 2.4GHz and not 3GHz, so it looks like an E3-1240L v3 will probably outperform the new challenger by a considerable margin. The E3-1230L (v1) was a 45W chip and the E3-1240L v3 is a 25W TDP chip, and as a result we also expect the performance/watt of an E3-1240L to be considerably better. Back in 2011, the SoC was expected to ship in late 2012 and have two years lead on the competition. It turned out to be two months.
Only a thorough test like our Calxeda review will really show what the X-Gene can do, but it is clear that AppliedMicro needs the X-Gene2 to be competitive. If AppliedMicro executes well with X-Gene2, it could get ahead once again... this time hopefully with a lead of more than two months.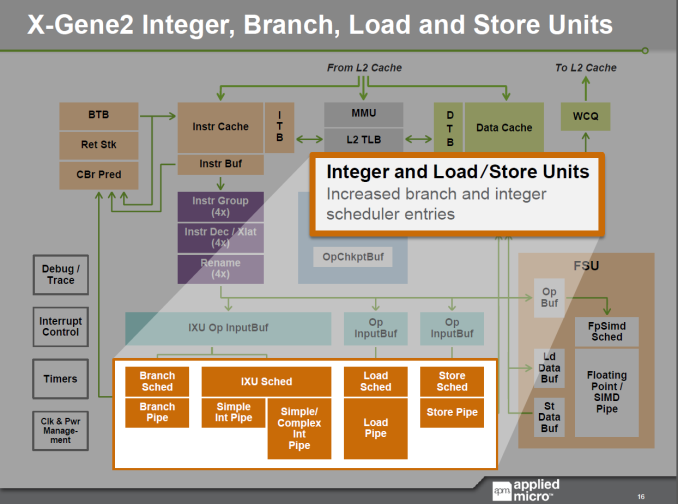 Indeed, early next year, things could get really interesting: the X-Gene2 will double to the amount of cores to 16 (at 2.4GHz) or up the clock speed to 2.8GHz (8-cores) courtesy of TSMC's 28nm process technology. The X-Gene2 is supposed to offer 50% more performance/watt with the same amount of cores.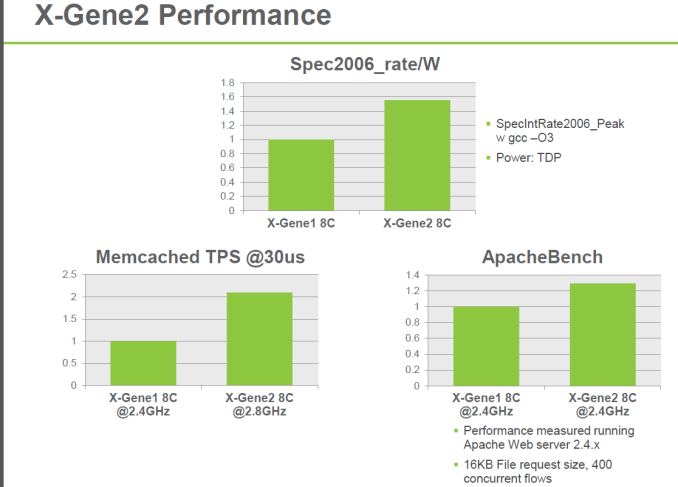 AppliedMicro also announced the Skylark architecture inside X-Gene3. Courtesy of TSMC's 16nm node, the chip should run at up to 3GHz or have up to 64 cores. The chip should appear in 2016, but you'll forgive us for saying that we first want to see and review the X-Gene2 before we can be impressed with the X-Gene3 specs. We have seen too many vendors with high numbers on PowerPoint presentations that don't pan out in the real world. Nevertheless, the X-Gene2 looks very promising and is already running software. It just has to find a place in a real server in a timely fashion.