GIGABYTE Server MD60-SC0 In The Box
Server motherboards are typically quite spartan, giving only a couple of SATA cables in the box to help facilitate non-standard use. Due to the orientation of the motherboard and the layout of the dedicated SATA ports, GIGABYTE Server steps a little further in this regard by providing two mini-SAS to SATA cables for the two headers on board. This allows the 8 of the 10 SATA ports provided by the chipset to be used without extra hardware needing to be purchased. Also in the box is a rear IO shield, manuals and driver disks.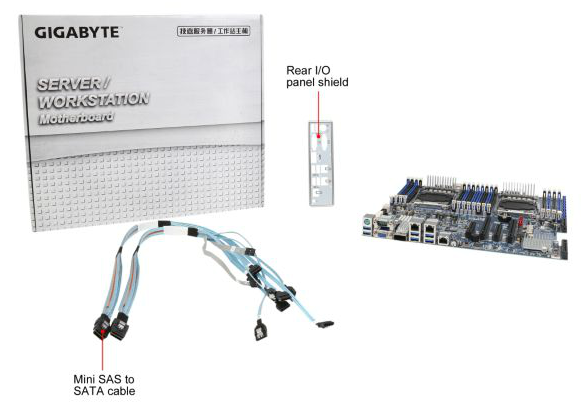 Many thanks to...
We must thank the following companies for kindly providing hardware for our test bed:
Thank you to OCZ for providing us with PSUs and SSDs.
Thank you to G.Skill for providing us with memory.
Thank you to Corsair for providing us with an AX1200i PSU and a Corsair H80i CLC.
Thank you to MSI for providing us with the NVIDIA GTX 770 Lightning GPUs.
Thank you to Rosewill for providing us with PSUs and RK-9100 keyboards.
Thank you to ASRock for providing us with some IO testing kit.
Thank you to Cooler Master for providing us with Nepton 140XL CLCs.
Test Setup