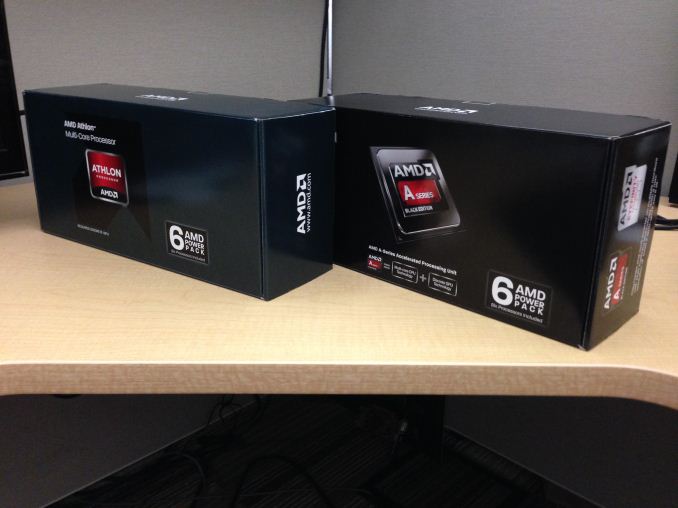 It went relatively under the radar during the past two weeks of intensive launches, but AMD is launching a new campaign specifically for system builders dubbed the AMD Power Pack.
Normally system builders (including both the mass production sellers and boutique builders) have the option of buying a Product-In-Box (PIB) retail APU with a CPU cooler, bundled codes and all the manuals, or the tray processor which comes just as the processor. The AMD Power Pack meets the PIB and Tray parts half way, offering in one package a set of six processors with bundled codes and CPU coolers, but no manuals and in a single box arrangement. This helps to save on the packaging and offer a price point between the PIB and Tray cost.
We caught up with Adam Kozak, Product Marketing Manager from AMD, for some inside information.
Can you give us a little bit of the history of the AMD Power Pack?
We previously had a Power Pack scheme back in the days of Athlon, which had success. At the request of system builders around the world, we have reintroduced the scheme with some of our most popular AMD APUs. We ran a successful test back in February and March of this year, and now we are pushing ahead with offering the Power Packs initially to EMEA and North America with other regions to follow.
What is the current AMD Power Pack all about?
We want to offer system builders some savings and encourage them to design systems around AMD products that might offer some better value than before. Secondary to this, noting how much waste goes on with PIB type bulk purchases, it offers a chance to cut down on waste and recycling as well. It offers that combination of PIB and Tray at a lower cost than PIB alone but with all the bundled extras, especially if we are running a promotion at the time.
What sort of buyers are you expecting for the Power Pack?
At this point in time we are selling to system builders through our distribution channels. This includes those who build hundreds of systems a week down to the boutique builders who specialize in custom designs and configurations. Both of these types of system builders are prevalent through EMEA and NA. We currently do not have plans to these direct to end-users, however system builders might sell spare processors as OEM parts.
Which APUs will be available in the Power Pack?
At this point in time we have two options: a bundle of six A8-6600K APUs or a bundle of six Athlon X4 760K CPUs. This are both Richland parts, and we are looking into expanding the selection based on regional requirements and demand.
What is the expected discount to be over buying them separately?
Currently the difference between PIB and Tray is 5-10% depending on the APU, so the Power Packs will be somewhere in the middle of that, to both offset the semi-bulk purchasing with coolers and without a large chunk of the packaging that might come with a PIB version. Exact discounts will vary between regions.
Will there be different power packs for different regions, e.g. AM1 Kabini Power Packs for those target markets?
As time goes on, we are evaluating each region on what product segments are selling well and what our customers demand. AM1 is doing well in the regions where it is focused for – South America, Latin America, Africa and South Asia. We look at our quarter-on-quarter sales against demand, as well as talking to customers, to find where the Power Pack is best suited. Also, if we see an opportunity before we examine sales figures, we might make a strategic move and offer a particular Power Pack in that region.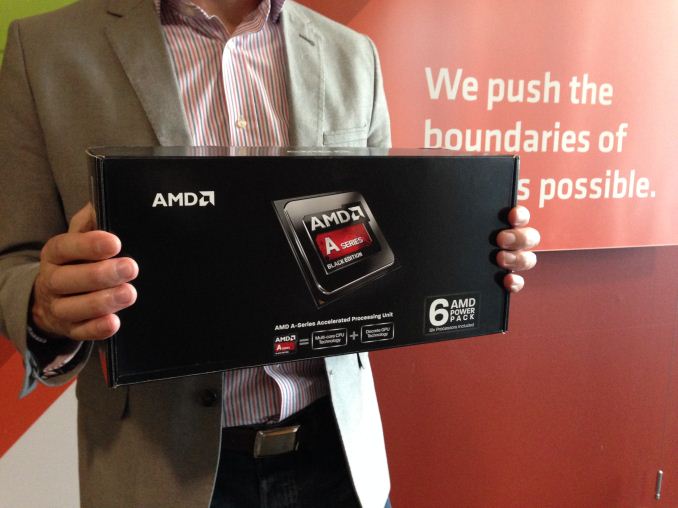 How will it be sold?
System builders will have to inquire direct with their local distributor.
What will the warranty situation be for these parts?
An end-user will not notice if they buy a system with a Power Pack part – it is up to the system builder and the distributor to determine which segments of the warranty are held, depending on the region. Typically the system builder will honor the warranty you purchase with the system.
Will there be GPU versions of the Power Pack? If not, is this an opportunity missed?
GPUs are a little different to our processor line, purely because we sell the chips to our GPU partners who then make the cards. We have discussed in the past organizing bundles with our GPU/Motherboard partners combined with our APUs from the distribution level, however that tends to be highly region specific.
What plans does AMD have for the Power Pack in the future? How long will the promotion go on / will it emulate Never Settle and continually get updated with newer APUs?
At this point in time we are hoping to push forward into more regions as our research shows is the best way to go. As I mentioned, sales figures are usually organized into quarters so that is how we will make sense of the obvious markets to push into, however if there is a strategic opportunity with the Power Pack then we can push ahead before sales numbers come through.
Our initial phase-in back in Q1 2014 was very well received, so we hope to continue in the same fashion. If we see demand for our flagship processors such as the A10 series on our coolers, then it makes sense to follow that route. At this point in time our FX line is more oriented towards the boutique builders who tend to use their own cooling systems, so it makes more sense for them to buy our Tray units rather than us to offer a Power Pack.
Closing Thoughts
The Power Pack is essentially an extra SKU for system builders between buying a batch of tray processors (100 or 1000) against a bulk order of product-in-box units. By adding in the coolers and promotion cards while reducing the amount of waste and the price vs. six individual PIB units, I can see a Power Pack being preferential against PIB as long as the system builder plans to use the stock cooler.
The only issue AMD has is with choosing which APUs to use. I would have assumed Kaveri (A6-7400K, X4-840) would be the first choice over Richland, but it would seem there is still demand for Richland in the pipeline. There is the potential for a lower end-user system cost. Depending on the unit, we might be talking only $1 or $2 savings per system based on the Richland APUs.
If AMD sold Power Packs for all APUs, the end user might end up with a larger discount (for example, $3-$7 for FX-9590 + AIOs) if the system builder passes it on, but that might end up detrimental to AMD and cut into margins or cause over-demand increasing the difficulty to react dynamically. It is a balancing act between trying to encourage system builders to use APUs while still turning some profit per unit, but I do hope AMD keep up the sentiment and apply the same philosophy with the latest architectures.