The world's largest PC maker arrived at the IFA trade show in Berlin with quite a few new products. Today Lenovo announced an 8" tablet, a 17" gaming laptop, and a gaming desktop PC.
Lenovo Devices
TAB S8
Y70 Touch
ERAZER X315
Form Factor
8" 1920x1200 IPS Touchscreen Tablet
17.3" 1920x1080 Touchscreen Laptop
Desktop
CPU
Intel Atom Z3745 (1.86 GHz quad-core)
up to Haswell Core i7 quad-core
AMD Kaveri A8-7600 (3.1GHz quad-core)
AMD Kaveri A10-7850K (3.7GHz quad-core)
Memory
2GB LPDDR3
Up to 16GB DDR3L
A8: 8GB DDR3
A10: 12GB DDR3
Graphics
Intel HD Graphics
Up to NVIDIA GTX-860M 4 GB VRAM
A8: AMD Radeon R9 255 2 GB VRAM
A10: AMD Radeon R9 260 2 GB VRAM
Storage
16 GB eMMC
Up to 1 TB + 8 GB SSHD or 512 GB SSD
A8: 1 TB + 8 GB SSHD
A10: 2 TB + 8 GB SSHD
Connectivity
Wi-Fi 802.11 b/g/n; BT 4.0; Optional LTE
Optional BT4.0; 802.11ac/bgn Wi-Fi; 1G LAN
1G LAN, 802.11ac Wi-Fi
Dimensions
209.8 x 123.8 x 7.9 mm
8.1 x 4.8 x 0.31 inches
422.9 x 190.6 x 25.9 mm
16.6 x 11.4 x 1.1 inches
375.9 x 360.7 x 175.3 mm
14.8 x 14.2 x 6.9 inches
Weight
299 g
0.65 lbs
3.4 kg
7.5 lbs
7.48 kg
16.5 lbs
The Lenovo TAB S8 is an 8" Android tablet with a 1920x1200 resolution "Infinity" screen, which is the marketing term for the thin bezels surrounding the 16:10 dispay. Powering this tablet is the Intel Atom Z3745 SoC which has four Bay Trail cores at up to 1.86 GHz. There are dual front speakers, 802.11 b/g/n Wi-Fi, and optional LTE data. There is an 8 MP rear camera with F/2.2 aperature, and a 1.6 MP fixed focus front facing camera. Lenovo claims the 4290 mAh battery will last up to seven hours. The TAB S8 is available in ebony, blue, canary yellow, and white, and starts at $199 with availability in September.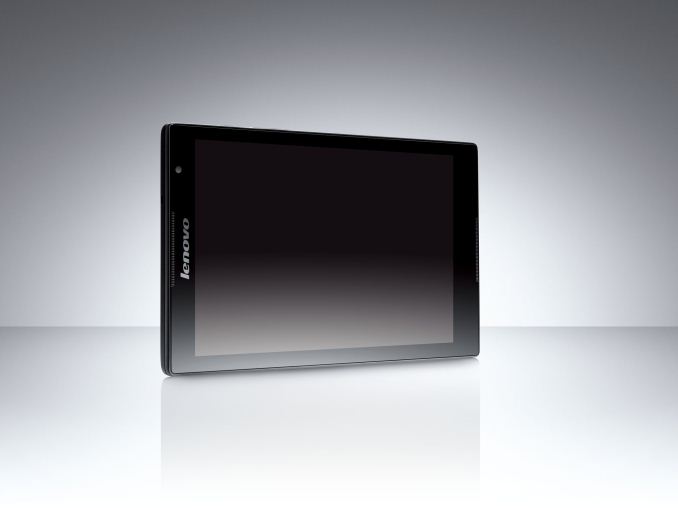 Moving from the 299 gram (0.65 lb) tablet, we hit the other end of the spectrum with the 3.4 kilogram (7.5 lb) Y70 Touch gaming laptop. This is the first gaming laptop from Lenovo to be offered with a 17" screen size – in this case a 17.3" 1920x1080 touchscreen. This behemoth of a laptop is powered by up to a Core i7 quad-core processor, has up to 16 GB of DDR3L, and can be equipped with a NVIDIA GTX-860M GPU with 4 GB of dedicated memory. Storage options are up to 512 GB Solid State Drive (SSD), or up to a 1 TB Solid State Hybrid Drive (SSHD) which has 8 GB of SSD cache. Audio on the laptop should be a highlight feature, with JBL stereo speakers and an integrated 3.0 watt subwoofer built in. Wireless options are 802.11ac, and a gigabit Ethernet connection is also included. Battery life is rated for only 5 hours, but with a curb weight this high, this is not the kind of machine you would take and use on the go anyway. The only optical disc option is an optional external DVD/Blu-ray drive. A backlit keyboard with red lighting completes the experience. The Y70 Touch will be available in October with a starting price of $1299.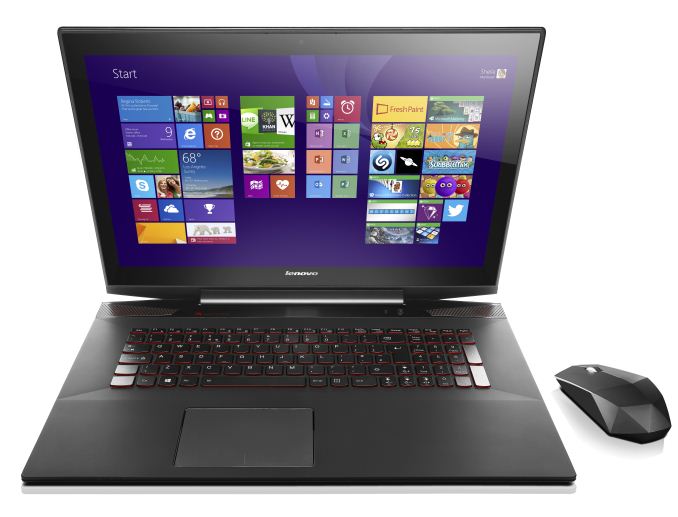 The final announcement today is the ERAZER X315, which Lenovo considers an affordable gaming desktop. With a starting price of $599, they could be right. Lenovo went with the AMD Kaveri for the X315 series, with choices of the A8-7600 (3.1 GHz quad-core) or A10-7859K (3.7 GHz quad-core) APUs. Memory is up to 8 GB for the A8 version, and 12 GB for the A10, and GPU options are the AMD Radeon R9 255 with 2 GB of memory for the A8, or an R9 260 with 2 GB memory for the A10. Storage options are both SSHD drives, with 1 TB for the A8 and 2 TB for the A10. This desktop also includes four USB 3.0 ports (with one always powered), two USB 2.0 ports, HDMI input, and wireless connectivity with 802.11ac supported in addition to the Ethernet port. The case includes front lighting and a "knight's armor" design. The ERAZER X315 will be available in November.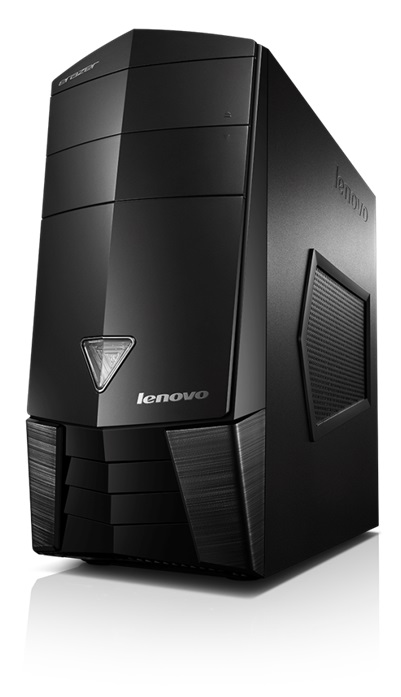 Lenovo has announced three devices aimed at three completely different markets. The tablet looks to have a great display for the $199 price. A 17" laptop with a 1080p display seems like a low resolution offering for this day and age, but for a gaming device it makes sense with the amount of GPU power available in a mobile device. The desktop looks to be a decent gaming machine for a starting price of $599, but we will have to wait for a review to know for sure.
Source: Lenovo