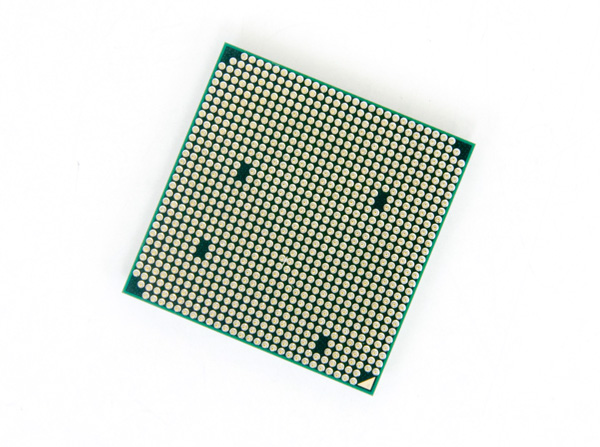 I will be honest, after AMD did not update its FX processor line using the Steamroller architecture, I was not too hopeful for the brand to see anything new in 2014. But since the start of the year the 5 GHz turbo FX-9590 has been rereleased as a consumer part and today AMD is showing it can get four Piledriver modules down to 95W with a few frequency adjustments and cherry picking the dies. This is accompanied with price cuts for the eight-thread FX parts, which AMD is aiming squarely at similarly priced Intel i5 and i3 processors.
The Information
The new CPUs being released today come in three flavors. The FX-8370 is an upgraded version of the FX-8350, giving an extra bump in clock speeds over the FX-8350 in the same 125W envelope. The other two processors, the FX-8370E and FX-8320E, carry this new 'E' designation from AMD, representing their 'energy efficient' range. For these processors, this means a four-module die with 8 threads with turbo frequencies matching their non-E counterparts but base frequencies reduced slightly.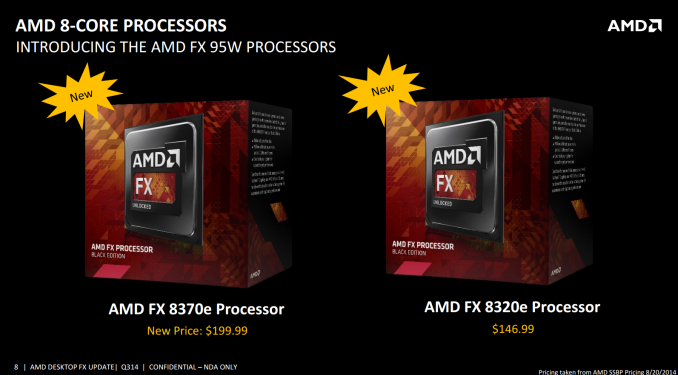 Part of this makes you wonder just how much energy is used per MHz to hit the high numbers. It only takes a relatively small drop in base frequency to net a large power gain. We saw similar things from AMD with their 65W configurable TDP Kaveri parts earlier this year.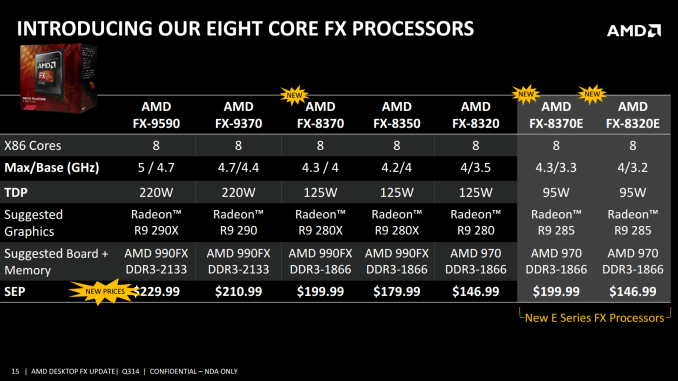 The base frequency drop does come across as a larger number than a first glance might suggest. The FX-8370E is 700 MHz lower than the FX-8370, while the FX-8320E is only 300 MHz lower. While I can imagine that 700 MHz reduces the power consumption by 30W, the 300 MHz number might indicate a better binned CPU from AMD. One of the issues AMD will have however is the Turbo mode. In the past, only specific workloads seem to cause the low thread count/high frequencies to kick in, meaning that an abnormal workload will keep the frequency low.
Also, unlike on Intel's side of the fence, the motherboard manufacturers have not embraced MultiCore Turbo on AMD with the same gusto. This is a feature that places all the cores of the CPU in its highest frequency state any time it is not idle in order to allow software to be completed faster at the expense of power consumption and some heat. While this does not affect our testing due to the way we test, it might affect the experience the user has on a day-to-day level by being down on the top turbo mode.
In terms of the processor architecture, one of the most obvious questions to ask is:
Why update the FX line with more Vishera based processors? Can't we get an update?
AMD's reasoning for these new processors, apart from the slowly increasing yields of the higher bin parts over the past year and tweaking the overall design, is because of the motherboards available on the market. Due to the construction of some of the early motherboards intended for AMD's no-IGP line, these early motherboards could only support 95W or 125W maximum, let alone the 220W of the FX-9590/9370 behemoths. By releasing an 8-thread Vishera processor with a 95W TDP, this allows these users to upgrade without spending an extra $120-$200 on a new motherboard.
With our CPU sample from AMD, we were also sent one of the newest motherboards that shows this limitation. We ran a news item on the 990FX Killer when it was first announced, and it was interesting due to its use of M.2 on 990FX. One of the items I spotted at the time on the specifications sheet was its recommended limit of processors: 125W TDP maximum. At the time (December 2013) AMD's Roy Taylor and I discussed this on Twitter. It seemed odd that new motherboards were coming out that would not support AMD's fastest CPU, even though motherboard manufacturers and AMD's partners wanted to push the FX-9590 as the top end product. To solve that conundrum, this line of E processors was launched.
At the moment, AMD's future roadmaps do not include FX processors based on new architectures, and there is no publicly disclosed new chipset, as we discussed in our recent FX-9590 review.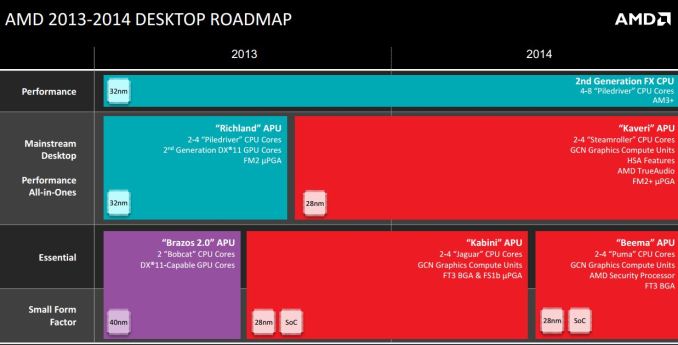 However, during the pre-briefings for these processors with AMD, one series of lines from AMD's Adam Kozak piqued my interest, regarding the future of the FX processor line. Particularly mentioned was the lack of further FX updates for the rest of 2014, however there were indications that 2015 might hold something. AMD's James Prior answered an email of mine regarding the exact wording, and aside from confirming that AMD are committed to supporting the current AM3+ lineup, one line gives hope:
"The AMD of today is funding the AMD of tomorrow by working hard to ensure the ongoing success of products like FX."
To say 'today funds tomorrow' is no big leap of the imagination, but 'ongoing success' could stress future updates for the FX line. Now that AMD has started this energy efficient nomenclature, it would make sense to sustain it and introduce it to more of its customers over time. The earliest indication is 2015 for anything slightly new, though it is currently difficult to predict exactly what would be coming. But if we take into context 'products like FX', it might imply that there are no future FX parts, or at least how we commonly recognize them.
But for now we have the energy efficient side of Vishera to test.
The CPU, The Chipset and The DRAM
While AMD is stating that the 32nm process for Vishera has been updated and tweaked over time to allow for better yields and more efficient products, they have not stated if the silicon is changed in any way. For all intents and purposes, 32nm is getting a bit long in the tooth in the land of processors – Intel's 14nm designs and second generation tri-gate transistors/FinFETs are almost upon us and 32nm is some way behind.
CPU Specification Comparison
CPU
Manufacturing Process
Cores
GPU
Transistor Count (Schematic)
Die Size
Intel Haswell-E
8C
22nm
8
N/A
2.6B
356mm2
Intel Haswell
GT2 4C
22nm
4
GT2
1.4B
177mm2
Intel Haswell
ULT GT3 2C
22nm
2
GT3
1.3B
181mm2
Intel Ivy Bridge-E
6C
22nm
6
N/A
1.86B
257mm2
Intel Ivy Bridge
4C
22nm
4
GT2
1.2B
160mm2
Intel Sandy Bridge- E 6C
32nm
6
N/A
2.27B
435mm2
Intel Sandy Bridge 4C
32nm
4
GT2
995M
216mm2
Intel Lynnfield
4C
45nm
4
N/A
774M
296mm2
AMD Trinity
4C
32nm
4
7660D
1.303B
246mm2
AMD Vishera
8C
32nm
8
N/A
1.2B
315mm2
AMD is keeping the new energy efficient CPUs in the AM3+ socket, which means the 990FX is still top of the chain. However, these new CPUs are aimed at the lower end motherboards or even the older chipsets that were not designed to cope with >95W TDPs. In AMD's briefing, they specifically called out the 700 series that supported AM3 and DDR3, although this applies to 800 series and 900 series equally.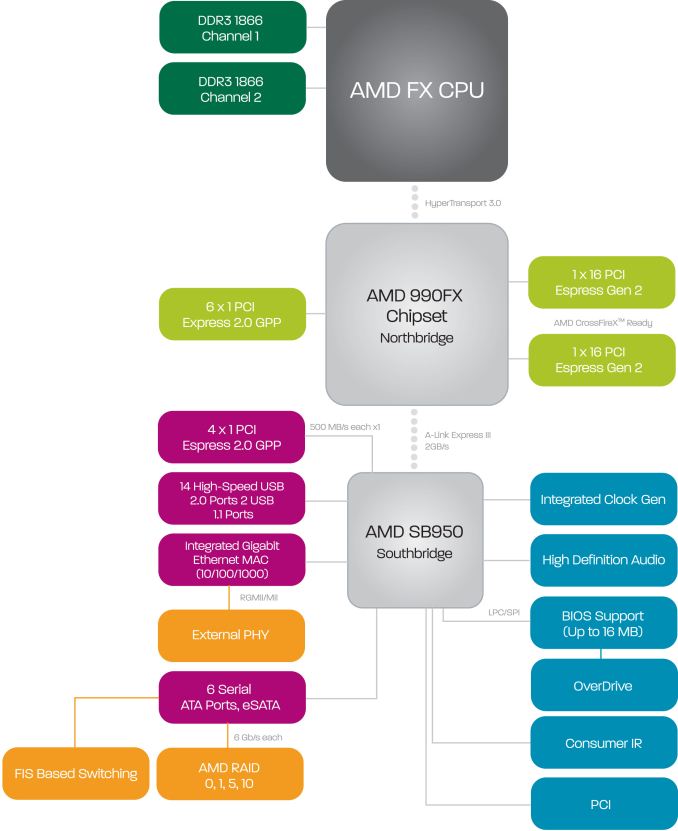 The 990FX+SB950 platform combination is still limited to PCIe 2.0 without using a PCIe 3.0 PLX chip, although the connection to the CPU in that orientation is still PCIe 2.0 - only the data between the GPUs is accelerated. Nevertheless this is still the latest platform from AMD to have SLI support, with the north bridge being able to use two PCIe 2.0 x16 slots. The south bridge gives out the IO, to which we get six SATA 6 Gbps ports that are RAID capable. No native USB 3.0 though, as this combination was introduced before USB 3.0 became a must-have feature. This is one of the common criticisms with AM3+ - it needs a chipset update. There are plenty of PCIe 2.0 x1 ports in order to use USB 3.0 controllers, however this adds cost and AMD motherboards are generally low cost to begin with. It also goes against the mantra AMD is using for the new energy efficient CPUs of keeping the motherboard.
Memory is still DDR3, with the new CPUs natively supporting DDR3-1866 MHz under JEDEC specifications. Nevertheless, in AMD's pre-brief it was stated that DDR3-2133 overclocking should be possible on almost all samples, with DDR3-2400 being a potential. Normal rules apply with DDR3: if you are buying new, buy a single kit with all the modules you need rather than two kits of the same modules. A kit is by definition only designed to work with itself, and it may be too strict on its timings to work with another kit, even if that kit is the same type. That is why four module kits often have a lower specification than a dual module kit. If the kit cannot combine with another kit at the rated settings, it can be a hard problem to diagnose. However the DDR3 market is quite mature at this stage, with plenty of options available.
Competition and Market
There are many ways in which a manufacturer can order up the competition. We could have 8-thread CPUs against 8-thread CPUs, or we could put 95W CPUs against 95W CPUs. For these processors, due to the accompanied price reduction across most of the FX desktop line, AMD is deciding to compare setups based on price.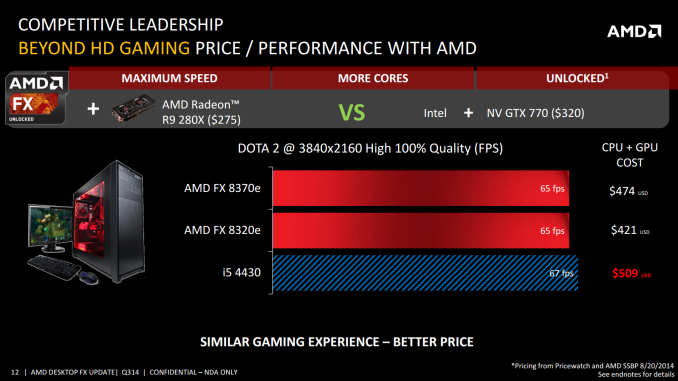 This slide AMD provided is rather amusing. It shows that an FX-8320E + R9 280X will perform similarly to an i5-4430 + GTX 770 while being $88 cheaper. This is despite the DOTA 2 benchmark being performed on a UHD monitor which would cost just as much. But then again, perhaps that extra $80 could be going on an SSD – AMD's focus over the past few years has always been oriented towards the cost effectiveness.
In real terms, the FX-8370 sits between the FX-8350 and the FX-9370, and the FX-8370E/FX-8320E are both equally priced to their non-E counterparts. The tradeoff is that for the lower TDP option, you pay a bit more compared to if we just looked at the speed.
AMD FX CPU Comparison
FX-
4350
FX-
6350
FX-
8320E
FX-
8320
FX-
8350
FX-
8370E
FX-
8370
FX-
9370
FX-
9590
Release Date
04-
2013
10-2012

09-




2014

10-2012

10- 2012
09-
2014
09-
2014
07- 2013
07- 2013
Modules
2
3
4
L1 Cache (Code)
128 KB
192 KB
256 KB
L1 Cache (Data)
64 KB
96 KB
128 KB
L2 Cache
4 MB
6 MB
8 MB
L3 Cache
8 MB
TDP
125W
95W
125W
95W
125W
220 W
Base Frequency
4200
3900
3200
3500
4000
3300
4000
4400
4700
Turbo Frequency
4300
4200
4000
4000
4200
4300
4300
4700
5000
Core Name
Vishera
Microarchitecture
Piledriver
Socket
AM3+
Memory Support
DDR3-1866
Price
$140
$140
$147
$147
$180
$200
$200
$211
$230
Unfortunately AMD's pricing is not telling the whole story. For the FX-9370 and FX-9590, that pricing is for the CPU-only version, whereas the FX-8370 and below pricing includes a boxed cooler. AMD's reasoning on this is that for users buying the 9000 series, even with the price cuts, many of them will either purchase the version with the all-in-one liquid cooler (+$80 or so), or use their own after-market cooling in order to deal with the 220W TDP.
If we do a direct comparison of the SEP of the new CPUs with prices at retail for Intel Haswell:
SEP vs Retail
CPU
TDP
Threads
US Price
(Newegg)
Core i5-4690K
88W
4
$240
FX-9590
220W
8
$230
Core i5-4690
84W
4
$225
Core i5-4670K
84W
4
$220
FX-9370
220W
8
$211
Core i5-4590S
65W
4
$200
Core i5-4590
84W
4
$200
FX-8370
125W
8
$200
FX-8370E
95W
8
$200
Core i5-4460
84W
4
$190
Core i5-4430
84W
4
$190
FX-8350
125W
8
$180
Core i3-4370
54W
4
$160
FX-8320
125W
8
$147
FX-8320E
95W
8
$147
Core i3-4350
54W
4
$145
At the high end, the FX-9590 has competition with the i5-4670K although with twice as many threads in tow. At the FX-8370 level, the pricing of both the Core i5-4590 and the S model would make for an interesting battle if we had these CPUs in to test. For the FX-8320E, we are split between two Core i3s, meaning that the i3 with two cores and HyperThreading is up against a full 8 threads from the FX-8320E. While this seems one sided, the i3's power consumption is almost half that of the FX processor. AMD is also keen to point out that all of its CPUs are unlocked for overclocking, unlike the competition where it is limited.
This Review
At this point in time AMD is currently only sampling the FX-8370E to the press, with the other CPUs to follow later this month. Due to our sample arriving only yesterday, this aims to be a quick overview of performance against other processors we have already tested. Note we only have a few from the list above, but as the new processors arrive we can aim for a more targeted punch-counterpunch scenario with overclocked testing. Our testing today encompasses the usual array of CPU and gaming benchmarks at stock speeds and official supported memory frequencies.
Test Setup
Many thanks to...
We must thank the following companies for kindly providing hardware for our test bed:
Thank you to OCZ for providing us with PSUs and SSDs.
Thank you to G.Skill for providing us with memory.
Thank you to Corsair for providing us with an AX1200i PSU and a Corsair H80i CLC.
Thank you to MSI for providing us with the NVIDIA GTX 770 Lightning GPUs.
Thank you to Rosewill for providing us with PSUs and RK-9100 keyboards.
Thank you to ASRock for providing us with some IO testing kit.
Thank you to Cooler Master for providing us with Nepton 140XL CLCs.
Load Delta Power Consumption
Power consumption was tested on the system while in a single MSI GTX 770 Lightning GPU configuration with a wall meter connected to the OCZ 1250W power supply. This power supply is Gold rated, and as I am in the UK on a 230-240 V supply, leads to ~75% efficiency under 50W and 90%+ efficiency at 250W, suitable for both idle and multi-GPU loading. This method of power reading allows us to compare the power management of the UEFI and the board to supply components with power under load, and includes typical PSU losses due to efficiency.
We take the power delta difference between idle and load as our tested value, giving an indication of the power increase from the CPU when placed under stress.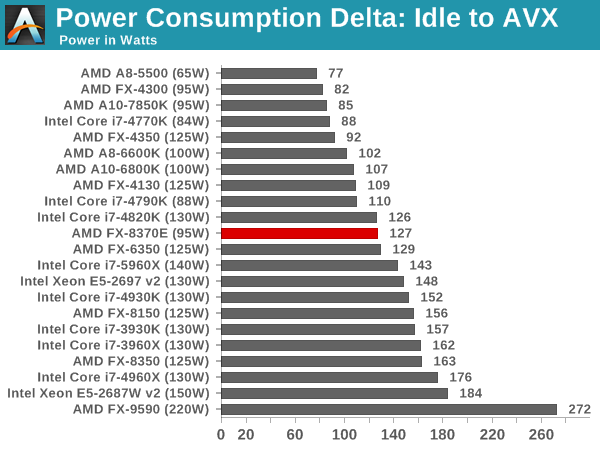 I retested our very early FX-8150/FX-8350 samples again for the power tests due to lack of data, and even though the result was very high over several tries it was consistent. Thus the power saving by comparison, switching to the efficient processors is great, but the latest AMD architectures perform best.