The EVGA Torq X10 Mouse
At this point, we should note that there are two versions of the Torq X10 mouse, the standard version and the carbon fiber one. The only difference between the two models is that the former uses standard plastic body materials, while the latter has some of them replaced with carbon fiber. The one depicted in this review is the standard version.
The Torq X10 is a symmetric, ambidextrous mouse with dotted matte top surfaces and glossy black sides. Each side sports two large red buttons that are strangely marked as "1" and "2" on either side of the mouse. It also has a large, ribbed scroll wheel, right above the DPI adjustment buttons. The Torx screw that adjusts the height of the mouse can be seen at the front, under the plastic body. By removing the top cover of the mouse, the user can insert the weights. Note however that only two out of the six provided weights can be inserted, limiting the maximum weight increase to a measly 12 gr (2 x 6 gr).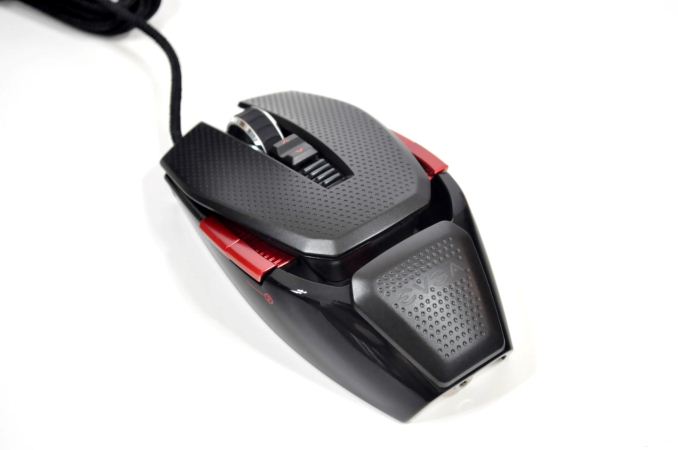 As far as quality is concerned, our feelings are mixed. We found very high quality Omron switches beneath the two main buttons, but that is not true for the side buttons, which feel a little mushy and wobbly. Although the body of the mouse is plastic, the frame is metallic, providing increased mechanical cohesion and ruggedness. The glossy sides of the Torq X10 however are somewhat slippery and give the mouse a cheap feel. This is probably not the case with the carbon fiber version, but shelling out $30 extra just for the feel of a mouse is not particularly cost-effective.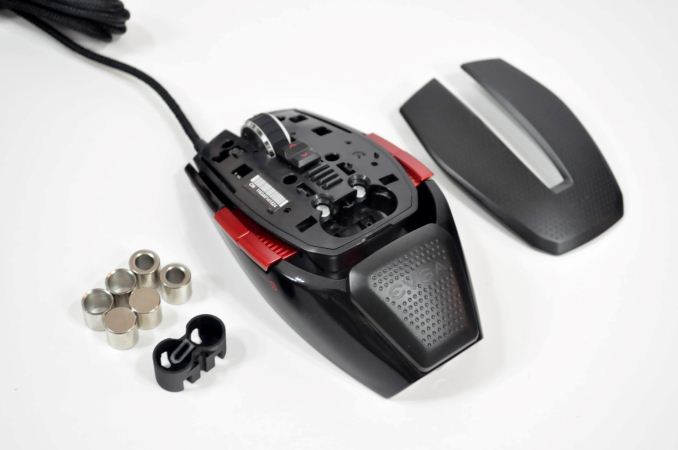 Beneath the mouse, we found one button and the Avago 9800 laser sensor. This button's default action is profile selection, making EVGA's choice of placement a double-edged knife; you will certainly not accidentally click it while gaming but you cannot change profiles on the fly either.