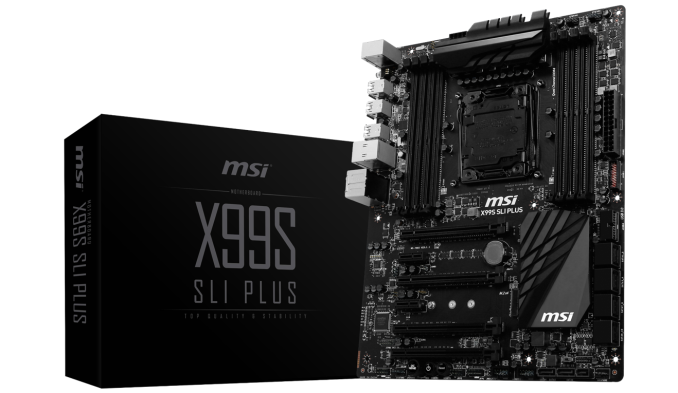 With every generation, motherboard manufacturers are increasingly using social media to provide teasers about their upcoming products. MSI had already shown one of its X99 motherboards, or at least a pre-production sample, at Computex but now another has surfaced via Facebook. The X99S SLI PLUS seems to come in an all-black delivery, although judging by the dull-ness of the rear panel one might suggest that MSI reduced the color palette to a grey scale but some red color in the USB 3.0 is still there.
Aside from the LGA2011-3 socket cover which is different to LGA2011-0, this X99 motherboard will support eight DIMMs with the power delivery isolated to above the CPU only. It looks like a single 8-pin ATX power connector, and we can tell that this motherboard is not part of MSI's OC range as there are no overclocking buttons in the top right of the motherboard.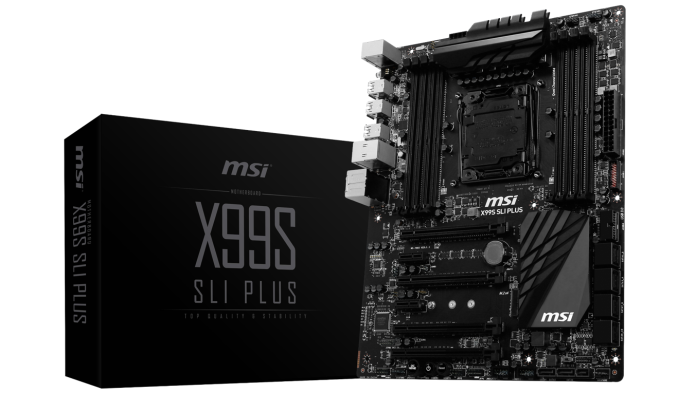 There are two USB 3.0 headers on the right, followed by eight SATA 6 Gbps ports. Storage also comes via a SATA Express (which has two more SATA ports) and an M.2, although as of yet we do not know whether X99 will support more than one PCIe storage device for Intel's RST at a time, so there may still be some context of storage bandwidth switching similar to Z97. I see at least five fan headers on this motherboard, along with two USB 2.0 headers at the bottom as well as MSI's usual power/reset/OC Genie buttons. Worth noting is the lack of a two-digit debug display.
The X99S SLI PLUS sounds like it will be aimed at a gaming crowd, however the audio portion of the motherboard looks significantly regular, more akin to a stock ALC1150 or ALC898 audio codec implementation. MSI also lists the number of PCB layers it uses on the bottom right of its boards, and this looks like an 8-layer implementation.
Teasers are great, although we cannot tell more about the storage controllers used until we get more information about the X99 chipset – whether it supports M.2/SATAe, how many SATA ports, how many USB 3.0 ports and so on. The MSI X99S SLI PLUS seems to come across as a mid-range X99 motherboard overall, especially when we consider what has been on X79 motherboards in the past.
Source: Facebook, MSI Malaysia Fanclub