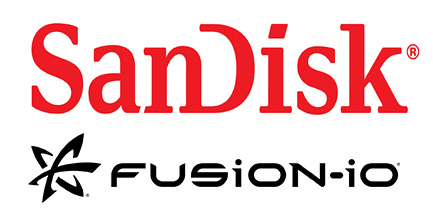 It looks like the SSD industry is going through some serious consolidation. Only a couple of weeks ago, Seagate announced that they have acquired LSI's flash division (i.e. SandForce) from Avago and today SanDisk announced that they will be acquiring Fusion-IO for $1.1 billion cash. Fusion-IO focuses on enterprise flash products (both hardware and software) and is probably one of the most iconic enterprise SSD companies because Facebook has been one of their major revenue sources for years and of course having Steve Wozniak as the Chief Scientist has given Fusion-io a lot of publicity as well.
I think this acquisition further reinforces the point that companies without a NAND fab are in trouble. Fusion-io's advantage in the market was their early entry, which allowed them to build a good customer base before the likes of Intel and Samsung started to take SSDs seriously. However, now it's hard for Fusion-io and other fabless companies to stay price competitive because the companies with NAND plants can always undercut their prices as ultimately Fusion-io buys their NAND from the companies that are their biggest rivals in the SSD market. Obviously, the NAND manufacturers are looking to make profit from the NAND they sell, so the price battle is one that Fusion-io and the others can't win in long-term. SanDisk has a NAND joint-venture with Toshiba, so this acquisition gives Fusion-io a direct access to NAND.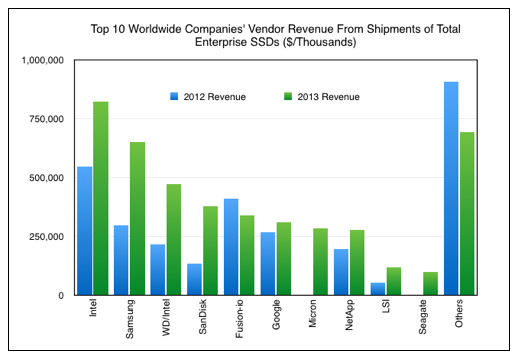 Source: Gartner HWQ via TheRegister.co.uk
As for SanDisk, their enterprise solutions have been a bit tame compared to Samsung and Intel. SanDisk has a vertical integration model but for some reason their enterprise products just haven't had the same momentum. SanDisk did manage to increase their enterprise SSD revenue significantly in 2013 but they must be able to keep up the growth. With Fusion-io's existing revenue sources and SanDisk's vertical integration business model, SanDisk should definitely have the ammunition to challenge Intel and Samsung in the enterprise space.
SanDisk is hosting a conference call later today, so stay tuned for updates. The press release doesn't specify whether Fusion-io will be integrated into SanDisks's enterprise storage unit but we should know more after the conference call. This is certainly one of the biggest news in the history of enterprise SSDs given that SanDisk and Fusion-io were the number four and five in revenue last year, so I'm very excited to see how it plays out.
Source: SanDisk PR