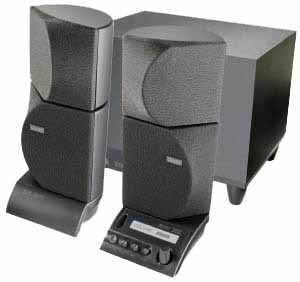 Altec's most recent offering in its line of stackable surround solutions is the ADA890. Like its predecessors, it comes with rear surround speakers that can either be placed in dedicated cradles behind the listener, or the rear sats can be stacked on top of the front pedestals, allowing the system to offer both 4.1 and 2.1 format options.
The ADA890 also carries the THX multimedia certification seen in a predecessor unit, the ADA885. Though many write this certification off to marketing hype, it is important to consider that it does come from somewhere. At the least, there are some documented technical standards behind the name, which carry over between manufacturers that have achieved this certification. More can be learned about the standard from the THX webstie, www.thx.com.
The unit consists of a subwoofer, two front satellites on integrated pedestals, and then two rear satellites on detachable cradles. The front right pedestal contains the control module for the system; this can not be moved to the other side. For inputs, the system offers four channels of analog input (front and rear stereo), and a coaxial digital input. For optical digital sources, Altec offers the OC1 adaptor to convert to a coaxial input.
Here's what Altec says about their system. In addition to the standard specifications, there's some extra information here provided by Altec to help our readers make an informed decision, in bold:
System Response

27Hz - 20kHz, -10dB; 50Hz-16kHz +/-2dB

Total Audio Output

120 Watts RMS(103 dB SPL@ Listening Position)

Total Impedance

>10k Ohms

Analog Input Sensitivity

300 mV for full output

Digital Input

S/PDIF*

SATELLITE SPEAKERS

Drivers

Drivers Four 3" Full Range

Two 1" Tweaters

Power

60 Watts (15 watts per satellite) at 0.3%THD

Signal-to-noise Ratio

>70dB

SUBWOOFER

Driver

One 8" dual voice coil

Power

60 Watts at 10%THD

Crossover Frequency

150Hz

Signal-to-noise Ratio

>70dB

POWER REQUIREMENTS

USA/Canada

120v/60Hz/360W

Europe/UK/various Asian Countires

230v/50Hz

UL/cUL/CE Approved

DIMENSIONS

Subwoofer

365mm Wide x 260mm Deep x 290mm High

Main Speaker

137mm Wide x 110mm Deep x 162mm High

Surrounds
110mm Wide x 104mm Deep x 117 mm High
* Sony/Philips Digital Interconnect Format