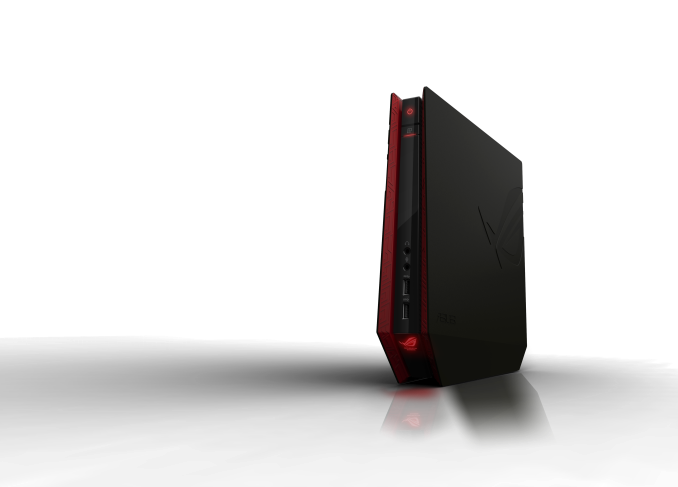 Mini-PCs are currently one of the fastest growing desktop market segments, alongside all-in-ones and other small form factor (SFF) variants. While on the full desktop side most of the sales are still for ATX-sized devices, a lot of attention is put towards the growth of the mini-ITX market. To that extent, ASUS has designed and are bringing to market a pair of gaming PCs.
ROG G20 Gaming Desktop
The G20 Gaming Desktop, winner of a Best Choice Golden Award at Computex, uses a 12.5 liter chassis with no visible vents to support a Haswell Core i7 CPU with an NVIDIA GTX 780. The design uses 'aggressive' lines with a matte black finish in the red/black style of ASUS' gaming range. The lighting on the outside of the case is split into three regions, each of which can be user controlled to 8 million different colors.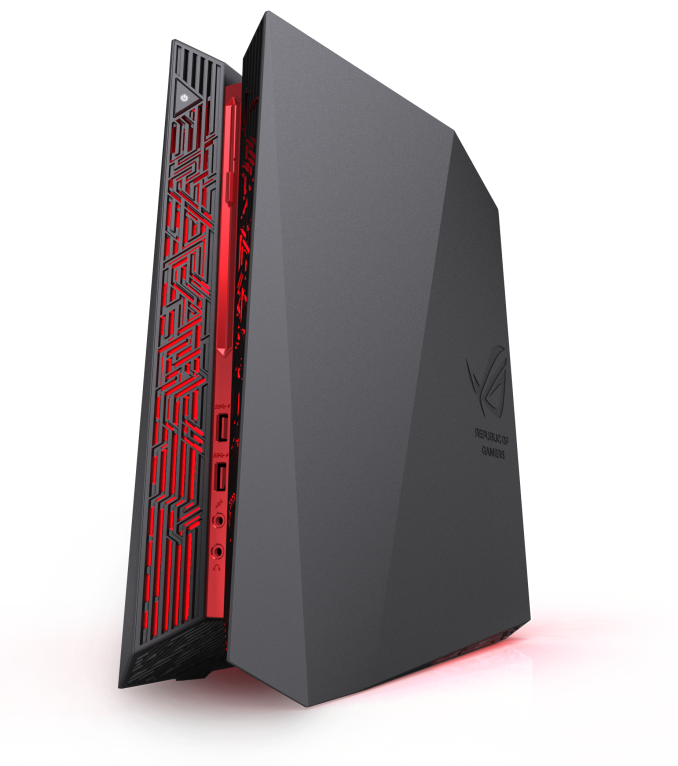 ASUS claim that the G20 offers efficient heat management and near-silent operation, giving 25dB at idle. I would assume that this, along with the note about having no visible vents, would suggest that ASUS has done away with CPU and GPU coolers and is using the case itself as a heatsink. This is not necessarily a new idea, but I cannot remember the last time I saw such a power hungry unit go along these lines. There is a small 'hidden airflow tunnel' to aid air-flow management (contains two ultra-quiet fans), which would make sense given that other elements in the system heat up as well.
The G20 is also being advertised with an Eco Energy Mode, which reduces the power usage of the system to around 20W. It is unclear if this is an idle power draw, or the system is reduced in clocks (to idle) for constant use similar to what some motherboards do. There is no word whether the motherboard and GPU are custom built for the system, however as more details are released we hope to get some kind of inclination.
Pricing will be dependent on what options are chosen, but ASUS expect it to be in the region of $800-$1700 with availability in Q3.
ROG GR8 Console Gaming PC
Text-speak aside (greeeeat), the GR8 equips an i7 with a GTX 750 Ti to provide a small form factor system designed for both gaming and streaming. Equipped with a Miracast receiver, the system will accept content from supported Android smartphones, tablets, Windows 8.1 PCs and WiDI 3.5+ devices.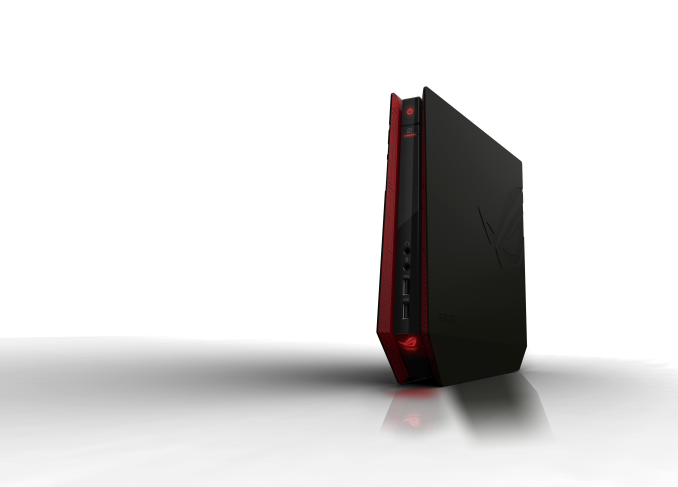 The GR8 will initially be available in a Windows 8.1 configuration compatible with SteamOS, but a SteamOS configuration will be launched in alignment with Valve's schedule. Behind the functionality we also have SupremeFX audio, optimized gigabit Ethernet, and upgradable storage/memory. The importance of such a device will be in the pricing, and users with wireless controllers might see this as a PC alternative to the console.
No pricing is yet available, though the GR8 is expected to launch in North America in Q3 as well.