Brightness and Contrast
As I mentioned, I am not using the dynamic contrast feature for any of these measurements. Since it does not allow you to adjust the brightness when it is enabled, it will be far too bright for regular use and seems designed to mostly produce a number that looks good on spec sheets. In use it also takes nearly 3 seconds to respond to a change in average picture level, which most people will find too slow and annoying in actual use.
When the backlight is set to the maximum, a white field puts out 307 cd/m2 of light. Setting the backlight to minimum causes the white reading to fall down to 26 cd/m2. While the backlight setting is adjustable from 0-100, it is only adjustable in increments of 3, so it is really 0-33. These coarse adjustments cause issues later on as hitting 200 cd/m2 is a bit harder.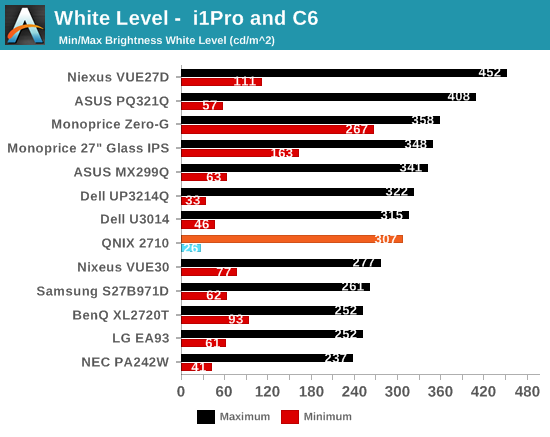 The black level with the backlight at maximum is a rather high 0.4122 cd/m2 and with it at minimum it is 0.0369 cd/m2. While the AUO panel used is AHVA, this is really more of an IPS type panel as opposed to being a VA type panel. AHVA (Advanced Hyper-Viewing Angle) is fundamentally different than VA (Vertical Alignment), and PVA/MVA panels would generally show much better black levels than this.
These combine to have mediocre contrast ratios of 717:1 and 744:1. Modern IPS panels are now doing over 1,000:1 and VA panels can be past 4,000:1. Since this is the first AHVA panel I've seen I'm not sure if this is an overall flaw with the AHVA technology or with the implementation in this monitor -- or perhaps a bit of both.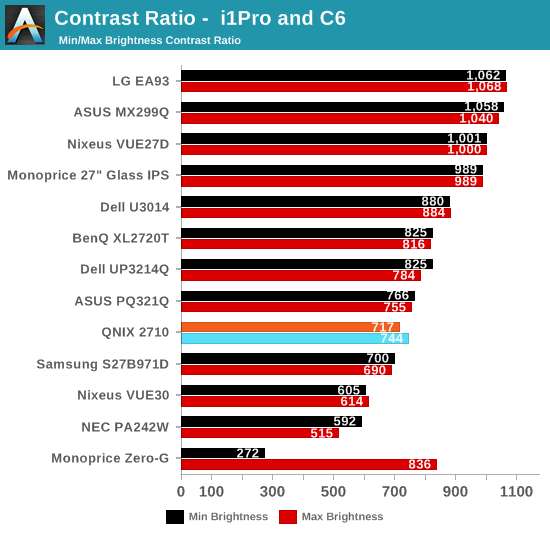 The QNIX is plenty bright and offers a nice lower level brightness setting as well. The rest of the brightness settings are too coarse to easily select a specific level, while the black level and contrast ratios suffer overall. In short, this isn't a professional grade display, but then the pricing and source should have already made that abundantly clear.