Introduction
Entertainment has always developed off the shoulders of technology.   From the development of paint and textiles came artwork; likewise, photography came from new optics technology and chemistry.  Advances in electronics brought the pictures alive, and sound soon was tied to the moving pictures.  That pretty much brings us into the first half of the last century.  Television and video brought a new measure of reality to communication, serving as the history behind the computers that are easily described as pervasive these days.  Though many of these milestones were visually based in pictures, sound has been there most of the time as well.  Each step of sound technology both keeps up with and greatly enhances each step in visual technology.
The step from mono to stereo introduced the concept of directionality to sound, or as some would argue, the concept of realism.  More directional technologies were seen first in the theatre with multitrack playback for movies.  As the video technology moved down to the consumer level, the multitrack audio needed to follow.  Out of this came the Dolby encoding techniques that brought the surround info to the home.  Add on the ProLogic processing algorithms, and the center track was extracted from the mix for everyone to enjoy.  Finally, Dolby Digital upped the bar by bringing 5 full range tracks plus a low frequency effects channel to the audience.
For those that were looking for a little more from theatre sound, Jurassic Park premiered an exciting new option.  DTS, a format developed by Digital Theatre Systems, Inc. offers a 6 channel format similar to that of Dolby Digital.  However, it is designed with less compression in an attempt to preserve more of the original multitrack master.  The result? A wider dynamic range that gives more artistic room to play with; essentially, explosions can be louder, or a whisper more discrete, in the same movie.  Progress is here, so it's time to sit back and listen.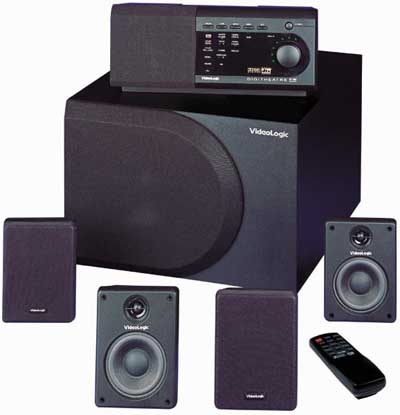 The VideoLogic DigiTheatre DTS system consists of four satellites, plus a center speaker integrated into a control module for the system.  The subwoofer contains the amplifiers for the system.  The satellites come in plastic enclosures, while the sub resides in a MDF wooden enclosure.  As the name implies, it supports DTS surround and is also backwards compatible with Dolby Digital and Dolby ProLogic.  Here's what VideoLogic says about the system:
CENTRE SPEAKER / CONTROLS

Fully magnetically shielded 100mm/3.94 inch bass/mid frequency drive unit with concentric high-frequency tweeter.

Remote control: Infra-red remote control functions include standby mode on/off, surround mode select, volume (master and individual channels), input select, mute and test tone.

Surround modes: DTS, Dolby Digital (5.1), Dolby Pro Logic, plus 'Theatre' and 'Hall' modes for stereo material.

Volume level: Master and individual volume control for each speaker.

Input select: Digital optical, digital coaxial or analog line in.

AMPLIFIER/SUBWOOFER

MDF wooden cabinet, containing magnetically shielded drive unit.

Low frequency drive unit: 200mm/8 inch long-throw subwoofer.

Power output: Satellites: 4 x 30W RMS.

Centre speaker: 30W RMS. Subwoofer: 70W RMS. Total system: 220W RMS.

Input connectors: Coaxial (RCA phono) and optical (Toslink) connectors for digital (S/PDIF) input. Dual coaxial (RCA phono) for analog stereo input.

Power supply: UK/Europe 220-240V AC 50/60Hz; USA/Canada 110-120V AC 50/60Hz.

FRONT & SURROUND SPEAKERS

Cabinets manufactured from mica-loaded polymer containing magnetically shielded Audax drive units. Includes bracket-mounting holes and removable grilles (brackets available separately from www.videologic.com).

Bass/mid frequency drive: Audax 80mm cone.

High frequency drive: Audax 10mm polymer dome tweeter.

GENERAL

Cables supplied: Serial cable (for connecting centre speaker decoder unit to subwoofer); S/PDIF RCA phono cable (male to male); 3.5mm to dual phono cable; multistrand cable for front and surround speakers.

Approvals: CE marked. Compliant with the EMC and Low Voltage Directives (89/336/EEC and 73/23/EEC). UL approved.

Dimensions (width / height / depth): Front and surround speakers: 100 x 136 x 79mm; 3.94 x 5.35 x 2.91 inches. Centre speaker: 303 x 132 x 152mm; 11.93 x 5.2 x 5.98 inches. Subwoofer: 350 x 245 x 400mm; 13.78 x 9.65 x 15.75 inches.

Weight: Approx. 17kg/38lbs.

Technical support: Telephone support hotline and Internet web site.

Warranty: Two years.