Some time ago we did a roundup of radiator fans and found that the Enermax Magma turned in remarkably impressive thermal performance for its acoustics. I'd heard rumblings here and there about questionable reliability of these fans, but I even recently saw a boutique desktop system that was using a pair of Magma fans on its closed loop cooler instead of the stock fans.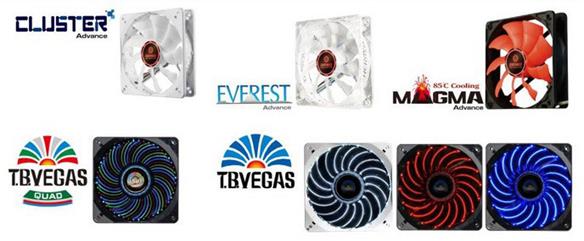 Now they're releasing a couple of new series of fans which feature integrated fan speed control beyond just conventional PWM. While fans with integrated speed switches aren't totally unheard of, they're still somewhat rarefied. Each of the new fans in the Cluster Advance, Everest Advance, Magma Advance, and T.B. Vegas lines incorporate what Enermax calls "APS Control," or "Adjustable Peak Speed Control." What this boils down to is a trio of fan speed settings on each individual fan that allows the user to set an effective limit on how fast the fan can spin. More control is always appreciated, and even a minor 2/3-speed cap on something like the Enermax Magma might wind up striking an ideal balance between thermals and noise.
In addition to the integrated speed control, these fans are also equipped with what Enermax dubs a "Twister Bearing" that's different from conventional sleeve or ball bearings. They rate each fan's reliability at over 100,000 hours.