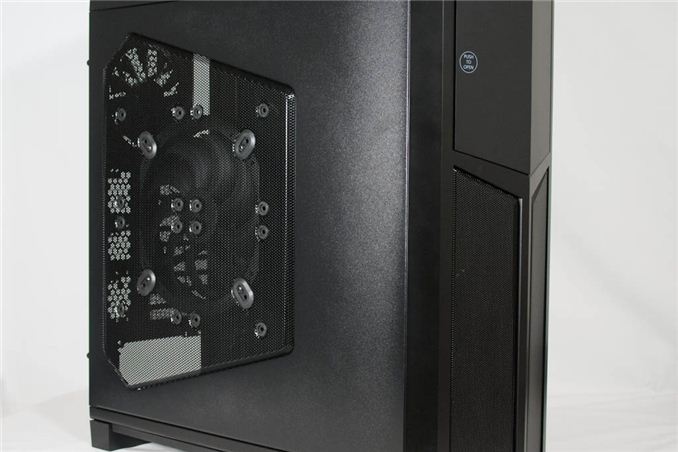 Rosewill's higher end enclosures seem to traditionally occupy a unique and special niche among their competitors: while their build quality may not quite be up to the level of competing cases, thermal performance tends to, if you'll pardon the expression, blow right past them. There are definitely tradeoffs to be made in the process, but beasts like the Thor v2 and Blackhawk Ultra provide borderline unparalleled thermals in their respective markets. If you're looking to build a beastly machine but want to save a few bucks on the case, there's a good chance Rosewill will have what you need.
That trend continues with the release of the Throne. First glimpsed at CES 2013, Rosewill's Throne comes with a tremendous amount of bells and whistles and like its predecessors, a price tag to match. We're still well into enthusiast case territory here and end users looking to save more scratch will probably want to keep sticking with the Thor v2, but at $159 (though currently out of stock at NewEgg), the Throne may be a case to shortlist for your next build.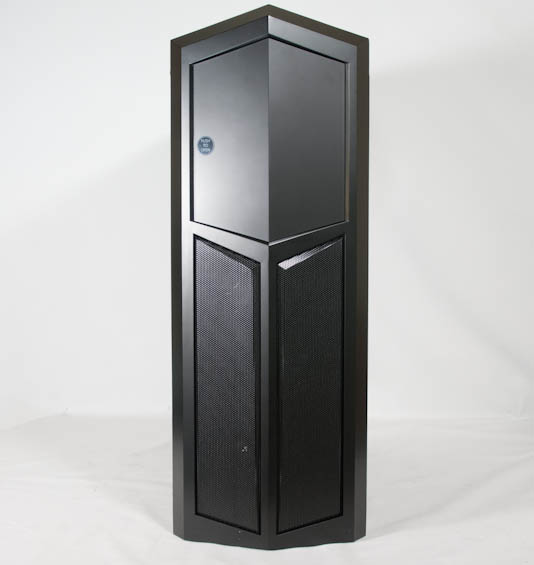 Unfortunately, this review does need to come with an advance warning. My case is a preproduction unit that doesn't have quite the fit and finish of units that are available in retail; alignment of optical drive bays with the fascia was off by about 2mm (you'll see later), and there was a short in the power button lead that created some problems during testing. Rosewill's reps confirmed the preproduction nature of my review case and none of their retail cases in-house had the same issues, and reviews of the case on NewEgg do corroborate their claims. If I were buying the Throne from NewEgg I might have a raised eyebrow, but honestly I'm confident those specific issues I ran into are going to be unique to this unit.
Rosewill Throne Specifications
Motherboard Form Factor
Mini-ITX, Micro-ATX, ATX, SSI CEB, SSI EEB, XL-ATX, E-ATX
Drive Bays
External
3x 5.25" (includes one 5.25" to 3.5" converter)
Internal
10x 2.5"/3.5"
Cooling
Front
2x 140mm intake fans (supports additional 2x 120mm/140mm fans internally behind drive cage)
Rear
1x 140mm exhaust fan
Top
2x 140mm exhaust fans (supports 2x 120mm)
Side
1x 230mm intake fan (supports 4x 120mm)
Bottom
1x 120mm/140mm fan mount
Expansion Slots
10
I/O Port
2x USB 3.0, 4x USB 2.0, 1x Headphone, 1x Mic, 1x 2.5"/3.5" hotswap bay
Power Supply Size
ATX
Clearances
HSF
180mm
PSU
330mm
GPU
330mm
Dimensions
9.14" x 22.84" x 21.89"
232mm x 580mm x 556mm
Special Features
Supports 280mm radiator in top
Dual 3-channel fan controllers
Hotswap drive bay
Toggleable red LED lighting for front fans
Open-and-close top vent
Price
$159
As far as features go, pretty much all the Throne is missing is an SD card reader, though I take some issue with the lack of filters on any of the fans but the bottom (where the only fan in most builds is going to be the one in the power supply). This isn't uncommon for Rosewill's cases but it's something that does need to be addressed; over time a Thor v2 will build up a tremendous amount of dust, and it stands to reason the same may happen with the Throne.
The Throne continues Rosewill's brute force approach to cooling, but the sliding fan controllers can at least take some of the edge off. Specific to Rosewill's beefier designs is the inclusion of a 230mm intake fan on the side panel; while I've sometimes waffled on the value of side intakes, it's pretty hard to ignore the positive impact one this massive can have.