Convertibles that can jump between being tablets and full-on notebooks are becoming an increasingly popular option due to both the design of Windows 8 and, to a greater extent, the gradual convergence between those product types. We're not quite at the point where anyone has nailed it without making some kind of serious sacrifice, but we're definitely getting there and the experimentation by different vendors is nothing if not interesting.
Enter Toshiba's Portege Z10t. Unlike most full x86 tablets currently available, which use either Intel's current-generation Atom (thus sacrificing performance) or 17W Ivy Bridge (thus sacrificing weight and heat), the Z10t is coming out of the gate with 13W Ivy Bridge. It also includes 4GB of DDR3, a minimum 128GB SSD, and per its business-class design, supports vPro.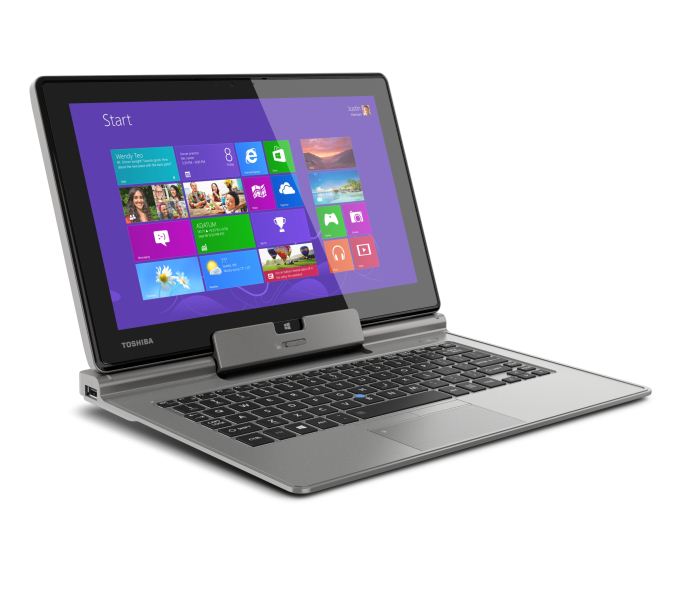 The Portege Z10t also features an 11.6" 1080p IPS display, but unique to it is a special fingerprint-resistant coating that I found vastly preferable to the traditional glass used on tablets. My fingertip was able to move comfortably and virtually friction free across the surface, and Toshiba also includes both a pressure-sensitive primary stylus and a secondary one mounted inside the chassis. Toshiba is also using a Wacom digitizer for the Z10t.
Where the Portege's convertible design differs is in the design of the keyboard dock; it's weighted in the back with additional ports and designed to easily close like an ultrabook, but there's no additional battery inside the dock itself. Toshiba will also be offering a separate port-replicator dock to use with the Z10t.
The tablet half is 0.53" thick and weighs a hair under two pounds; with the ultrabook keyboard dock, that weight goes up to a still svelte 3.1 pounds. It's expected to be available soon starting at $1,499.