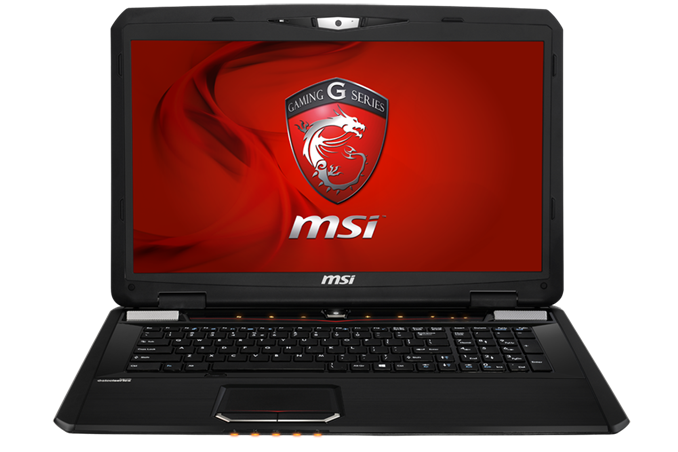 This is one of the more interesting pieces of hardware to keep an eye on if you're looking at a reasonably priced gaming notebook. I've toyed around with MSI's GX60 notebook a bit, and while I won't have a full review (it's too late to be useful), I will be posting benchmarks in the near future. Well, GX60 is about to become the old news, as the MSI GX70 3BE specs are now posted at MSI's website. Here's the quick overview:
MSI GX70 3BE Specifications
Processor
AMD A10-5750M (aka Richland)
(Quad-core 2.50-3.50GHz, 4MB L2, 32nm, 35W)
Chipset
Bolton M3
Memory
Up to DDR3L-1600, 2 SO-DIMM Slots, Up to 32GB
Graphics
AMD Radeon HD 8970M 2GB GDDR5 (aka Neptune)

AMD Radeon HD 8650G iGPU (Enduro Enabled)
384 cores at up to 720MHz
Display
17.3" Anti-Glare 16:9 1080p (1920x1080)
Storage
Up to 1TB 7200RPM HDD
Likely two 2.5" drive bays available
Optical Drive
BD Combo/DVD Super Multi
Networking
802.11bgn WiFi
Killer Gigabit NIC
Bluetooth 4.0
Audio
Realtek ALC275
Stereo Speakers + Subwoofer
Headphone, Microphone, Line-In
Battery/Power
9-cell, 7800mAH
180W AC Adapter
I/O Ports
3 x USB 3.0
2 x USB 2.0
HDMI (Full size)
VGA (D-Sub)
HDMI (Full size)
Gigabit Ethernet
Headphone, Microphone, Line-In
Operating System
Windows 8
Dimensions
16.85" x 11.33" x 2.17" (WxDxH)
(428mm x 288mm x 55mm)
Weight
8.58 lbs (3.9kg)
Extras
HD Webcam
103-Key Backlit Keyboard
SDXC/SDHC Card Reader
So, first the good news: this will be the fastest possible AMD APU and AMD dGPU for the next generation of notebooks. We can't share the specifications of the 8970M right now, but all appearances are that it is basically a clock speed increase from 7970M. As for the APU, Richland is likewise a higher clocked version of Trinity, only in this case we have raw numbers: its base clock is 200MHz higher than the A10-4600M while the maximum Turbo Core speed is 300MHz higher. In general that means the A10-5750M should be around 10% faster than A10-4600M, which will certainly help in CPU limited situations.
The bad news then is that a 10% clock speed increase from Trinity isn't going to be enough to close the gap in many titles, depending on the resolution and quality settings. Looking at Trinity vs. Ivy Bridge with 7970M, I've seen Intel outperform AMD by 50% or more, particularly in titles that pound the CPU (e.g. Skyrim and StarCraft II); on other games, however, it's basically a wash at high quality 1080p settings, so as a more budget-friendly gaming notebook the GX70 has potential.
The other bad news is that my continuing experience with Enduro is that it's not all that it's cracked up to be, but going pure AMD helps quite a bit. Getting updated drivers with an AMD APU and dGPU is easier, and AMD dGPUs simply cooperate with AMD iGPUs better it seems. I've done some testing with the latest 13.5 Beta2 mobile drivers issue on several other laptops (including the MSI GX60), and for most mainstream applications and games they have been fine. However, there are still times when everything doesn't work quite as smoothly as I'd like.
We don't have an MSRP on the MSI GX70 3BE yet, and there will be a variety of models for the various markets. At the lower end of the spectrum, I expect we'll see pure HDD models with 8GB RAM sell in the neighborhood of $1200-$1300, while higher end models with SSDs, Blu-Ray, and 16GB may push into the $1500+ range. The chassis design appears unchanged from the existing GX70, which isn't too surprising, so basically we're getting faster hardware. ETA for the MSI GX70 3BE is June 2013.
Source: MSI Product Pages