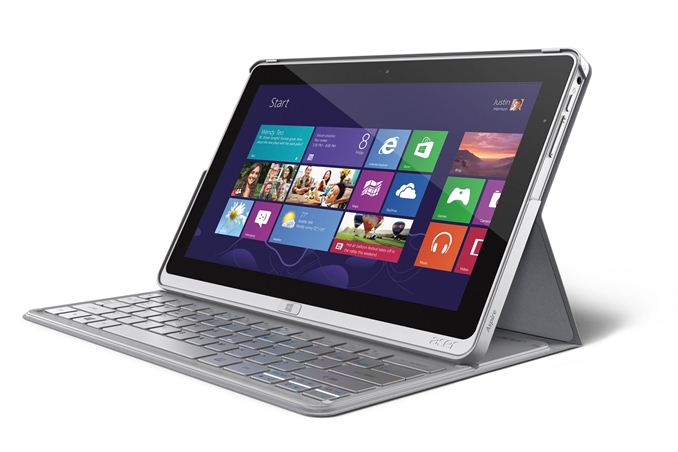 In contrast to the Aspire R7, the P3 is basically a reworking of the Iconia W700 tablet from last year, only with a shell that makes the result very similar to Microsoft's Surface Pro with its own variant of the Type Cover. There are a few immediately notable differences, however, like the standard 1366x768 resolution instead of 1080p—but thankfully the panel technology is still IPS. The Aspire P3 comes with either a Core i3 or i5 processor, 2GB or 4GB RAM, and a 60GB or 120GB SSD.
The weight of the tablet is 790g (1.74 lbs.) while the keyboard cover nearly doubles the total weight with an additional 600g (1.32 lbs.), so the whole tablet/Ultrabook ends up being somewhat heavy at 1.39kg (3.06 lbs.) The tablet portion measures 295.4mm x 190.7mm x 9.95mm (11.63" x 7.51" x 0.39"), and the keyboard cover is slightly wider and taller and adds another 9.8mm to the thickness. Other aspects include a 40Wh battery that's good for up to six hours of battery life, 720p front-facing camera, 5MP rear-facing camera, 802.11a/b/g/n WiFi, Bluetooth 4.0, micro HDMI, and a single full-size USB 3.0 port.
The base model P3 is available immediately with an MSRP of $800, so again this is very much a Surface Pro alternative. I would assume the $800 model comes with a 60GB SSD, 2GB RAM, and a Core i3 CPU. Acer doesn't list an MSRP for the higher spec model, but $1000+ would seem likely.