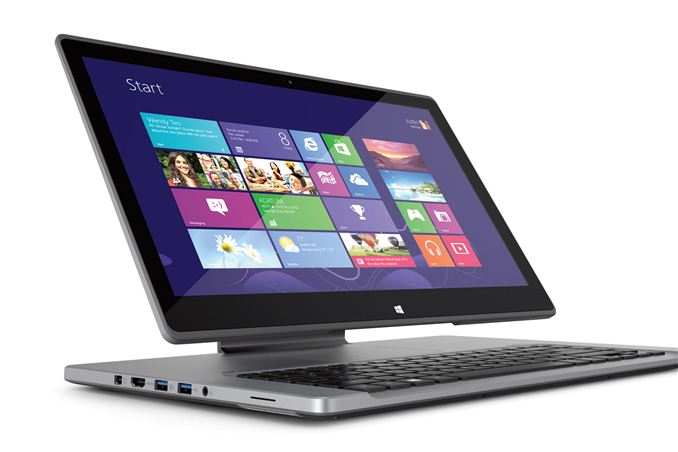 Today Acer held a press conference in New York to announce a variety of new products. Given the timing, it's no surprise that Intel 4th Generation CPUs aren't specifically listed, though we expect additional updates in the coming months. What we have in the meantime are a few interesting takes on where computing and touchscreen interfaces are headed. We'll start with the Aspire R7, which is the most unusual of the new offerings.
Equipped with a 1080p IPS touchscreen, Acer has decided to try a different approach to the touchscreen laptop. Now, instead of having the touchpad in front of the keyboard, it's located above the keyboard and the display hinge can shift forward to bring the touchscreen experience closer to the user. The screen can also flip 180 degrees for easy sharing of content, it can lie (mostly) flat against the chassis, or it can even rest in an elevated "table" position.
The core hardware for the R7 is standard Ultrabook fare (though the R7 isn't and Ultrabook), with an optional GeForce GT 750M available. That means processor choices consist of the i5-3337U and the i7-3537U, both slightly faster versions of the 3rd Generation Ivy Bridge CPUs we've had for a year or so now. There will be models with HDDs as well as SSD equipped options, and in addition to the usual WiFi and Bluetooth you get two USB 3.0 ports, one USB 2.0 port, four stereo speakers, and dual array microphone, webcam, HDMI, and SD car ports. Battery life is rated at 4.5 hours (53Wh battery), which is on the low side for a 5.3 pound laptop.
The idea of a 15.6" convertible laptop/tablet/thingy is interesting, though not necessarily something we've seen a lot of users clamoring for. I suspect this may turn into one of those love-it or hate-it affairs, depending on the user. Acer also notes that they've created a very durable "Ezel" hinge so that the screen will stay in place wherever you put it, though as I wasn't at the launch party I can't provide any specific comments on how it feels in practice right now.
Pricing is listed as $1000 for the "Best Buy model" that will include a free copy of Star Trek: The Video Game and will come with a Core i5 CPU, 6GB RAM, 500GB HDD, and a 24GB caching SSD. The R7-571-6858 will be available at Best Buy on May 17th and is available for pre-order now; other models will follow.