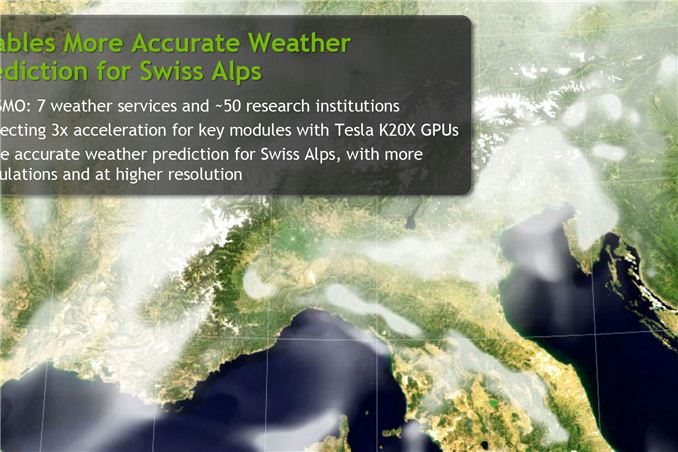 Along with NVIDIA's keynote this morning (which should be wrapping up by the time this article goes live), NVIDIA also has a couple other announcements that are hitting the wire this morning. The first of which is the announcement of NVIDIA landing another major supercomputer contract, this time with the Swiss National Computing Center (CSCS).
CSCS will be building a new Cray XC30 supercomputer, "Piz Daint." Like Titan last year, Piz Daint is a mixed supercomputer that will pack both a large number of CPUs – Xeon E5s to be precise – and of course to great interest to NVIDIA, a large number of Tesla K20X GPUs. We don't have the complete specifications for Piz Daint at this time, but when completed it is expected to exceed 1 PFLOPS in performance and be the most powerful supercomputer in Europe.
Piz Daint will be filling in several different roles at CSCS. Its primary role will be weather and climate modeling, working with Switzerland's national weather service MeteoSwiss. Along with weather work, CSCS will also be using time on Piz Daint for other science fields, including astrophysics, life science, and material science.
For NVIDIA of course this marks another big supercomputer win for the company. Though not a huge business on its own at this time relative to the complete Tesla business, wins like Titan and Piz Daint are prestigious for the company due the importance of the work done on these supercomputers and the name recognition they bring.