Introducing the HP EliteBook 2170p
We recently reviewed Acer's Aspire V5-171, a notebook that proves that there's a life (and a market) after netbooks but before ultrabooks. The essential gap that's materialized has been between the fast decaying netbook market (its death spurred on by Intel's Atom coupled with the high price of Brazos), and the expensive ultrabook market. More than that, though the 11.6" form factor is basically as small as a notebook can get while still featuring a full-sized keyboard, it's a gap that's essentially been going underserved for roughly a year now.
Acer wasn't the only one to spy this gap and try to fill it. ASUS has a notebook in stores right now that sports either an Ivy Bridge i3 or a Sandy Bridge i3 and touchscreen for Windows 8, and HP has an offering in their enterprise line that we have on hand for review today: the EliteBook 2170p. These notebooks have all been released with very little fanfare, and that's a shame, because there's definitely a niche for them. But while the Acer offering turned out to be a remarkably good deal for cost-conscious consumers, did HP misstep with their unusually pricey EliteBook 2170p?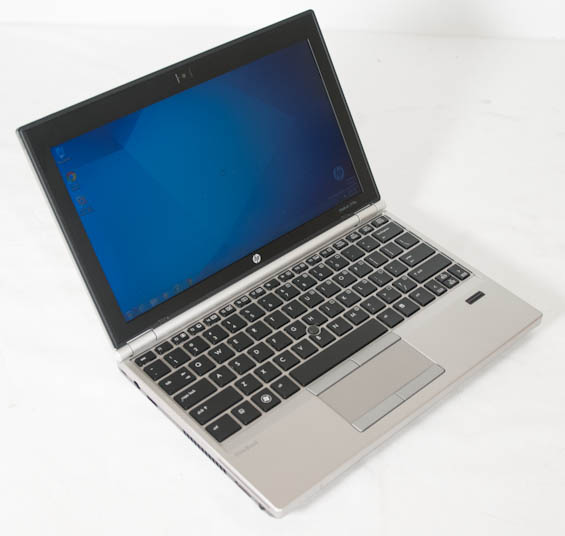 It's tough to really get out of the gate without mentioning what HP is charging for the EliteBook 2170p. Enterprise-class notebooks almost always have a premium attached to them (though HP serves budget businesses with ProBooks and Dell with Vostros), the cheapest the 2170p goes for is $999, and that's for an Ivy Bridge i3. This is business class, but the price tag is still squarely in ultrabook territory. It's entirely possible for HP to make up the gap with a top shelf design, so let's see what we have to work with.
HP EliteBook 2170p Notebook
Processor
Intel Core i7-3667U
(2x2GHz + HTT, 3.2GHz Turbo, 22nm, 4MB L3, 17W)
Chipset
Intel QM77
Memory
1x4GB Elpida DDR3-1600 (expandable to 2x8GB)
Graphics
Intel HD 4000 Graphics
(350-1150MHz, 16 EUs)
Display
11.6" LED Matte 16:9 1366x768
SEC3953
Hard Drive(s)
Toshiba MK-5061GSYN 500GB 7200-RPM SATA 3Gbps HDD
Optical Drive
-
Networking
Intel 82579LM Gigabit Ethernet
Intel Centrino Advanced-N 6205 802.11a/b/g/n 2x2
Audio
Realtek ALC269 HD Audio
Stereo speakers
Combo mic/headphone jack
Battery
4-Cell, 30Wh
Front Side
Speakers
Indicator lights
Right Side
SD/MMC reader
Power switch
USB 3.0
Ethernet
VGA
Left Side
Kensington lock
AC adapter
USB 3.0
Exhaust vent
SmartCard
DisplayPort
Combo headphone/mic jack
Back Side
Battery
Operating System
Windows 7 Professional SP1 64-bit
Dimensions
11.5" x 7.56" x 1.04"
292mm x 192mm x 26.5mm
Weight
2.89 lbs (1.31 kg)
Extras
720p HD webcam
Flash reader (SD/Mini SD, MS/Duo/Pro/Pro Duo)
USB 3.0
SmartCard
Optional WWAN
Fingerprint reader
Backlit keyboard
Warranty
3-year parts and labor
Pricing
Starts at $999
As configured: $2,101
The price tag for our review unit is brutal, but if you're willing to drop down to a Core i5-3317U (and there's very little reason not to), you can shave about a grand off. HP also at least presently is offering a coupon code that chops a respectable 25% off of the purchase price, and from there you can get the EliteBook 2170p in the neighborhood of $700-$800, which is much more reasonable for a business class machine. As with the Acer Aspire V5 I reviewed recently, the ULV Intel Core i7 simply isn't worth it (the dual-core i7s in general frankly haven't been in some time anyhow).
As seems to have become traditional with HP's business-focused notebooks, the 2170p includes only one DIMM, running 4GB in a single slot. Sandy Bridge and Ivy Bridge both have pretty stellar memory controllers in the first place, so the CPU halves of the chips are seldom starved by single-channel operation, but the HD 4000 IGP does get hit a bit harder (which you'll see later on.)
It's not unusual to see a mechanical hard disk standard in an enterprise-class notebook where known reliable technologies are more important, though the lack of any kind of SSD caching does hurt, and the chassis does have at least the real estate for an mSATA SSD (though no port to house it).
Finally, connectivity is pretty stellar, with even SmartCard port on hand for business users, but the battery is a major sore spot. HP offers only a 4-cell, 30Wh battery or 6-cell, 48Wh battery as options. The 4-cell sits flush with the body; unfortunately we didn't have a 6-cell on hand to test with.