Gigabyte X79S-UP5 WiFi Software
When I reviewed the ASRock X79 Extreme11, due to the upgraded audio and LSI chips, we had a lot of software to show you and discuss. However as the Gigabyte X79S-UP5 WiFi is essentially half the price, our audio is standard and the CPU routing is normal - in essence we get the same software package on the UP5 that we normally do on the rest of the Gigabyte X79 range. This means a dash of EasyTune6 and some @BIOS.
The driver install is quick and painless as it uses the silent installation options available for all the drivers required. One click of a button will install all the drivers and some of the software. For other software, such as 3TB Unlock or 3D Power, has to be installed manually.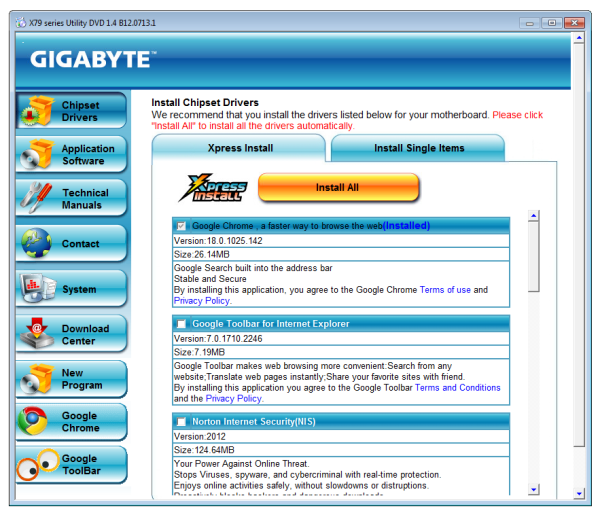 It should be noted that Gigabyte often releases new software in the middle of a product line or after a launch. Since Sandy Bridge-E was released, we have two packages that fall into this category - Gigabyte Tweak Launcher and USB Blocker. The former is an easier overclocking tool than ET6 as it forgoes the GUI, but unfortunately at the time of reviewing it was not configured for C606 usage. The latter we will discuss here.
USB Blocker
Gigabyte has a lot of industry consumers that come to them with specific requests and tight financial budgets they have to adhere with. Because of this, we see that Gigabyte often has a mountain of SKUs listed on their website that differ very slightly (USB 3.0 ports here, no VGA output there), but in reality they may only sell a SKU in India or Malaysia rather than worldwide. One of the requests that has filtered down from industry is the requirement to protect their machines from attacks via USB by any means necessary. Asides from an anti-virus, Gigabyte has implemented their USB Blocker software. This gives the admin (USB Blocker software requires a password to be set) to select what sorts of USB devices can be attached to the system.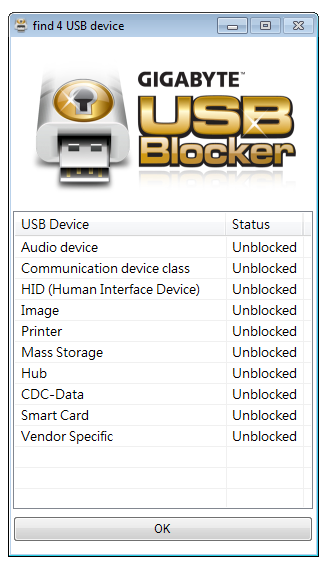 Apparently if you block all USB ports for everything, including mice and keyboards, the only way around it is a PS/2 device, or if the board does not have a PS/2 port, loading into safe mode and uninstalling the software. This also begs the question whether if the program was removed from the boot-up sequence if it would still be blocking devices. The USB Blocker should be linked in some way to the BIOS, so it can be cut off at source - but then again, if the rear IO has a reset BIOS button that could be a way around it. With this feature, I feel that manufacturers may have to start adding in USB ports physically to the board (above the 24-pin ATX power connector) like in server boards that cannot be disabled from mice/keyboards.
EasyTune6
The stalwart of the Gigabyte software package, for a long time now, has been EasyTune6. As a result I have to say it is looking dated. The software itself allows users to apply a series of predefined overclocks, adjust voltages, check CPU and Memory details, modify the GPU speeds (with compatible GPUs), adjust fan controls and monitor temperatures.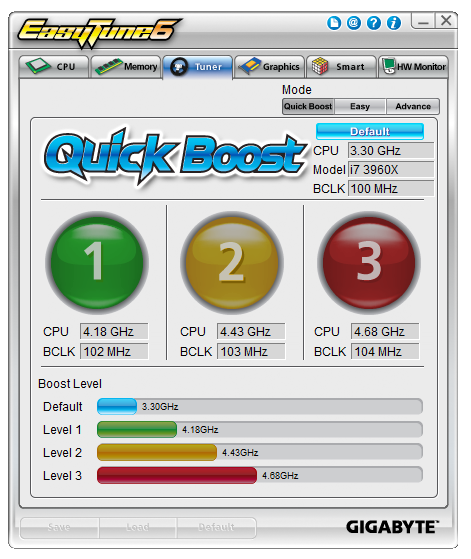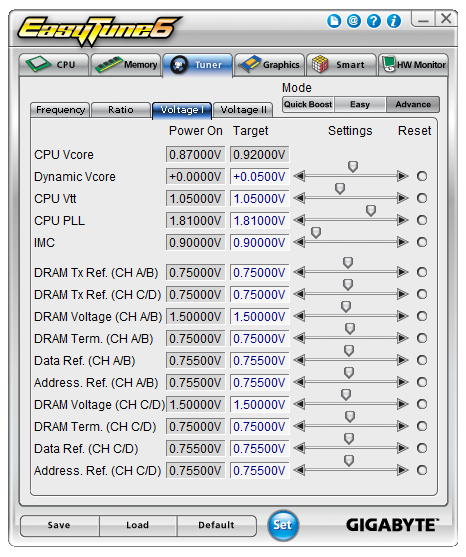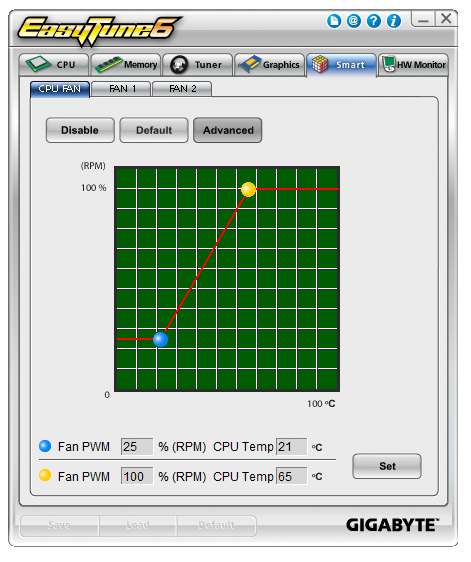 Software controls for the fans are similarly simple like the ones in the BIOS, except this time the user can use the mouse to define the gradient used for the fans in terms of CPU temperature and %RPM (note no mention of PWM values here).
There is still a minor flaw with EasyTune6, or with the BIOS. On some Gigabyte motherboards, ET6's hardware monitor interferes with the CPU in processing requests, and as a result can cause the deferred procedure call (DPC) latency to jump by factor 20. This is important for audio requests, whereby if the DPC latency is high, aural pops and cracks could possibly be heard. On some motherboards though, this problem never arises, due to either a different software version or BIOS update. Unfortunately, with the X79S-UP5 WiFi, this is an error. Given the issues we have had with NumLock on the F3a BIOS, both should be corrected in the near future.
@BIOS
Motherboard manufacturers should have two things in their motherboard arsenal relating to BIOS updating - at least one way of updating the BIOS from the BIOS, and a software alternative. Most manufacturers adhere to this (there are some exceptions). The reason for having two methods gives a selective way of updating, but also in the past I have experienced that certain major updates are not recognized by the tool in the BIOS, and as such have to update through software (which is more flexible). @BIOS is Gigabyte's software tool: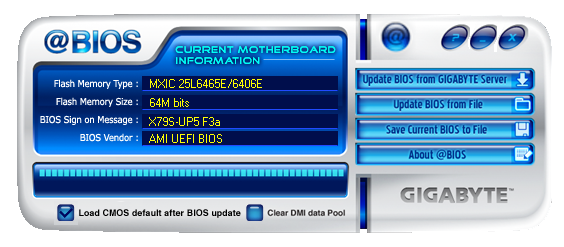 @BIOS can either update from a file, or check the Gigabyte servers for the latest version. All we need now is to wrap this software with USB Blocker and ET6 all under one software package, rather than three different installs.