In and Around the Acer Aspire S5
While the trap door for the port cluster is closed (more on this in a bit), the Aspire S5 largely escapes the wedge shape that seems to define ultrabooks as a whole. Acer uses a lot of rounded corners to thin out the profile of the A5, making a dense and thin notebook seem only denser and thinner still.
It's important to keep in mind that what Acer has done here is essentially produce an ultrabook that is both lighter and thinner than a 13-inch MacBook Air. This is really about as portable as a 13.3" notebook is going to get.
It's difficult not to be excited about the lack of glossy plastic used in modern notebooks when you've spent years reviewing eyesores, but I admit even I was initially impressed by the styling of the S5. I've been one of Acer's harshest critics for some time, but to look at the Aspire S5 you'd almost be surprised to see that logo on the lid and bezel. Acer uses a finish that appears to be black brushed aluminum over virtually the entire shell of the S5.
Unfortunately that initial look of quality doesn't quite translate to feel. While the system as a whole is fairly sturdy (the screen itself doesn't flex anywhere near as much as, say, Toshiba's Portege Z series), the plastic used for the shell feels chintzy. When I try to flex the notebook, part of the plastic on the left palmrest actually makes a popping sound. Over time, the plastic also can accumulate fingerprints.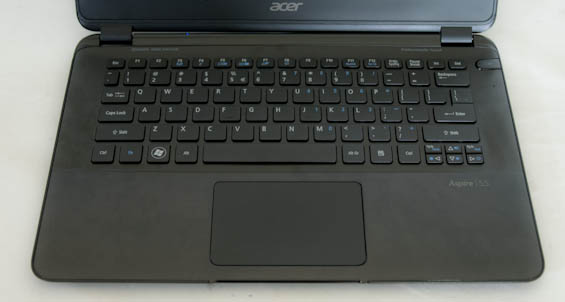 Where Acer did very right was with the keyboard, though. The one thing I used to harp on them relentlessly for is now the strongest asset of their ultrabook. For such a thin notebook there's a healthy amount of travel and depth to the keys, and while they feel a little on the small side and aren't as clicky as I'm used to, they're definitely an improvement on the competition. If you're not a fan of ultrabook keyboards, Acer's S5 probably isn't going to sway you too much, but it's definitely a welcome improvement.
Despite my general ambivalence towards clickpads, Acer produced a usable one here. The surface is distinct from the rest of the shell and very comfortable to slide your fingertip across, and taps register easily enough. It still has some issues with left or right clicking, though, just as clickpads often do (e.g. mouse movements when I'm intending to click).



Trap door closes, trap door opens!
Speaking of convenience, there's one very big feature of the Aspire S5 and it's something that Anand and I discussed and came to a bit of a split decision on: the motorized trap door. Next to the keyboard is a button that opens and closes a motorized trap door in the bottom of the S5 that hides the USB 3.0, HDMI, and Thunderbolt ports as well as adjusting the size of the ventilation in the back of the S5 to improve cooling performance. My first instinct was that something motorized like this pretty much just screams "one more thing to break down," and I would very much have rather seen the budget and engineering effort put towards solving more serious problems (like the poor display). Anand found it to be an interesting gamble and at least an innovative approach towards slimming things down while still keeping a decent amount of connectivity. Either way, it's definitely unique to Acer.
Note that when the system is running particularly toasty, the door will pop open on its own. Where I'm really inclined to give Acer the benefit of the doubt, though, is the fact that someone over there realized something that seems to have escaped most ultrabook engineers on the first go-round: a notebook as thin and as light as ultrabooks are supposed to be is practically destined to be used on someone's lap, so why put any ventilation on the bottom? The Aspire S5 has no bottom-mounted vents, just the one in the back. That's a major coup for usability.