Battery Life
Where the Toshiba Portege R835 really benefits from Sandy Bridge and excels over its predecessor is in running time on the battery. Toshiba lists the battery life for the R835 as approximately nine hours, a hurdle we were actually able to clear pretty easily at idle.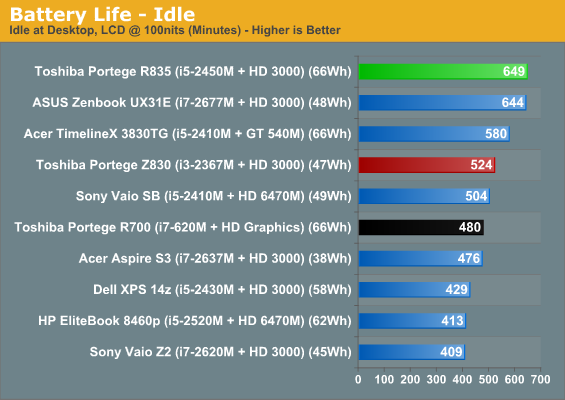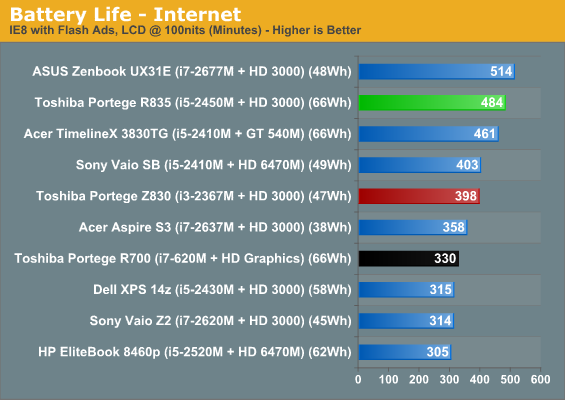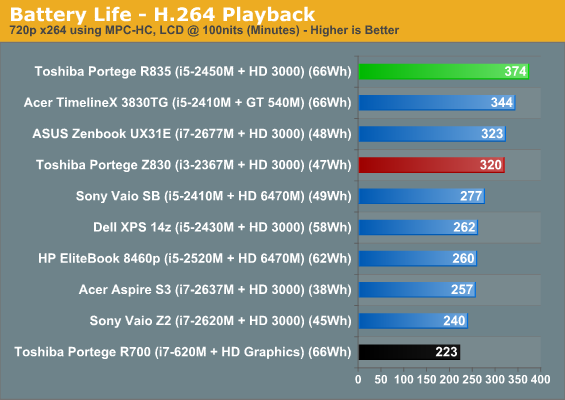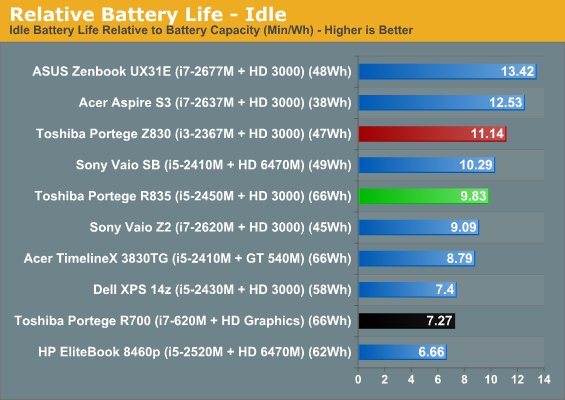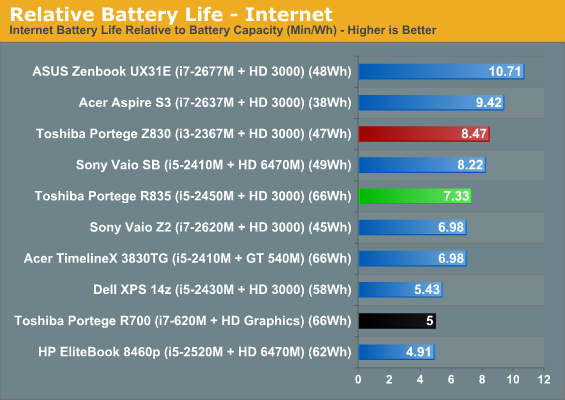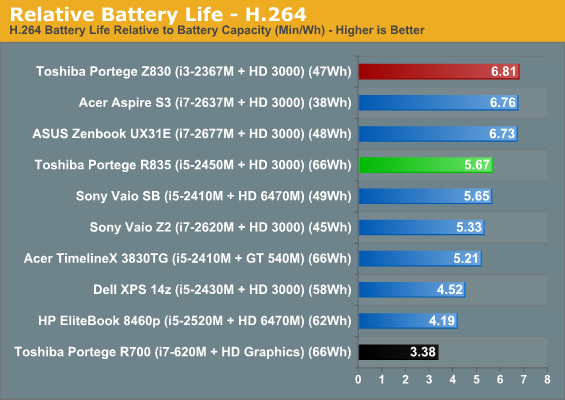 From our test results it's reasonable to assume an end user could hit that nine hour mark if they're willing to sacrifice some display brightness, or if they turn off the wireless once in a while. The Portege R835 also again demonstrates something we've been aware of for a while now: Sandy Bridge is just plain more power efficient than Arrandale. Given we're essentially looking at an updated R700, Sandy Bridge vs. Arrandale ends up with Sandy Bridge offering 35% more idle battery life, 47% more Internet battery life, and a massive 68% more video playback battery life. I makes us wonder how much further Intel can take things with Ivy Bridge, but we'll find out soon enough.
Heat and Noise
Fortunately, the high-pitched whine of the fan noise in many ultrabooks and particularly machines like Sony's Vaio Z2 isn't replicated in the Portege R835; Toshiba's notebook, even under heavy load, isn't actually that obtrusive.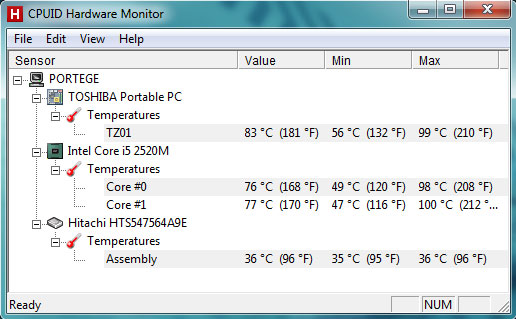 Ignoring HWMonitor misreading the CPU model number, we can see there's a very good reason why fan noise isn't a huge issue with the Portege R835: the processor is basically cooking itself. This is a situation that's basically inexcusable and prevents me from making a recommendation full-stop. I was concerned thermals would prevent the i5-2450M from hitting its turbo clocks consistently after seeing these results, but apparently it's not an issue...the chip just runs very hot in this notebook.
While it's true modern processors take care of themselves to avoid burning out, I still can't help but feel like these kinds of thermals are a warranty call waiting to happen. Once dust starts accumulating in that fan it's going to be game over. This heat doesn't directly translate to the keyboard or the bottom surface of the notebook, but it's there and worthy of concern. Anecdotally, we've seen several older laptops that erred on the side of silence rather than cooling that developed serious issues over time—Jarred in fact just helped someone with a Core 2 Duo laptop that was shutting down and running horribly slow thanks to dust buildup. If you do buy a laptop like this, we definitely recommend regular dust cleanouts with compressed air, at least a couple times per year.