Final Words
While I had a hard time recommending the base 15-inch MacBook Pro to users earlier this year, with the GPU upgrade I'm pretty happy with the $1799 configuration. It is pricey for sure, but if you can only have one Mac in your life and you like performance, it is probably the one to get.
The MacBook Air is nice but for demanding workloads it's not enough. The iMac is fast, but I'm not a fan of lugging around a 27-inch display with me wherever I go. The 15-inch MacBook Pro is honestly the best of both worlds. Obviously there are cheaper PC alternatives if you just need affordable compute, I'm speaking only to those users who have their sights set on something running OS X.
The only changes I'd make to the system are an upgrade in display resolution and the addition of an SSD. Both are options that Apple offers, and with the latter you can always handle that upgrade on your own.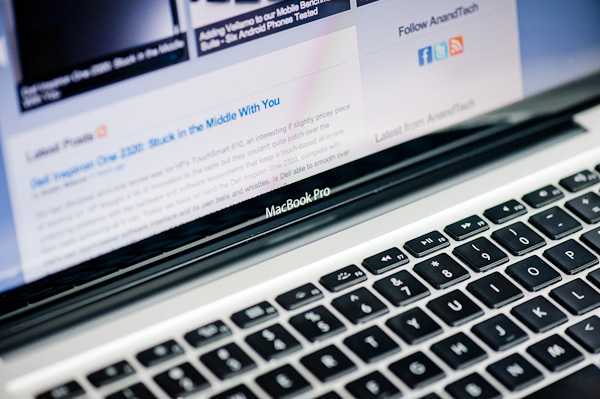 At some point Apple will have to outfit these things with SSDs standard, similar to the MacBook Air. There's such a huge difference in user experience that it only makes sense to, the question is when?
For a while now we've heard rumors of a thinner, redesigned MacBook Pro without an optical drive. Removing the optical drive alone isn't enough to significantly decrease the thickness of the machine, Apple would have to move away from the 2.5" HDD form factor as well. Given that there are no reasonable performing HDDs in a smaller form factor, one would assume that if and when Apple removes the optical drive from the MacBook Pro, it will also remove the hard drive.
Ivy Bridge would be an interesting time to make such a drastic move, as Intel's 22nm process should be able to significantly reduce power consumption. Although the time may be right from a processor perspective, I wonder whether the MacBook Pro audience would be fine with only 128GB or 256GB of storage.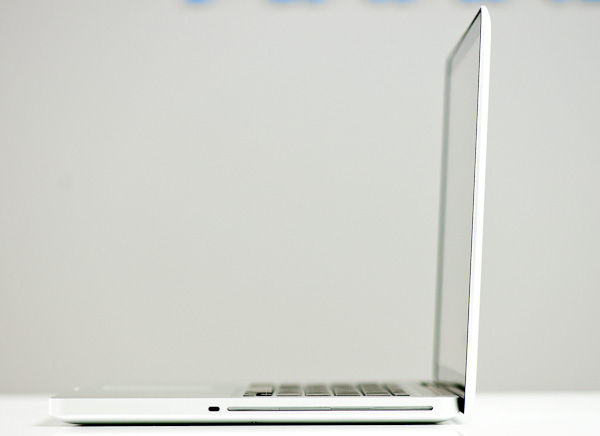 There is of course another option: expand the MacBook Air line with a larger (thicker?) 15-inch model. The trick here would be cramming a 35W quad-core chip into the system, otherwise it just becomes a 13-inch MBA with a bigger screen. That's where the thicker comment comes into play. Currently the MacBook Air only has to worry about dissipating 17W from the CPU, which includes the GPU. The 15-inch MacBook Pro however has a 45W quad-core CPU and a discrete GPU. Ivy Bridge will significantly increase integrated graphics performance, but not enough to truly eliminate the need for a discrete GPU. I suspect for Apple to do the ultra thin 15-inch MacBook Pro the right way it would have to wait until Haswell, where integrated graphics performance is supposed to be much better.
Of course all of this is speculating out loud, anything (or nothing) could happen. If you need a system today, the upgraded MacBook Pro line makes an an already great system a better value. If you can wait, Ivy Bridge will likely be very good for notebook users in about 6 - 8 months.
That's the downside to Intel's tick-tock cadence. When the ticks and tocks are major, there's almost never a good time to buy. Ivy Bridge will significantly reduce power consumption and improve GPU performance and then there's Haswell...
The next two years aren't going to be easy on anyone's wallet.