The low powered AMD Fusion market is still an active one, and although the ASUS E35M1-M Pro has been available for a while, we have been asked to have a look. By definition, it is a low powered board with a 1.6 GHz dual core and a 500 MHz GPU clock with 80 stream processors. We clocked a basic system at around 32 W idle, with the APU cooled passively.
Overview
Whilst CPU or GPU intensive tasks are out of the question with a Fusion based system, Fusion boards do have their own advantages such as ultra low power consumption devices, which allow the APU to be passively cooled for a truly silent PC. The optional supplied micro-fan does not add much noise into the equation for low usage, but each end user may or may not want the noise in the background.
There are plenty of connectivity options available on the E35M1-M Pro. In total, there are six SATA 6 Gbps ports and twelve USB 2.0 ports available on this motherboard which should satisfy most requirements. Full HD playback is made possible by the built-in AMD HD 6310 GPU.
Overclocking is possible on the E35M1-M PRO, but as Ian has mentioned before in his round up of three Fusion E-350 motherboards, it is always down to how lucky you get with your silicon because the APU is already installed on the motherboard when you buy it. A respectable overclock of 12% was obtained which brings the final clock speed of the CPU up to 1.792 GHz.
Visual Inspection
The ASUS E35M1-M Pro makes use of a low power APU from AMD which is located under the heatsink in the middle of the board. ASUS are maintaining their current color scheme for their non-ROG branded boards and have gone with blue and black combination. The Hudson M1 FCH is located next to the APU and it provides support for six SATA 6 Gbps ports, five of which are internal and one is an eSATA port. Out of the five internal SATA 6 Gbps ports, four of them are angled and point away from the motherboard and one is not.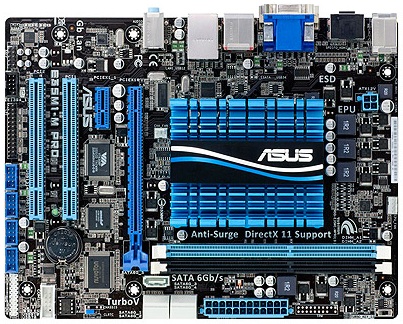 On the expansion side of things, we have a PCIe x16 slot which is electronically limited to x4, a PCIe x1 slot and two PCI slots. There are four USB 2.0 headers which will allow for up to eight extra USB 2.0 ports to be added into your system as well as a USB 3.0 header for an additional two USB 3.0 ports.

On the back of the board, we have a PS2 port (that can be used for either a keyboard or a mouse) and a total of four USB 2.0 ports. Two USB 3.0 ports are located under the gigabit LAN. Three different kinds of video connectivity are available and they consist of HDMI, DVI and D-SUB. There is also a S/PDIF optical output as well as a trio of audio jacks.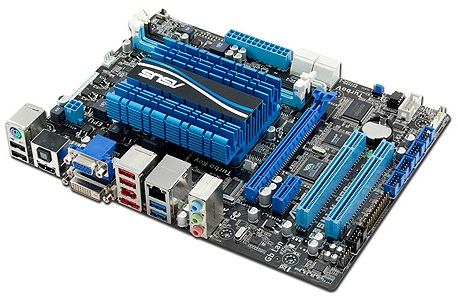 There are only two fan headers on this motherboard, one of which is for the CPU fan, which is located above the heatsink and just to the left of the DIMM slots. The second one is for a chassis fan and is located near the bottom left-hand side of the heatsink. An extra fan header would have been nice to see on a board this size, though is not absolutely necessary.