Battery Life: No Optimus Makes Me Sad
If there's one major area where the G74SX falls short, it's battery life. With no form of switchable graphics, battery life is roughly on par with what we saw from the previous G73 series of notebooks. Alienware uses switchable graphics for their M18x and M17x HD 6970M, and Optimus for the M17x with GTX 580M; both deliver much better mobility off the mains. The Toshiba Qosmio X775 likewise uses Optimus with a paltry 48Wh battery, and even with the battery capacity handicap it still puts up respectable numbers.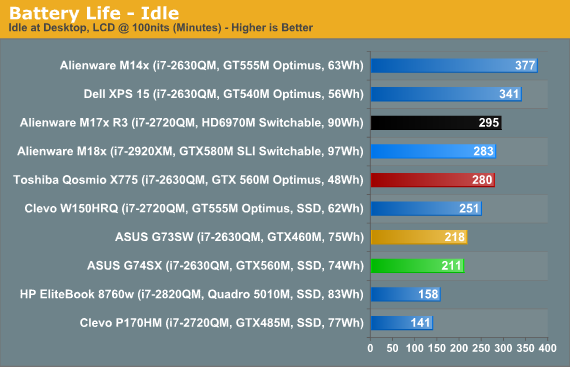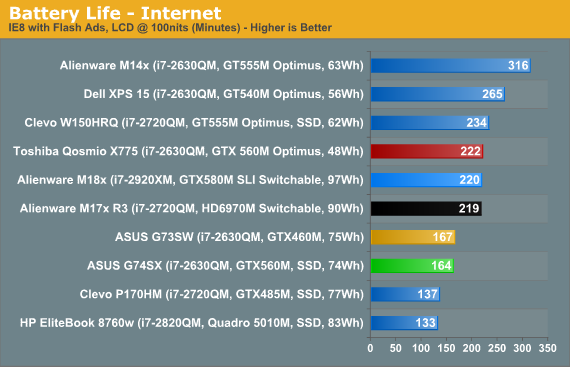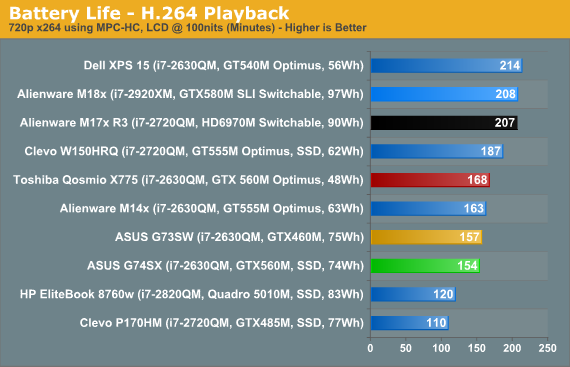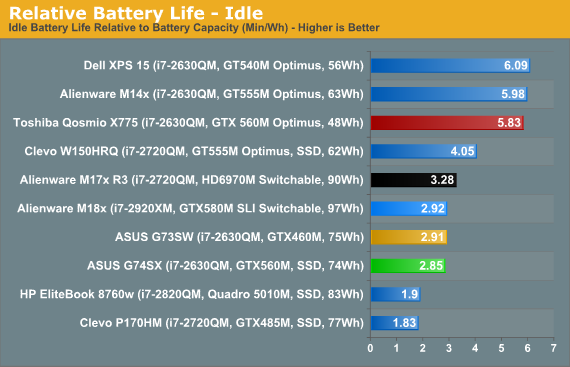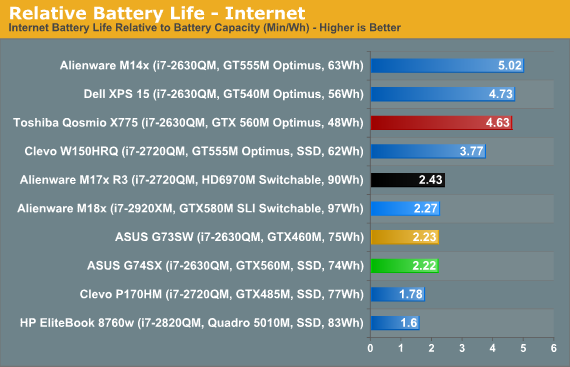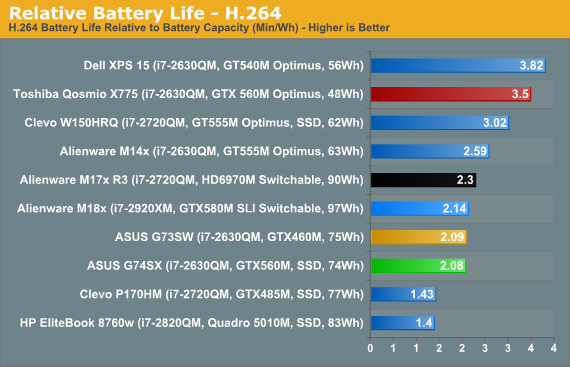 Perhaps the GTX 560M uses a bit more power than the GTX 460M, or maybe the slight change in battery design (and capacity) plays a role. More likely is that the 16GB of memory is also using a bit more power. Whatever the case, battery life is down incrementally relative to the G73SW in all of our tests. You can just squeak past 2.5 hours of H.264 playback or Internet surfing, and around 3.5 hours of idle battery life, but you'll definitely want to carry the power brick with you whenever you plan on going mobile for more than 90 minutes.
It's in the relative battery capacity that the Qosmio really shows what Optimus can provide, although to be fair it doesn't have as much RAM (or SO-DIMMs) to power. Relative battery life is slightly more than double what the G74SX can manage in the idle and Internet tests, and 68% higher in the H.264 result. You do get the "peace of mind" of always using the discrete graphics, no matter the task, but is that enough to sway people to give up battery life? I'm not sure how many feel that way, but I know I'd rather have Optimus and deal with a few idiosyncrasies now and then.