Quad Xeon: the Quanta QSCC-4R Benchmark Configuration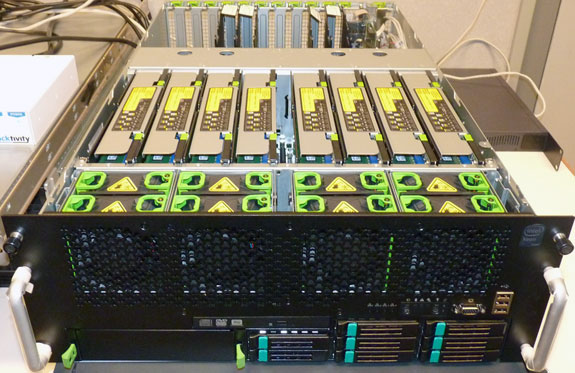 CPU
Quad Intel Xeon "Westmere-EX" E7-4870
(10 core/20 threads at 2.4GHz, 2.8GHz Turbo, 30MB L3, 32nm)
RAM
32 x 4GB (128GB) Samsung Registered DDR3-1333 at 1066MHz
Motherboard
QCI QSSC-S4R 31S4RMB00B0
Chipset
Intel 7500
BIOS version
QSSC-S4R.QCI.01.00.S012,031420111618
PSU
4 x Delta DPS-850FB A S3F E62433-004 850W
The quad Xeon configuration is equipped with 128GB RAM to make sure that all memory channels are filled.
Dual Xeon: ASUS RS700-E6/RS4 Configuration
CPU
Dual Intel Xeon "Westmere" X5670
(6 core/12 threads at 2.93GHz, 3.33GHz Turbo, 12MB L3, 32nm)
RAM
12 x 4GB (48GB) ECC Registered DDR3-1333
Motherboard
ASUS Z8PS-D12-1U
Chipset
Intel 5520
BIOS version

Version

1.003

PSU
Delta Electronics DPS-770 AB 770W
The dual Xeon server in contrast "only" has 48GB. This has no influence on the benchmark results, as the benchmarks use considerably less RAM.
Quad Opteron: Dell PowerEdge R815 Benchmarked Configuration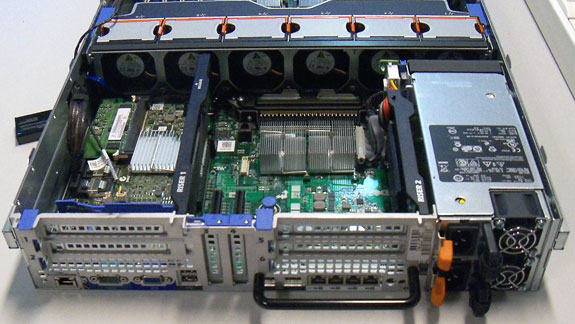 CPU
Quad AMD Opteron "Magny-Cours" 6174
(12 cores at 2.2GHz, 12MB L3, 45nm)
RAM
16x4GB (64GB) Samsung Registered DDR3-1333 at 1333MHz
Motherboard
Dell Inc 06JC9T
Chipset
AMD SR5650
BIOS version
v1.1.9
PSU
2 x Dell L1100A-S0 1100W
We reviewed the powerful but compact Dell R815 here. This time we're running 64GB, though again the amount of RAM was selected to make sure memory performance is optimized rather than for usage requirements.