Introducing the Alienware M17x R3
We've had our hands on quite a few gaming notebooks here, but most of the time they're Clevo-based machines. These aren't necessarily bad notebooks; they're fast, typically have good screens, and they get the job done. Yet they also have some persisting drawbacks: build quality isn't often that hot, the battery is a glorified UPS system, and they feature some of the worst keyboards on the market. ASUS, MSI, Toshiba, and HP all offer fairly compelling alternatives, and today Alienware brings us a particularly interesting contender in the form of the M17x R3.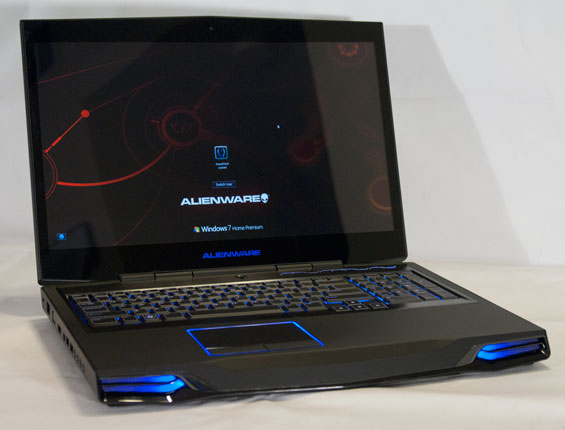 Truth be told, I was ambivalent about laying hands on the M17x R3. Gaming notebooks can tend to be gaudy affairs, and Alienware's notebooks (at least on the shelf) are practically exemplars of this goofy kind of excess. But there's something to be said for a little bling, and if the whole thing feels right, who's to really complain if it looks like the gaming equivalent of a racecar bed?
Performance-wise, it's definitely going to feel right. Alienware has upgraded the M17x R3 with Sandy Bridge processors, and graphics options start at the AMD Radeon HD 6870M, upgradeable to the NVIDIA GeForce GTX 460M. Or you can go for the big daddy like our review sample has: the AMD Radeon HD 6970M.
Alienware M17x R3 Gaming Notebook
Processor
Intel Core i7-2720QM
(4x2.2GHz + HTT, 3.3GHz Turbo, 32nm, 6MB L3, 45W)
Chipset
Intel HM67
Memory
4x2GB Hynix DDR3-1333 (Max 4x4GB)
Graphics
AMD Radeon HD 6970M 2GB GDDR5
(960 stream processors, 680MHz/3.6GHz core/memory clocks, 256-bit memory bus)
Display
17.3" LED Glossy 16:9 1080p (1920x1080)
LG Philips LGD 02DA
Hard Drive(s)
2x Seagate Momentus 750GB 7200-RPM HDD in RAID 0
Optical Drive
Slot-loading Blu-ray/DVDRW Combo (HL-DT-ST CA30N)
Networking
Atheros AR8151 PCIe Gigabit Ethernet
Intel Centrino Ultimate-N 6300 a/b/g/n
Bluetooth 3.0
Internal WirelessHD (with external receiver included)
Audio
IDT 92HD73C1 HD Audio
Stereo speakers
S/PDIF, mic, and two headphone jacks
Battery
9-Cell, 11.1V, 90Wh
Front Side
N/A (Speaker grilles)
Right Side
MMC/SD/MS Flash reader
Slot-loading optical drive
2x USB 2.0
eSATA/USB 2.0 combo port
HDMI in
Left Side
Kensington lock
VGA
HDMI
Mini-DisplayPort
eSATA/USB combo port
2x USB 3.0
S/PDIF, mic, and two headphone jacks
Back Side
AC jack
2x exhaust vents
Operating System
Windows 7 Home Premium 64-bit
Dimensions
16.14" x 11.96" x 1.75-1.77" (WxDxH)
Weight
~9.39 lbs
Extras
3MP Webcam
Backlit keyboard with 10-key
Flash reader (MMC, SD/Mini SD, MS/Duo/Pro/Pro Duo)
Internal WirelessHD
Configurable lighting
Warranty
1-year standard warranty
2-year, 3-year, and 4-year extended warranties available
Pricing
Starting at $1,499
Price as configured: $2,503
The Sandy Bridge processor at the heart is the major part of this refresh of the M17x. You can custom order all the way up to the Intel Core i7-2820QM (the 55-watt i7-2920XM isn't available), but the i7-2720QM presents a nice balance of performance and value. With a 2.2GHz nominal clock rate capable of turbo-ing up to 3.3GHz on a single core (or 3GHz on all four cores), the i7-2720QM should offer more than enough processing horsepower. Alienware also joins four DIMM slots instead of two to the i7's memory controller allowing for a maximum of 16GB of memory, enough to get some serious work done.
Handling graphics duties is the AMD Radeon HD 6970M, basically a mobile version of the desktop Radeon HD 6850. This is arguably the fastest mobile GPU currently available, duking it out with NVIDIA's GeForce GTX 485M for the top slot. It features 960 stream processors, a 680MHz core clock, and 2GB of GDDR5 clocked to an effective 3.6GHz on a 256-bit bus for a staggering 115.2 GB/sec of memory bandwidth. The M17x R3 also supports GPU switching, allowing you to switch to the IGP while on the battery to substantially improve running time. Unfortunately the solution here isn't quite as automatic or seamless as NVIDIA's Optimus, but it gets the job done.
The M17x R3 sports two drive bays, but the storage options offered on the Dell website leave something to be desired. The default configuration is a pair of 320GB, 7200-RPM hard drives in RAID 0 and in fact outside of a single 256GB SSD option, everything is RAID 0. Understanding that the M17x R3 should be spending most of its life on your desktop, this is nonetheless a disappointing set of options. Ideally you'd want an SSD serving as the boot drive and a HDD handling mass storage duties. I use a RAID 0 on my desktop for my scratch video drive and gaming drive, but honestly for the latter it's not a substantial improvement. In a notebook, even one that will live its life on flat surfaces, this is still a questionable choice.
From here there are three fairly sizable selling points for the M17x R3: HDMI in, wireless display, and 3D. The HDMI input is only 1.3 and can't support 3D should you configure the M17x with the 120Hz 3D screen option, but for connecting your PS3 or Xbox 360 it's sufficient and works basically as a passthrough to the laptop screen. The built-in wireless display connectivity isn't tied to Intel's Wi-Di but instead uses WiHD. Like most wireless display technologies, though, I had some trouble getting this one working right. While Vivek is a big fan of things like Intel's Wi-Di, I'm not really sold on it; you still have to connect a receiver box to your TV's HDMI port, and frankly, if you can afford to buy this notebook, you can afford to buy a dedicated blu-ray player with Netflix and Hulu functionality built in. Finally, there's a 120Hz 3D-capable panel option for those so inclined, but unfortunately our review unit didn't include it so there's no way to test it.