Antec's HCG 520W PSU
Antes seems content to continue releasing non-modular products, and like the larger HCG-750, the HCG-520 comes with 80 Plus Bronze certification. We have already tested the 750W version, so it will be interesting to compare the two units and see what other changes are in store beyond the rated power output.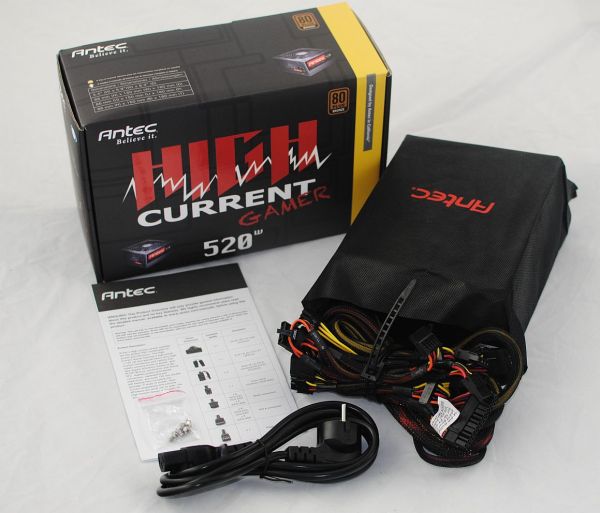 The delivery contents are identical to the 750W version. There is one manual, some screws, and a power cord. In contrast to the HCG-750, the 520W model only has a 3-year warranty (instead of five) and there aren't quite as many cables and connectors. The case is 160mm long, so it is also much shorter than its big brother.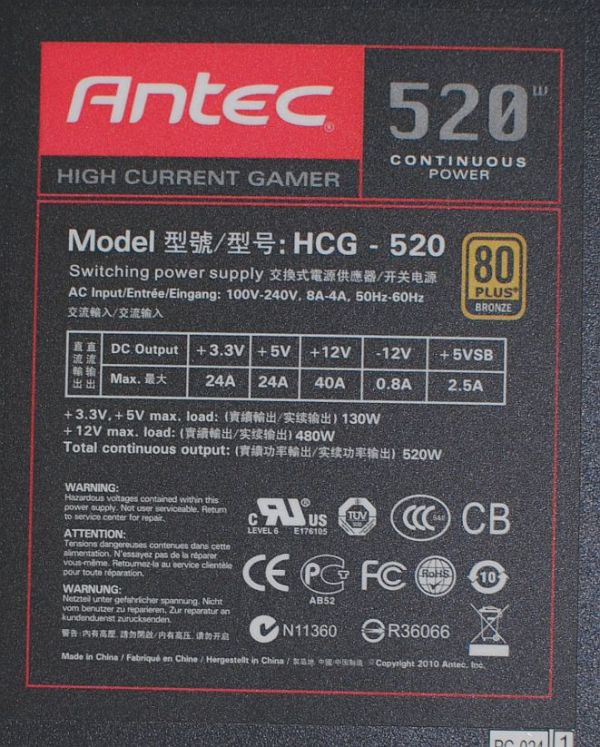 The 520W unit can theoretically draw up to 8A from the power grid (115VAC), and it delivers up to 40A on the single +12V rail. The maximum output from 12V is thus 480W if you don't stress the other rails, which are both rated at 24A. Together, 3.3V and 5V can deliver an additional 130W, which is more than enough for a system with modern components such as SSDs. By way of comparison, the HCG 750W has four 12V rails that can deliver up to 40A, along with a more powerful standby rail.
The packaging lists OCP, OVP, SCP, and OPP safety features, so the power supply should be safe. Interesting to note is that UVP isn't listed. The PWM/PFC IC has it's own under voltage protection while the PS223 IC delivers this feature on all outputs; Antec could benefit from listing these additional features on their homepage. Anyway, let's find out if the PSU itself needs to be improved.