SAP S&D Benchmark
The SAP SD (sales and distribution, 2-tier internet configuration) benchmark is an interesting benchmark as it is a real world client-server application. We looked at SAP's benchmark database for these results. The results below all run on Windows 2003 Enterprise Edition and MS SQL Server 2005 database (both 64-bit). Every 2-tier Sales & Distribution benchmark was performed with SAP's latest ERP 6 enhancement package 4. These results are NOT comparable with any benchmark performed before 2009. The new 2009 version of the benchmark produces scores that are 25% lower. We analyzed the SAP Benchmark in-depth in one of our earlier articles. The profile of the benchmark has remained the same:
Very parallel resulting in excellent scaling
Low to medium IPC, mostly due to "branchy" code
Somewhat limited by memory bandwidth
Likes large caches (memory latency!)
Very sensitive to sync ("cache coherency") latency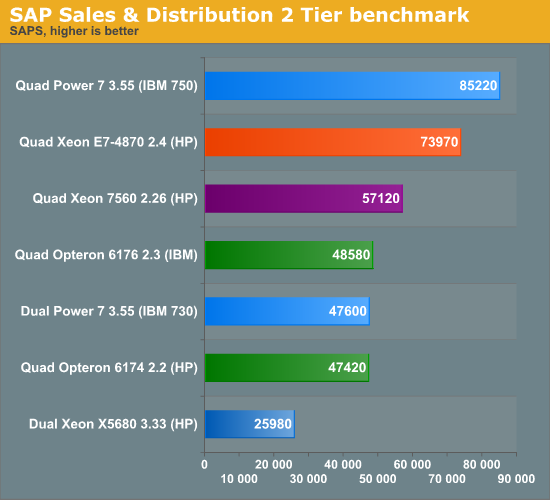 There is no doubt here: the Westmere-EX Xeon delivers with 30% higher performance than the previous x86 quad CPU record. The 40-core, 80-thread quad Xeon server can not beat the 32-core, 128-thread IBM Power 750, the RISC champion; however, the high-end IBM servers start at $100,000, two to three times more than a comparable Xeon system.
The 30% extra performance that the new 32 nm Xeon delivers over its predecessor also increases the gap with AMD. The best quad Xeon now offers 50% more performance than the best quad Opteron. The ERP market is a market where RAS, scalability, and performance are the top priorities and hardware pricing is only a secondary thought. There is little doubt in our mind that Intel will continue to dominate the x86 ERP server market.