Introduction
You really have to empathize with BlackBerry to understand why updating the entire BlackBerry platform has taken so long. On one hand, it caters to an audience of serious business customers that have chosen RIM for both its unwavering dedication to device and information security, and enterprise support. On the other hand are end users that are purely regular smartphone customers - people that don't care about things like FIPS compliance or BES - they just want an awesome smartphone.
Therein lies the problem RIM has been saddled with for the entire BlackBerry platform - there are simply too many BlackBerry users for a total platform reboot to be feasible. Change too much about BlackBerry, and the platform would no longer be appealing to businesses that would have to retrain users or reconsider the platform entirely. On the other hand, if the BlackBerry platform is left unchanged and not drastically modernized, it faces losing potentially huge swaths of market share across virtually every carrier to quick-innovating platforms like Android, iOS, and WebOS - at least among ordinary smartphone shoppers with a choice.
So the logical choice is exactly what we get with BlackBerry OS 6. It's an evolutionary step from BlackBerry OS 5, one which brings a new WebKit based browser that RIM acquired from Torch Mobile, a slicker UI, and multimedia improvements that hopefully make the BlackBerry platform a little more pleasant on the eye.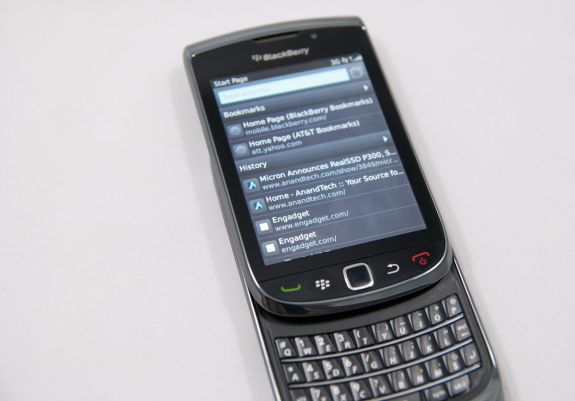 RIM has launched BlackBerry OS 6 with a new device, the BlackBerry Torch 9800. It's an apt name for both the huge change in web browser (Torch Mobile was the name of the company RIM acquired for its WebKit based Iris Browser), but also no doubt as the symbol of hope RIM needs the new device and platform to be for continued relevance in the smartphone market. First, the specifications:
Physical Comparison
Apple iPhone 4
Apple iPhone 3GS
BlackBerry Torch 9800
HTC EVO 4G
Motorola Droid X
Height
115.2 mm (4.5")
115 mm (4.5")
111 mm (4.4") closed, 148 (5.8") open
121.9 mm (4.8")
127.5 mm (5.02")
Width
58.6 mm (2.31")
62.1 mm (2.44")
62 mm (2.4")
66.0 mm (2.6")
66.5 mm (2.62")
Depth
9.3 mm ( 0.37")
12.3 mm (0.48")
14.6 mm (0.57")
12.7 mm (0.5")
9.9 mm (0.39")
Weight
137 g (4.8 oz)
133 g (4.7 oz)
162 g (5.7 oz)
170 g (6.0 oz)
155 g (5.47 oz)
CPU
Apple A4 @ ~800MHz
Apple/Samsung A3 @ 600MHz
Marvell Tavor PXA930 @ 624 MHz
Qualcomm Scorpion @ 1GHz
TI OMAP 3630 @ 1GHz
GPU
PowerVR SGX 535
PowerVR SGX 535
(?)
Adreno 200
PowerVR SGX 530
RAM
512MB LPDDR1 (?)
256MB LPDDR1
512 MB LPDDR1
512MB LPDDR1
512MB LPDDR1
NAND
16GB or 32GB integrated
16 or 32GB integrated
4 GB integrated, 4 GB microSD preinstalled
1 GB integrated, 8 GB microSD preinstalled
8 GB integrated, preinstalled 16 GB microSD
Camera
5MP with LED Flash + Front Facing Camera
3MP with autofocus
5 MP with LED Flash and autofocus
8MP with dual LED Flash + Front Facing Camera
8MP with dual LED Flash
Screen
3.5" 640 x 960 LED backlit LCD
3.5" 320 x 480
3.2" 360 x 480
4.3" 480 x 800
4.3" 480 x 854
Battery
Integrated 5.254Whr
Integrated 4.51Whr
Removable 4.7Whr
Removable 5.5Whr
Removable 5.698 Whr
With that out of the way, let's dive into it.
SoC Sidebar
Based on the table above, you'll note that the BlackBerry Torch 9800 uses an SoC that we're not used to seeing: the Marvell Tavor PXA930. We actually approached Marvell wanting to talk about the PXA930 in great depth however Marvell declined all opportunities to talk about the SoC. This is slightly unusual as Marvell has been more than forthcoming in the past with its new Armada SoCs. What it most likely implies is that the PXA930 isn't much to talk about.
Marvell is an ARM architecture licensee, meaning that its CPU cores implement various versions of the ARM ISA but in Marvell's own custom manner. Generally these custom designs are faster and/or lower power than the generic ARM designs at the same process node, however the PXA930 appears to be a couple of years old at this point - it's not a Snapdragon/Hummingbird/OMAP 3630 competitor.
Unfortunately that's the extent of what we're able to say at this point. While we normally like going into the nitty gritty on the SoC in our smartphone reviews, we weren't able to this time around.