It's been a criminally long time since we've had a display review, partly because we've been changing and revamping our test bench with some new things you've been asking for, and partly because Jarred has graciously offered to let me do display reviews while he focuses on notebooks and other greater things. His are some hugely big shoes to fill, so go easy on me. ;) But enough with that, let's dive right in!

If you're familiar with the G2410, you'll find that the G2410H is much the same, with one major difference - a higher-end height adjustable stand. This ergonomic shortcoming was something criticized in its earlier brethren, which many argued sacrificed too much in the way of utility. It's amazing how much importance one can impart to a simple stand.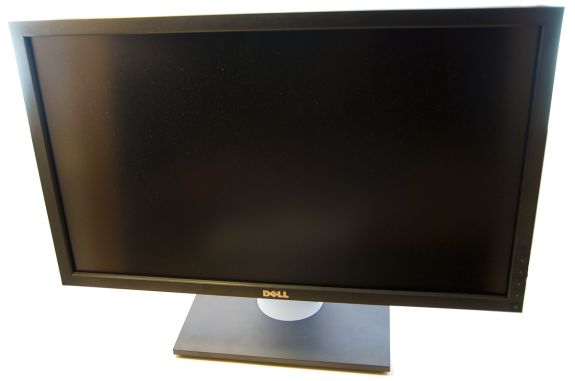 The G2410H rectifies the matter this time with a height, rotate, and tilt adjustable stand complete with a cable management port square in the back. If you've seen other Dell monitors, you've probably seen this mount before, as it's common to the U2410 and myriad others.
In a sea of relatively generic TN panels, the G2410H doesn't stand out immediately, though it does feature WLED backlighting instead of older CCFL technology. As we'll see later though, this combination isn't going to set any records for color gamut, as CCFL again usually produces better results in practice. But the real point of using WLED is all about that green cred. It's apparent that Dell's aims were more on keeping power consumption down with WLEDs and a few other things.

The G2410 is priced at an MSRP of $339, making it more expensive than similarly sized 24" TN panel-packing monitors, but it packs a bevy of features not found in those other generic displays. That brings us to the details:
Dell G2410H - Specifications
Property
Quoted Specification
Video Inputs
Dual-link DVI with HDCP
VGA
Panel Type
TN (14K0N9CS346U)
Pixel Pitch
0.277mm
Colors
16.7 million colors
Brightness
250 nits typical
Contrast Ratio
1000:1 advertised
1000000:1 Dynamic advertised
Response Time
5 ms typical
Viewable Size
24" diagonal
Resolution
1920x1080 (1080P)
Viewing Angle
170 degrees horizontal, 160 degrees vertical
Power Consumption (operation)
<20 watts typical
29 watts maximum
Power Consumption (standby)
<0.15 watts
Screen Treatment
Matte (anti-glare)
Height-Adjustable
Yes - 3.94"
Tilt
Yes
Pivot
No
Swivel
Yes
VESA Wall Mounting
Yes - 100x100mm
Dimensions w/ Base (WxHxD)
21.47" x 18.26-14.32" x 7.25" (WxHxD)
Weight
8.86 lbs w/o stand
13.33 lbs w/ stand
Additional Features
Optional speaker bar
Limited Warranty
3-year warranty standard
4-year and 5-year extended available
Accessories
DVI, VGA[c] and power cables
Price
$339 MSRP
As mentioned before, this is a refreshed G2410 with more attention to ergonomics, but with the same emphasis on keeping the product green.

That greenness starts right out of the box, as packaging foregoes polystyrene foam in favor of an intricately-designed cardboard cladding. The difference is actually more striking than you'd expect out-of-box; removing the monitor from its corrugated cardboard shell is a bit of a puzzle in some ways. It's well designed however, and there wasn't any apparent weakness that would lead us to believe it's more prone to getting damaged during shipping than other packaging. Dell claims that they're using less plastic in the box as well, which is difficult to quantify, but seems likely considering just how much cardboard is inside.

The display's components and panel are also eco-friendly - the panel is arsenic, mercury, BFR, CFR, and PVC free. Most surprisingly, the chassis and bezel plastic is made of at least 25 percent post-consumer recycled plastic.

Packaging and construction are one thing, but what really matters to display-shoppers is how well the G2410H sips energy. Dell claims that their energy-sipping power supply draws less than 0.15 watts in sleep mode using VGA input, and under 20 watts at maximum brightness. Of course, this is also the logical reason for opting with WLED backlighting instead of CCFLs; energy consumption is less. There's also an ambient light sensor, and three power profiles to balance brightness level against power consumption. At the end of the day, Dell claims that adds up to a 60% decrease in power consumption compared to the 50 watt drawing E248WFP.

The G2410H is relatively spartan when it comes to onboard ports - the only options are DVI-D and VGA. There isn't any option for HDMI, USB, or even DisplayPort like we're starting to see crop up in a surprisingly diverse array of displays. That's a bit of a letdown, but it isn't a game-killing omission for the display. If you haven't gotten the picture yet, this monitor is definitely oriented toward energy-conscious businesses doing office and productivity work before all other.