Unless you've been living under a rock the past couple years, you've probably heard at least something about the state of AT&T's 3G HSPA coverage in the United States. The sad reality is that dead zones exist across virtually every carrier and in every major locale. Until recently however, if one of those dead zones was your place of residence or workplace, you were either stuck paying for a network you couldn't use, or left shopping for another carrier. Bad coverage at home or work - where customers can potentially spend 70% of their time - isn't just frustrating, it's experience-killing. Mix in device-carrier exclusivity, and you can see how frustration can mount rapidly.
Instead of being forced to switch, carriers are hoping that users will improve coverage at their homes and small offices with femtocells. Virtually all the major carriers are betting heavily on femtocells to at least partly solve network woes - and at the same time save them billions of dollars on network buildout costs. It's a controversial move that's win-win for the carriers - users improve coverage where it matters to them on their own dime, and keep paying carriers every month for their electronic obsession. In short, they're betting that femtocells can both solve challenging coverage issues indoors and simultaneously reduce churn.
Verizon and Sprint already have finished rolling out their own femtocell offerings, and AT&T is joining the fray with a nationwide deployment of their own starting mid April and lasting several months. Although mid April is when the nationwide rollout begins, there are a number of trial markets where the AT&T MicroCell is already deployed, including Arizona, where it launched Sunday March 21st. I rushed to the store the following Monday, and have been testing, hammering, and picking it apart ever since. AT&T's femtocell is far from perfect, but if your only other option is no coverage at all, it'll save you a lot of frustration.
Network Recap
Let's briefly go over the network topology itself and understand where AT&T's "Microcell" fits in: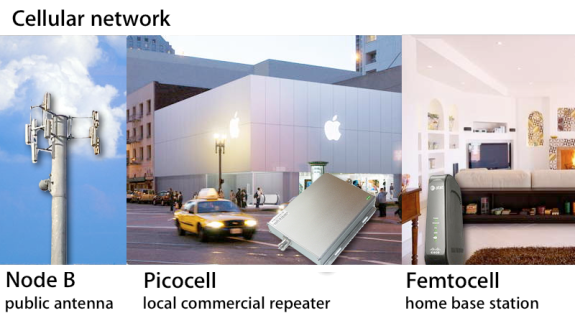 Right off the bat, we can see that AT&T's "MicroCell" branding is actually a misnomer - it's really a femtocell. If we're being really anal about our SI prefixes, "micro" could lead you to believe that the device sits somewhere between macrocells (carrier-installed "Node B" UMTS base transceiver stations) and picocells (smaller commercial repeaters). It's an important distinction if we're to really understand where this device really fits in relation to other cellular network hardware.
For some time now, AT&T has been quietly installing picocells in Apple stores across the country - they're Nokia branded boxes about 3 feet tall, a foot wide and a foot deep mounted out of sight for improving coverage where it matters. I'm told that a number of Apple store employees have affectionately nicknamed these "cancer boxes." If you look in the illustration above, that description almost matches the picocell shown in the bottom right of the center frame. It's important to note that AT&T's commercial MicroCell product
isn't
this. Building on thinkfemtocell's table
here
, I've put together a rough comparison:
| | | | |
| --- | --- | --- | --- |
| Property | Macrocell | Picocell | Femtocell |
| Installation | Carrier | Carrier | Customer |
| Backhaul | Carrier | Carrier | Customer |
| Frequency Planning | Carrier | Carrier | At activation |
| Site Planning | Carrier | Carrier | Customer |
| Range | Several Blocks - Kilometers | Malls, Stores, Businesses - 10k feet or more | Homes, Small Offices - 5k feet or less |
| Devices Allowed | All Carrier Approved | All Carrier Approved | Customer Approved |
While Node B antennas and picocells come with considerable setup overhead for the carriers, femtocells are entirely the consumer's responsibility - partly why the carriers love them. There's significantly less configuration that the carrier has to do; almost everything really critical happens during the activation process at power up. But we'll get into that later.