If the Westmere Xeon EP were a car engine, it would've been made by Porsche. With "only" six cores, each core in the new Xeon offers almost twice the performance of the competition. A 32nm CPU that only occupies 248 mm2 the Westmere Xeon EP embodies pure refinement and intelligent performance, both Porsche traits. It's just made in Portland, not Zuffenhausen.
AMD's offering today is very different. Magny-cours is the CPU version of the American muscle car. It's a brutally large 12-core CPU: two dies, each measuring 346mm2 connected by a massive 24 link Hyper Transport pipe. AMD's Magny-cours Opteron has almost two billion transistors and 19.6MB of cache on-die.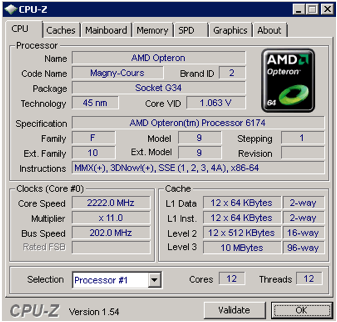 12 cores, 692 mm2 die, 19.6MB of cache on-die
It's not all raw horsepower though. At 2.2GHz this 12-core monster is supposed to be content with only 80 precious watts, and 115W at most. HT assist also makes an appearance to keep CPU-CPU accesses to a necessary minimum, a problem that could get out of hand with 12 cores otherwise. AMD originally added HT assist with its first 6-core Opterons. So Magny-Cours is a like hybrid V12 Dodge Viper with traction control. Will this cocktail of raw core muscle and energy savings be enough to beat the competitor from Portland?
For once we could not resist the temptations of car analogies. As interesting as we found the Xeon Westmere EP, something was missing: a challenger, a competitor to make things more exiting. In the last review, we just knew that the Xeon X5670 would crush the competition. This time is going to be close. AMD still won't have a chance if your application does not scale well with extra cores. In that case you are better off with the higher clocked and better per-core performance of the Intel CPUs. But it is unclear if Intel will prevail in truly multi-threaded software now that a grim and determined AMD is willing to offer two CPUs for the price of one just to win the race.