2 years, 9 months and 15 days. That's how long it's been since Microsoft CEO Steve Ballmer shrugged off the competition during an interview after the iPhone's public unveiling, until the announcement of Windows Phone 7 Series at Mobile World Congress. Since then, the smartphone market has rapidly evolved, and Windows Mobile has seen fierce and rapidly evolving competition. We've seen the introduction of two major revisions of Android and iPhone OS, incremental OS updates from RIM with BlackBerry OS, and full-on platform reboots from both Palm and Nokia. All the while, Windows Mobile has remained relatively the same, receiving subtle updates and slowly slipping from being a dominant player with almost 40% market share, to an increasingly marginalized platform showing serious age.

It isn't much of a leap to see how much a complete platform reboot was needed.
Although the details that have been revealed thus far are relatively scant, it's safe to say one thing - Phone 7 Series is Microsoft's attempt to wipe its mobile platform of Pocket PC heritage, and instead rebuild with a new UI paradigm that does away entirely with the old. Gone are the throwbacks to Windows CE: its stylus driven interface, task manager, implicit multitasking, and start menu.

Instead, they've been replaced with something radically different and refreshing for Microsoft. The Phone 7 Series UI has taken nods from the typographically-driven user interfaces that Microsoft has designed in the past and given it the capacitive multitouch treatment. The Zune HD interface is what most point to (and rightfully so), but this typography-dominated style actually traces all the way back to the interface designed for Windows Media Center, and even borrows UI elements from the NXE Xbox dashboard, according to Windows Phone Program Management Joe Belfiore. Microsoft calls this style codename "Metro."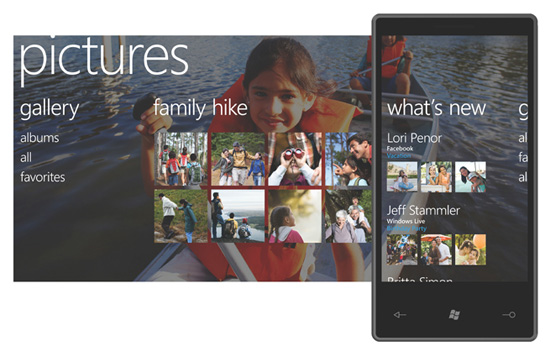 Although we haven't seen all of it yet, software is grouped into "Hubs." Microsoft has shown People, Pictures, Games, Music + Video, Marketplace, and Office very prominently as examples. The usual suspects are also present: Phone, SMS, Calendar, Email, Internet Explorer, and Bing search + maps. All of these applications have been given a hearty helping of "metro" design; simple rectangular shapes of color on a black background for a relatively spartan yet invitingly simple appearance. By their own admission, much of the experience still isn't fleshed out in its entirety, and placeholders still abound. But Microsoft is being forthcoming here by noting that much more will be shown at MIX10.
A chief UI differentiator is the integration of what Microsoft is calling "tiles." Instead of adopting a strictly unitasking workflow, Microsoft hopes to leverage inactive display by using tiles that reflect constantly updated data. Although details are scarce regarding how much freedom developers will have with what can be shown, this functionality is essentially expected to mitigate the platform's lack of traditional multitasking.
Microsoft believes so strongly in this UI that they're disallowing modification to it by both carriers and manufacturers.