AMD Entry-Level PC
Even as Intel produces the fastest desktop processors in the world, it is competitor AMD that has become synonymous with value. Under the $125 price point that Intel has set with the Core i3-530, AMD reigns supreme in both performance and raw core count for every dollar spent. Because of that, for the first time in an AnandTech Buyer's Guide, you'll find us recommending a triple-core processor for an entry-level machine.
And what a processor it is: the 2.9GHz Athlon II X3 435 Rana. Here's the 435 Rana slaughtering last year's value CPU choice, the Athlon X2 7750 BE: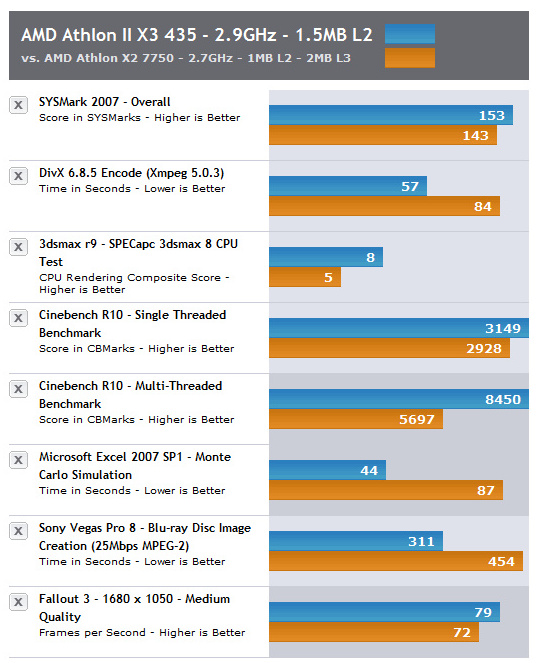 And here's the 435 Rana coming out ahead in every single benchmark against our choice for the Intel entry-level PC, the Pentium Dual-Core E5300: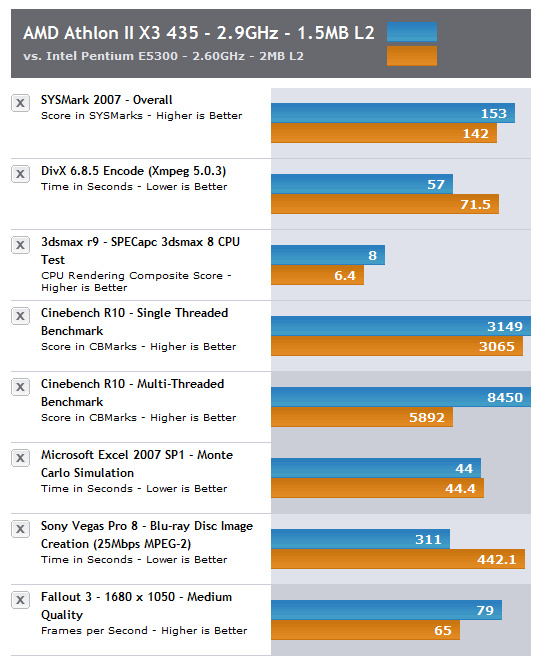 Positioned precisely at the sweet spot in AMD's lineup between the dual-core Athlon II X2s and the quad-core Athlon II X4s, the $75 Athlon II X3 435 Rana has the core count and clock speed to be the best of both worlds. It performs so admirably in both single and multi-threaded applications, in fact, as to give even low-end Phenom II CPUs a run for their money in certain benchmarks. Factor in low enough heat and power consumption that many report overclocking to 3.6GHz on air, and you have a practically perfect processor for budget enthusiasts.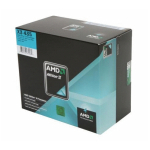 And because the 435 Rana is based on the Phenom II die, we just had to pair it with an ACC-capable motherboard. In case you're not familiar, AMD's tri-core chips actually aren't; they're quad-core CPUs binned as having a manufacturing defect in one core with that core consequently disabled. But if demand for a tri-core chip is high enough that AMD finds themselves having to disable perfectly good quad-core chips to sell them as tri-core instead… you just might be able to unlock that fourth core, and ACC (Advanced Clock Calibration) is your golden ticket.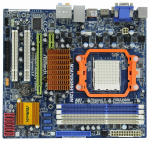 But ACC is hardly the best reason to buy the ASRock M3A785GMH/128M motherboard. The reason to buy the M3A785GMH is because for the bargain price of $77, it's one of the most full-featured Micro ATX motherboards we've seen for AMD chips. Based on the AMD 785G / SB710 chipset we favorably reviewed in August, the M3A785GMH is its most powerful interpretation—the one that comes with 128MB sideport of DDR3-1333 for enhanced video performance on its Radeon HD 4200 IGP and supports up to 16GB of DDR3-1600 system memory in four dual-channel banks. The SB710 Southbridge provides five SATA 3Gb/s ports supporting RAID 0, 1 and 10, while Realtek pulls double-duty providing 7.1-channel HD audio with their ALC888 chip and Gigabit Ethernet with their 8111DL NIC. VGA, DVI and HDMI video-out accompany an eSATA, combo PS/2, optical S/PDIF-out and four USB 2.0 ports on the rear panel, with headers for an additional six USB ports on the motherboard itself. Last but not least, a single PCIe x16, a PCIe x1 and two PCI slots appear in an excellent layout with three fan headers, an IDE slot and even a legacy floppy connector at the very bottom. If you don't feel you need the extra speed and future-proofing that comes with DDR3, you can easily shave off $12 by going with the practically identical $65 ASRock A785GMH/128M instead, which trades the Realtek ALC888 for VIA VT1708S 7.1-channel audio and an extra SATA 3GB/s port.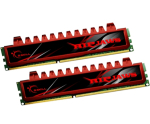 With both DDR2 and DDR3 memory prices the highest we've seen in recent memory, picking a set of fast, reliable yet inexpensive modules can be an exercise in futility. Be sure to shop around, because in all likelihood, there will be better and vastly different deals by the time you read this guide. But as of today, we believe the $105 G.Skill Ripjaws 4GB DDR3-1600 CAS 9 kit offers the best value for your money. It's true that regardless of brand and binning, the quality of memory modules varies widely, but G.Skill modules have an excellent reputation as of late, and these particular modules are designed to both run at low voltage (1.5v) and are reportedly excellent overclockers. As mentioned above, if you choose to go the DDR2 route you'll lose some overhead and future-proofing potential, but at a substantial savings of up to $30 if you choose low-cost DDR2 modules like the G.Skill DDR2-800 CAS5.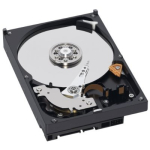 While the quality and reliability of magnetic hard drives increases year after year, we've found that actual hard drive capacity and performance is something of a commodity these days. Regardless of the manufacturer you pick today, an entry-level 500GB hard drive will cost you around $55 and offer the same performance as any of its brethren. The only exception to the rule is the WD Caviar Green, which tends to run slightly slower but quieter than its counterparts. Our current pick is the WD Caviar Blue, simply because of its widespread availability and Western Digital's stellar reputation.
Our choice for an optical drive remains the tried-and-true Sony Optiarc AD-7240S-0B, a SATA-connected 24X DVDRW with faster burning speeds and greater reliability than anything else in its price range. Though the price of Blu-ray readers has fallen considerably—the Lite-ON iHOS104-06 in particular retailing for only $60—Blu-ray is still a luxury for most budget boxes, its discussion better saved for our upgrade section on page 6.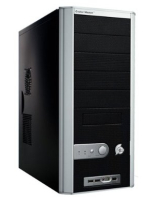 If we had to pick a single reason why low-end PCs get a bad rap, it would probably be the prevalence of cheap cases and even cheaper bundled power supplies. To combat these weaknesses, we chose the time-honored favorite Cooler Master Centurion 5 to house these budget PCs, and the OCZ ModXStream 500W PSU to power them. At $55, the Centurion 5 is a solid, stylish aluminum mid-tower with clean lines, few sharp edges, a pair of quality fans, a CPU air duct and a nearly tool-less design that makes installing drives and expansion cards quite easy. Meanwhile, the ModXStream 500W is a bona fide bargain at $40 after rebate, offering efficiency through both reduced power consumption (as certified by the 80 Plus efficiency rating) and a modular design that allows for reduced cabling and, by extension, greater airflow.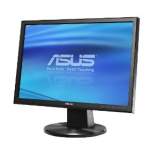 Though ASUS is known primarily as a manufacturer of motherboards, in recent years they've expanded their efforts greatly to include netbooks, sound cards and even low-cost monitors, each of which miraculously maintain the company's reputation for quality. We therefore have no reservations in recommending the $120 ASUS VW193TR, a 19" monitor with 1440x900 native resolution, DVI and VGA connectivity and a 5ms response time, all of which are more than acceptable for an entry-level screen at this price point. If you require a large desktop for productivity or intend to be viewing large amounts of HD multimedia content, however, you'll find bigger and better monitors in our upgrade section on page 6.