Hardware Setup:
Standard Test Bed
Playback of iPEAK Trace Files and Test Application Results
Processor
Intel QX6700 - 2.66GHz Quad Core
Motherboard
DFI Infinity 965-S
RAM
2 x 1GB OCZ Reaper PC2-9200
Settings - DDR2-800 - 3-4-3-9
OS Hard Drive
1 x Western Digital WD1500 Raptor - 150GB
System Platform Drivers
Intel 8.1.1.1010
Intel Matrix RAID 6.2.1.1002
Video Card
1 x MSI 8800GTX
Video Drivers
NVIDIA ForceWare 158.19
Optical Drive
Plextor PX-760A, Plextor PX-B900A
Cooling
Tuniq 120
Power Supply
Corsair HX620
Case
Cooler Master CM Stacker 830
Operating System
Windows XP Professional SP2
We are utilizing an Intel QX6700 quad core CPU to ensure our current benchmarks are not CPU limited. A 2GB memory configuration is standard in our XP test bed as most enthusiasts are currently purchasing this amount of RAM. Our choice of high-range OCZ Reaper PC2-9200 memory offers a very wide range of memory settings with timings of 3-4-3-9 used for our benchmark results.
Our test bed now includes a water-cooled MSI 8800 GTX video card to ensure our game tests are not completely GPU bound and to reduce noise/heat levels. Our video tests are run at 1280x1024 resolution for this article at High Quality settings. All of our tests are run in an enclosed case with a dual optical/hard drive setup to reflect a moderately loaded system platform. Windows XP SP2 is fully updated and we load a clean drive image for each system to keep driver conflicts to a minimum.
The drive is formatted before each test run and five tests are completed on each drive in order to ensure consistency in the benchmark results. The two high and low scores are removed with the remaining score representing our reported result. We utilize the Intel ICH8R SATA ports along with the Intel Matrix Storage driver to ensure consistency in our playback results when utilizing NCQ, TCQ, or RAID settings.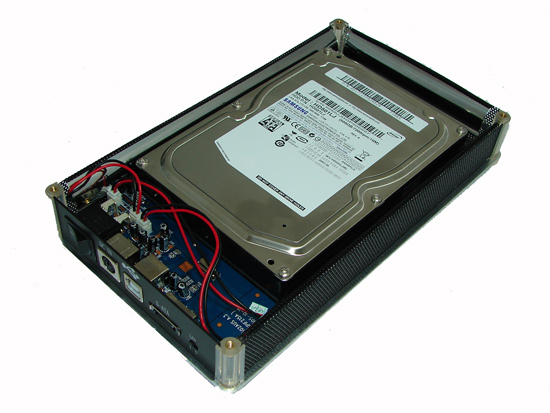 Our test drive today will be the Samsung SpinPoint T166 500GB that we recently
reviewed
. We implemented AHCI (advanced host controller interface) in the BIOS to properly test the hot swap capabilities of this drive enclosure when utilizing the SATA interface. Without the proper matrix storage driver support and ACHI implementation, hot swapping was not possible with our test bed setup.
We did update our Intel Matrix Storage driver to version 7.5.0.1017 for this review after experiencing burst rate issues in our review of the ICY DOCK M559 drive enclosure. Application performance numbers remained the same or within our benchmark tolerance range with the exception of the HD Tach burst rates that were slightly lower than our original results in the Samsung drive review. We are still investigating this issue as it only occurs on our ICH8R test bed.