PCMark05 Performance
We are utilizing the HDD test suite within PCMark05 for further comparative hard disk scores as it provides a mixture of actual application results and specific read/write percentages utilized within these programs. The program utilizes the RankDisk application within the Intel IPEAK SPT suite of tools to record a trace of disk activity during usage of real world applications. The HDD test suite contains 53% read and 47% write operations with each trace section utilizing varied amounts of read or write operations. Further details on the PCMark05 HDD tests can be found in our
previous articles
in this series.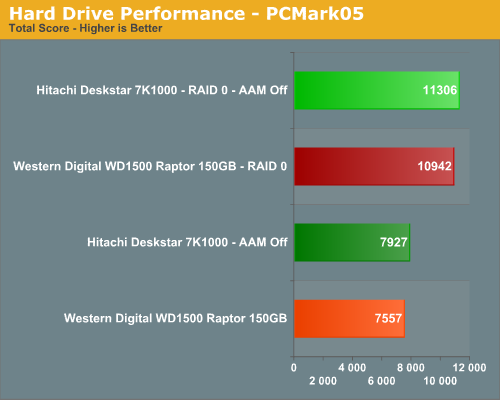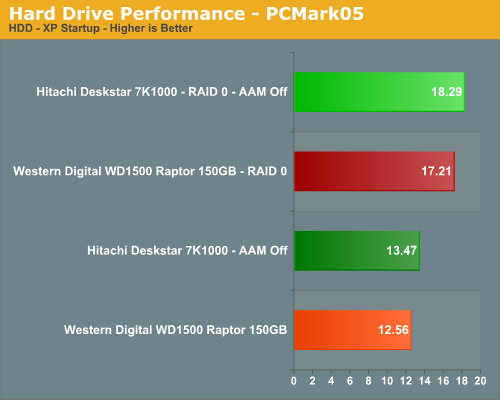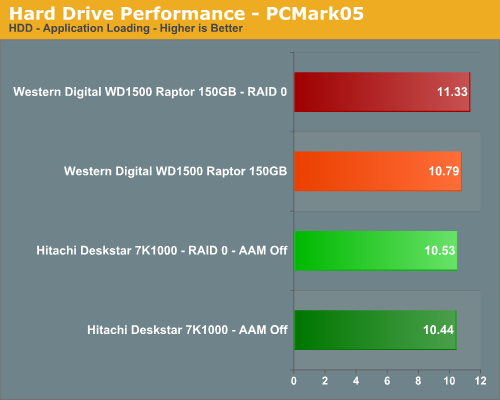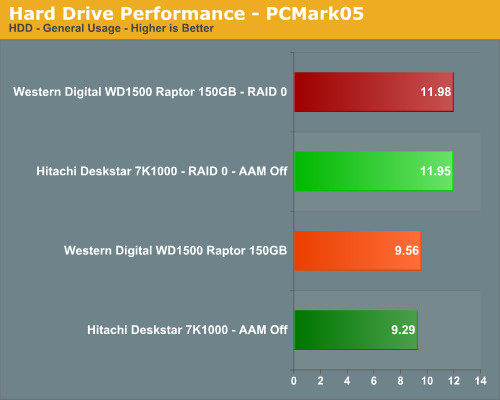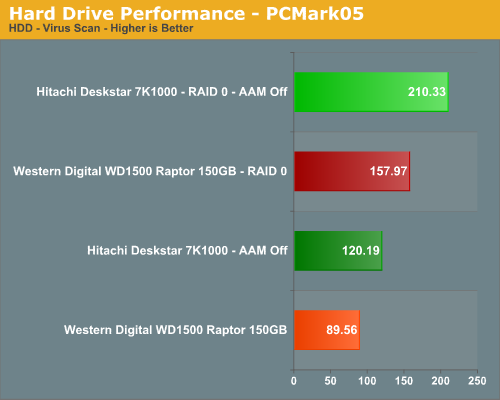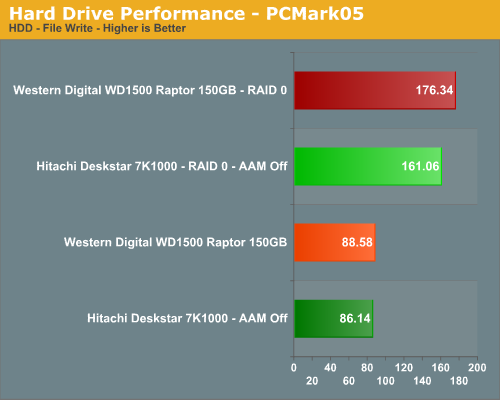 Our PCMark05 RAID 0 results show a 43% improvement over the single Hitachi drive results. Our previous test bed showed a 25% improvement with the RAID 0 setup. The 7K1000 combination scores better 3% in RAID 0 and 4% better in single drive testing than the WD 150GB Raptor setup. In previous testing the differences were withing a half percent between the two drives. We ran the test several times and also changed motherboards but had the same results with an Intel chipset.
The major performance delta between the 7K1000 single and RAID 0 configuration is in the Windows Startup, Anti-Virus, and File Write tests. We fully expected the File Write tests to show major improvements as this is an area where RAID 0 performance usually shines. We see minor differences occurring in the Application Loading test where read speeds are critical in a variety of applications. However, our General Usage test is showing a 28% improvement in a test that balances both read and write speeds. This indicates the strength of a RAID 0 setup in applications such as media encoding that can benefit from the improved speeds.
The Raptor's superior rotational/access speeds allow it to basically score slightly better than the 7K1000 except in the Virus Scan and Windows startup tests. Overall, if you need to greatly improve your PCMark05 benchmark scores then RAID 0 will certainly do that for you. In the Application results which utilize actual applications there is minimal impact but the General Usage result indicates a 25% improvement. The question still remains if these improvement percentages will correlate to improvements in actual applications.