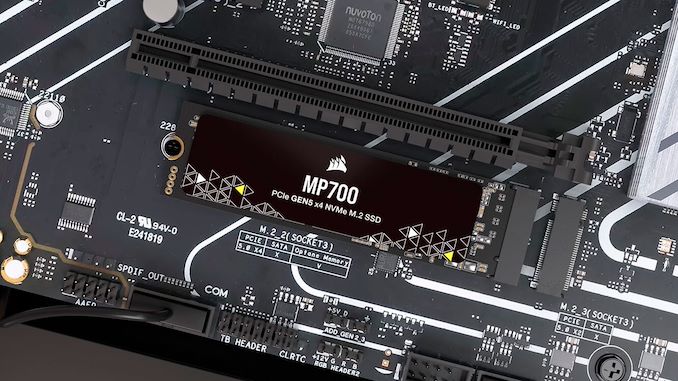 After a few teasers and months of waiting, Corsair has finally launched the MP700, the company's first PCIe 5.0 SSD. The MP700 aims to win enthusiasts over with its ample capacity and high-speed performance. With sequential speeds up to 10,000 MB/s, the MP700 is ready to compete with the best SSDs that are presently on the market.
The MP700 is a standard M.2 2280 drive that fits into the PCIe 5.0 x4 M.2 interface and supports the latest NVMe 2.0 protocol. Initially, Corsair had advertised the MP700 with a thick cooler but ultimately decided to commercialize the drive without one. However, that doesn't mean consumers should run the MP700 au naturel since the SSD will likely suffer thermal throttling. Therefore, the recommendation is to use the motherboard's integrated M.2 heatsink or an aftermarket M.2 SSD cooler with the MP700 to ensure optimal operation. In addition, the MP700 features a double-side design, so that's something to consider when purchasing a retail M.2 cooling solution.
The MP700 features the Phison PS5026-E26 PCIe 5.0 SSD controller and Micron 232-layer 3D TLC NAND. The SSD flaunts sequential read and write speeds up to 10,000 MB/s on the 2 TB model. On the other hand, the 1 TB model has slightly lower specifications, with 9,500 MB/s sequential reads and 8,500 MB/s sequential writes. Random performance on the top SKU escalates to 1.7 million IOPS reads, and 1.5 million IOPS writes. Phison's E26 controller supports NAND speeds up to 2,400 MT/s, so on paper it can hit numbers as high as 15,000 MB/s. The MP700, like some of its other rivals, possesses NAND that operates at 1,600 MT/s, limiting the PCIe 5.0 drive's actual performance numbers to 10 GB/s. The MP700 also packs a decent DRAM package; on the 2 TB version, the drive comes with 4 GB of LPDDR4 memory. which is twice as much memory as we usually see on a 2 TB SSD.
Corsair MP700 Specifications
Capacity
1 TB
2 TB
Form Factor
M.2 2280
M.2 2280
Interface
PCIe 5.0 x4, NVMe 2.0
PCIe 5.0 X4, NVMe 2.0
Controller
Phison PS5026-E26
Phison PS5026-E26
NAND Flash
Micron 232-layer 3D TLC
Micron 232-layer 3D TLC
Sequential Read
9,500 MB/s
10,000 MB/s
Sequential Write
8,500 MB/s
10,000 MB/s
Random Read
1.6M IOPS
1.7M IOPS
Random Write
1.3M IOPS
1.5M IOPS
Power Consumption
10.0 W
10.5 W
Endurance
700 TBW
1,400 TBW
Warranty
5 Years
5 Years
Pricing
$169.99
$289.99
Given that this is a high-end PCIe 5.0 SSD, Corsair is understandably eager to promote its use with Microsoft's DirectStorage API for faster game loading. While there's no specific hardware for this on the SSD side of matters – these are still bulk data transfer devices at the end of the day – Corsair and other vendors are aiming to sell their high-end SSDs to gamers who want the absolute highest performance possible – or at least the smallest bottlenecks. Sadly, Forspoken is the only game right now that supports DirectStorage. As a result, the feature isn't going to be a differentiator on Corsair's MP700 until more titles arrive with support for it.
The MP700's flagship performance comes at a cost. The Phison E26-powered SSD is a demanding drive in terms of power. The rated power consumption of the MP700 is around 10 watts for the 1 TB SKU and 10.5 watts for the 2 TB model. It draws substantially more power than some PCIe 4.0 drives, such as Corsair's own MP600 1 TB PCIe 4.0 SSD, rated for 6.5 watts. Power equals heat, which is the reason why the MP700 is dependent on a cooler to hit its maximum potential, especially during prolonged workloads.

The MP700, in its 1 TB presentation, has an endurance of 700 TBW, whereas the 2 TB flavor is good for 1,400 TBW. However, the ratings align with the competition since most PCIe 5.0 drives currently on the market use the same combination of the Phison E26 controller and Micron 232-layer NAND. In either case, Corsair backs the MP700 with a five-year warranty.
Corsair sells the MP700 1 TB (CSSD-F1000GBMP700R2) for $169.99 and the MP700 2 TB (CSSD-F2000GBMP700R2) for $289.99. These are premium price tags, and it's the price that consumers will have to deal with when it comes to early adopter technology.
Many brands have announced their PCIe 5.0 offerings, but few have hit the retail market. CFD Gaming's PG5NFZ drives are hard to come by in the U.S. market. On the other hand, Gigabyte's Aorus Gen5 10000 SSD comes back in stock every once in a blue moon. Meanwhile, the MP700 is available on Corsair's website and authorized worldwide retailers and distributors.
Source: Corsair