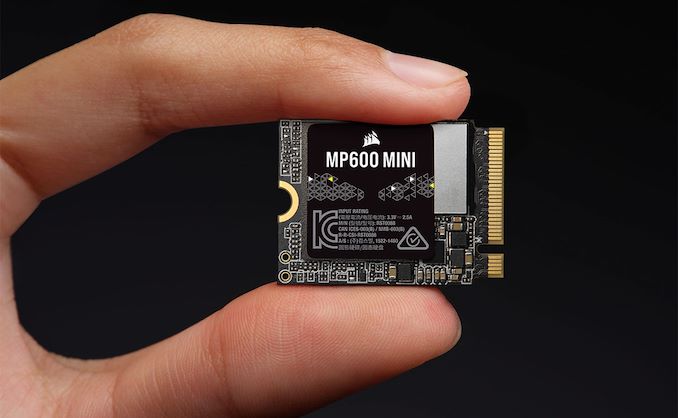 Corsair has introduced its first ever SSD in an M.2-2230 form-factor that is aimed at ultra-compact systems like Valve's Steam Deck as well as Microsoft's Surface Pro 8 and 9. The MP600 Mini drive delivers 1 TB of storage space and strong performance in a miniature package.
Corsair's MP600 Mini is based around Phison's E21T controller mated with 3D TLC NAND memory (according to Tom's Hardware) and is rated with an up to 4,800 MB/s sequential read/write speed as well as an up to 850K/1.1M random read/write IOPS. The SSD consumes about 4.3W on average and comes with a simplistic graphene heatspreader, which makes it compatible with the vast majority of systems out there.
Since Corsair's MP600 Mini uses a PCIe 4.0 x4 interface, it will shine in the vast majority of modern laptops and hybrid PCs. Though as far as Valve's Steam Deck is concerned, keep in mind that it uses a PCIe 3.0 x4 interface, so the MP600 Mini won't get to fully stretch its legs there in terms of throughpt.
Corsair MP600 Mini Specifications
Capacity
1 TB
Form Factor
M.2 2230
Interface
PCIe Gen4 x4, NVMe 1.4
Controller
Phison PS5021-E21T
NAND Flash
3D TLC
Sequential Read
4800 MB/s
Sequential Write
4800 MB/s
Random Read
850k IOPS
Random Write
1100k IOPS
Endurance
600TBW
Warranty
5 Years
Power
Active
4.3 W
Idle
5 mW
The market for retail M2.2230 SSDs has traditionally been a small one, owing to the limited use of the drives in user-upgradable machines. However the recent launch of the Steam Deck in particular has kicked up significant demand for these SSDs – especially high-performance drives befitting a game console. So Corsair's MP600 Mini is a welcome addition to the space.
Corsair currently sells its MP600 Mini directly for $110, which might seem expensive for a 1 TB drive, but keeping in mind that we are dealing with a pretty fast model that comes in an M.2-2230 form-factor (a rare combination), the price is consistent with similar drives.
Source: Corsair