BIOS
Upon entering the BIOS on the EVGA X570 Dark, it has a beautiful GUI, listing four main sub-entry points into the firmware. The GUI itself is based around EVGA's primary color scheme, including turquoise, greys, blacks, with white text.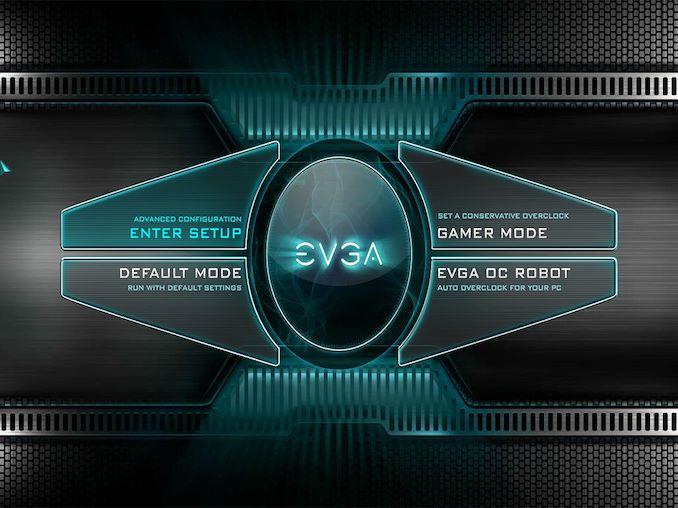 Looking at the four main options for users to select from when first entering the firmware, users can choose enter setup, which opens up all of the motherboard's settings. Users looking to just get on with things without making customizations can simply select the Default Mode option. On the right-hand side, users can select Gamer Mode, which applies a moderate overclock, or users can choose the EVGA OC Robot, which lets the firmware tweak and change things for maximum performance.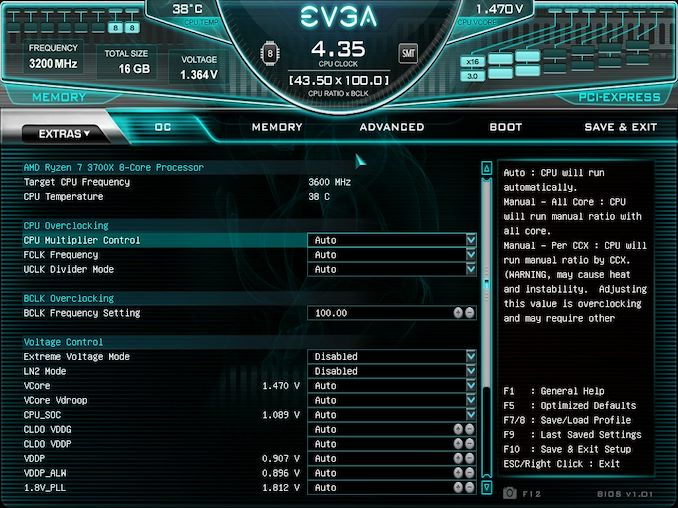 Using the Enter Setup option from the initial splash screen takes you straight to the overclocking settings available on the board. Within this section of the firmware, users can overclock the processor, with memory options located in the next tab. There's plenty for users to customize, including CPU Core frequency, BCLK frequencies, as well as a large selection of voltages with an LN2 mode available for users to select from. Note, don't enable LN2 mode unless you're using sub-ambient cooling methods, as this may cause damage to processors in normal circumstances.
In terms of memory options, users can enable X.M.P. 2.0 profiles on compatible kits of memory, customized frequency, the Infinity Fabric (FCLK) frequency, and various primary, secondary, and tertiary latencies. In the advanced section of the firmware, users can change storage options, enable Resizable B.A.R. support, and enable or disable the onboard controllers.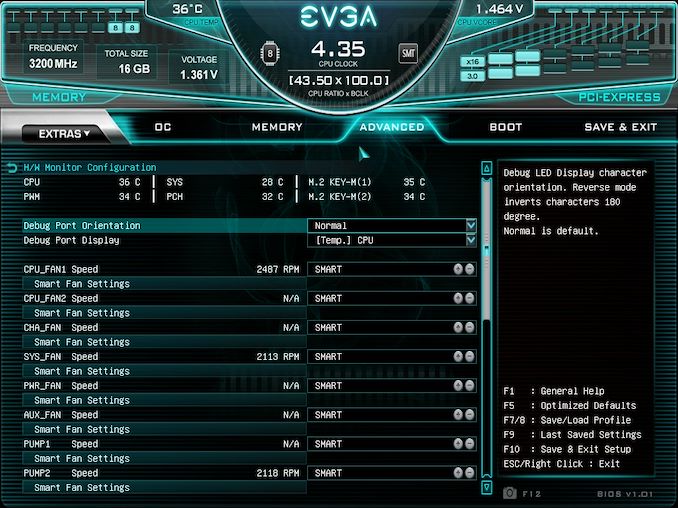 Users can customize the fan profiles on each of the eight 4-pin fan headers within the advanced section. EVGA also includes dual two-digit L.E.D. debuggers, which can actually display information such as CPU VCore, CPU temp, and even V.R.M. temp in real-time. Users can turn this off if they wish to do so, but in our testing, this was handy to monitor V.R.M. temperatures as the sensor itself doesn't currently work with HWInfo; this could change in a later revision however.
Overall the EVGA firmware is functional, easy to navigate, and responsive to our USB keyboard and mouse. It's very focused on performance, with various options designed for users to achieve this.
Software
With the decline in optical media usage, EVGA includes a small USB stick within the accessories bundle, which contains drivers and software for users. We wish more companies would do this, with just select models from select vendors offering this.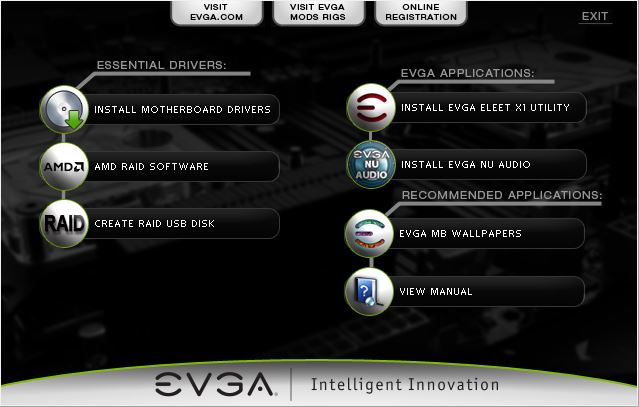 Plugging in the inclusive USB drive and clicking on the executable file brings up a list of options. These allow users to install essential drivers, including AMD's RAID software, with other possibilities, including EVGA's ELEET X1 overclocking utility, EVGA's N.U. Audio software, and even includes EVGA flavored wallpapers for users to install.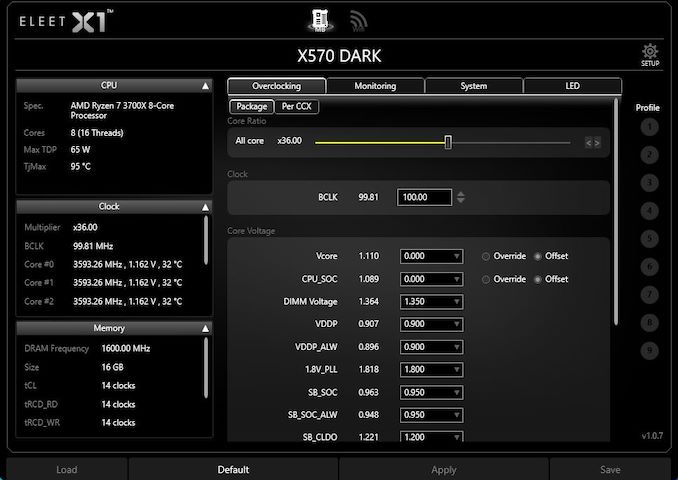 Looking at the EVGA ELEET X1 software, the utility amalgamates various elements, including overclocking, system monitoring, and control of both the integrated RGB LEDs and external ones users choose to install. There's plenty of overclocking options for users to customize, and provides a more comprehensive set of options than AMD's own Ryzen Master software. Options include CPU frequency (all-core only), CPU VCore, DRAM voltage, SoC, VDDP, P.L.L., and these can be adjusted without rebooting the system.
Overall, EVGA's software package is light compared with some of the competition. Still, the board is marketed for extreme overclocking, maximum performance, and as such, the software that comes included is more than ample.