Graphics Performance
Intel has made a lot of strides in terms of graphics performance in a short amount of time. After languishing with integrated graphics that were adequate for 2D but no more, Intel has put a priority on graphics. Last year's Ice Lake platform's Gen11 graphics used the same basic graphics architecture, but increased the GPU size dramatically to 64 Execution Units on the G7 processors. For Tiger Lake, not only has that number been bumped again to 96 Execution Units (EUs), the architecture is getting a revamp as well, and thanks to the 10 nm SuperFin process, GPU frequencies are also getting a significant boost from 1100 MHz to 1350 MHz peak.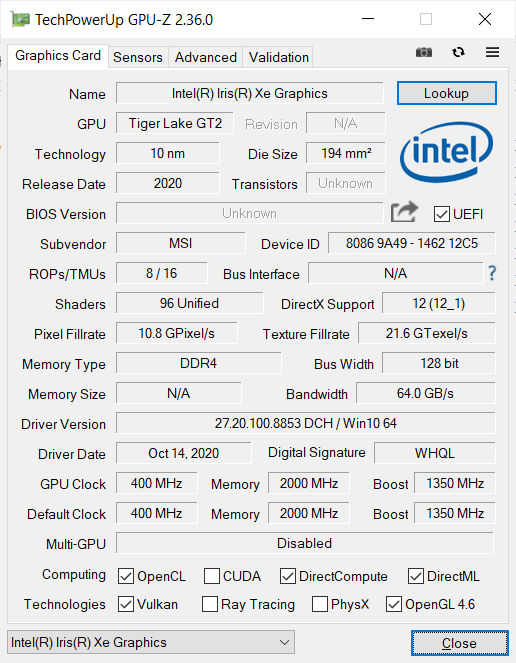 Coupled with even faster LPDDR4X-4267 memory, the GPU in the Core i7-1185G7 is far and away the most powerful GPU Intel has ever integrated into a laptop SoC. It also includes a new media block with AV1 codec decode support in hardware, and a 12-bit end-to-end video pipeline. Intel has come a long way in terms of graphics performance in just two generations. You could argue they had a long way to go of course, but it is still impressive to see this big of a jump in just two generations.
MSI will also be launching a model of the Prestige 14 Evo which includes the NVIDIA GTX 1650 in Max-Q configuration, so if you do need more GPU performance, MSI will be able to deliver.
Laptop integrated graphics were so anemic only a couple of generations ago that we were only able to test them in the most low-end games, but with AMD's integrated Vega and now Intel Xe graphics, we will continue to broaden the tests for Ultrabooks. For today, we will start with a couple of synthetics, and then get into our laptop gaming suite.
3DMark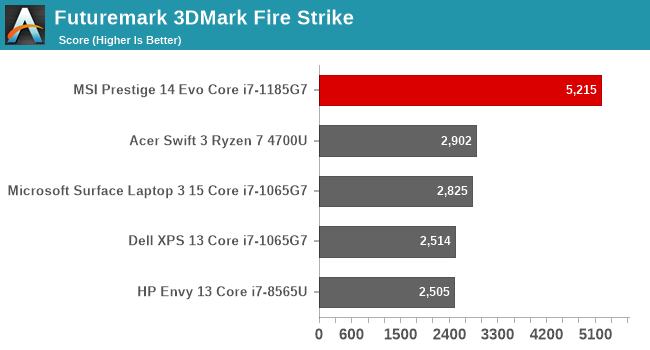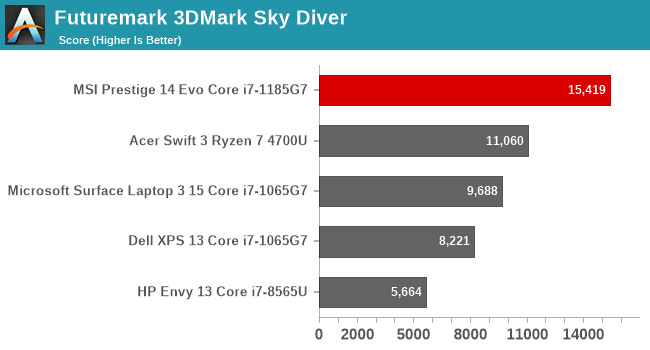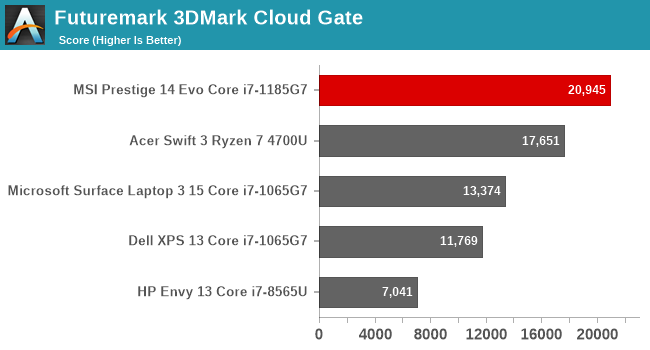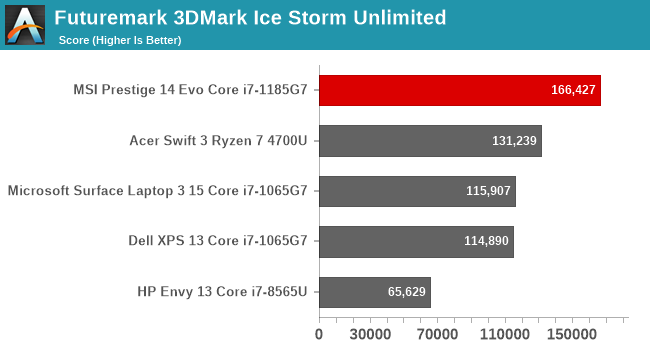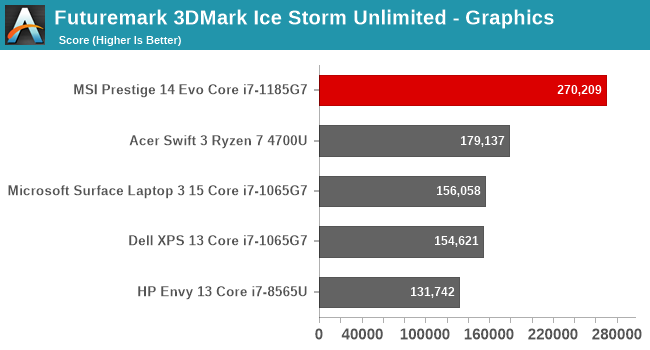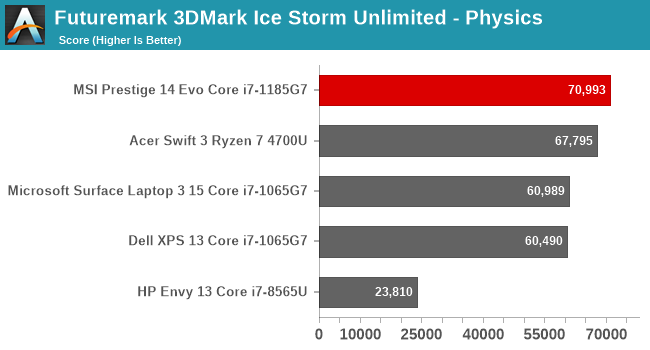 Offering a wide-array of tests with different graphical workloads, UL's 3DMark allows for a very wide range of testing. For laptops, we test Fire Strike, Skydiver, Cloud Gate, and Ice Storm Unlimited, with the former being the most complex of the bunch, and Ice Storm Unlimited being a test that can be run on smartphones and tablets.
Intel Xe delivers. On Fire Strike, the Core i7-1185G7 in the MSI Prestige 14 Evo scores close to twice as high as the Core i7-1165G7. This test is the most complex, and therefore the one that bottlenecks on the GPU the most. The gains continue to be very strong across the board, even on the less complex tests which end up being more CPU bound. The combination of Intel Xe graphics and the Willow Cove cores showcase the gains made pretty dramatically.
GFXBench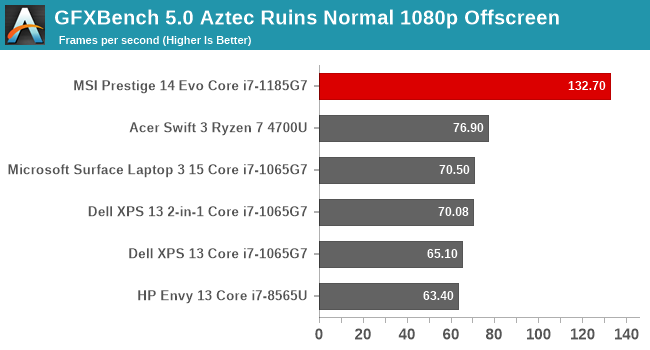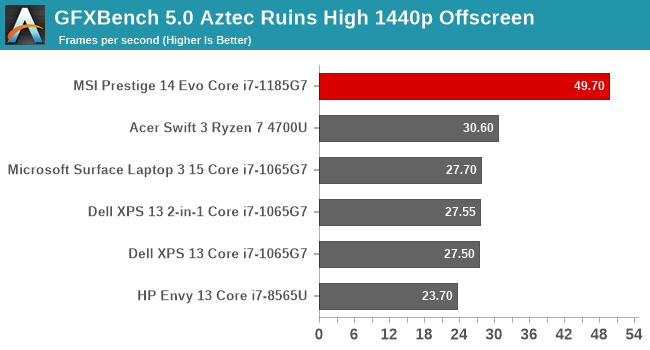 Version 5 of GFXBench revamped the test suite, and included DirectX 12 workloads of the same Aztec scenes as found in Kishonti's smartphone / tablet offerings, but built with the native Windows API as the target. The results here are almost the same as 3DMark, with the new Intel Xe graphics almost doubling the performance of the outgoing Ice Lake systems.
Tomb Raider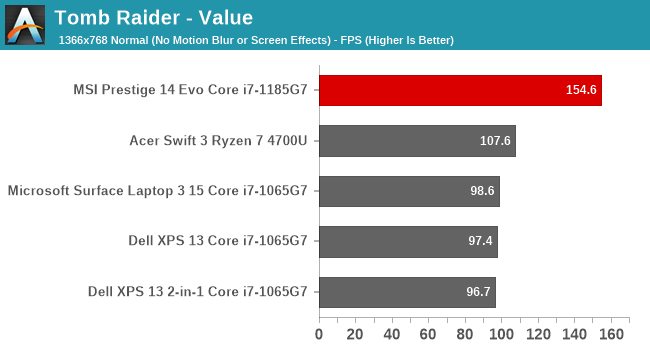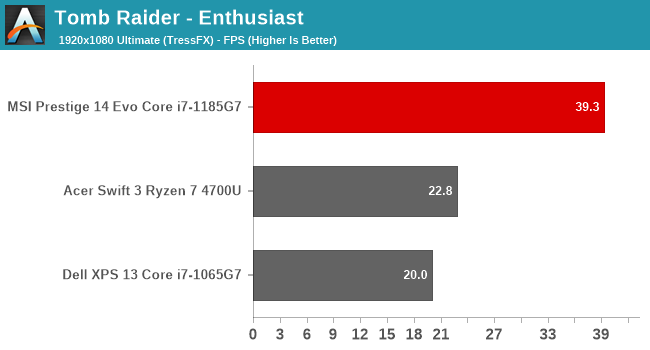 Despite being several years old now, the Tomb Raider reboot continues to be a demanding game on notebooks, especially at 1920x1080 with all of the settings turned up. 39.3 frames per second at our Enthusiast level is still less than ideal, but more than doubles the performance of last year's Ice Lake processor.
Rise of the Tomb Raider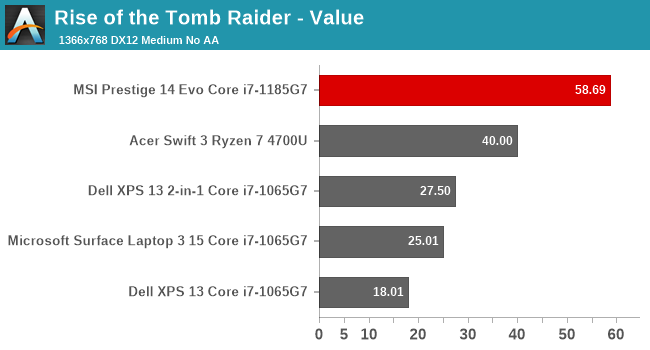 Adding a higher level of graphics, and DirectX 12 support, Rise of the Tomb Raider is a much more demanding game than the original Tomb Raider reboot. As such, we only run it at our value settings on integrated GPUs, but for the first time, the MSI Prestige 14 gets really close to the 60 FPS average framerate we are looking for, and again, more than doubles the performance of an Ice Lake processor.
Strange Brigade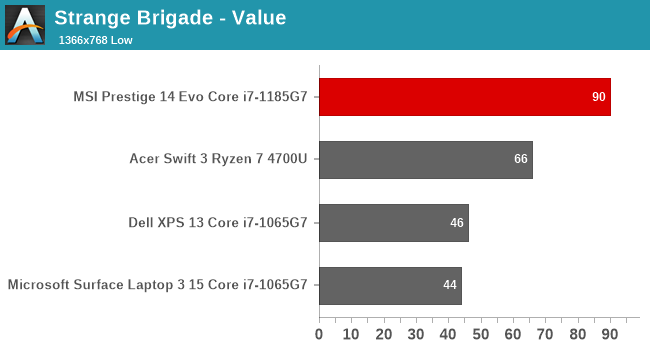 Another DirectX title is Strange Brigade, which is playable on our value settings even on previous integrated graphics at around 60 FPS. The MSI Prestige smashes past that barrier on our value settings, and is 50% faster in this test than Intel's Gen11 GPU. Attempting to play this at our Enthusiast level of settings (1920x1080 Ultra) is still not possible, as the laptop only achieved 27 FPS average, but there is enough performance here that the game doesn't need to be played at the lowest settings.
F1 2019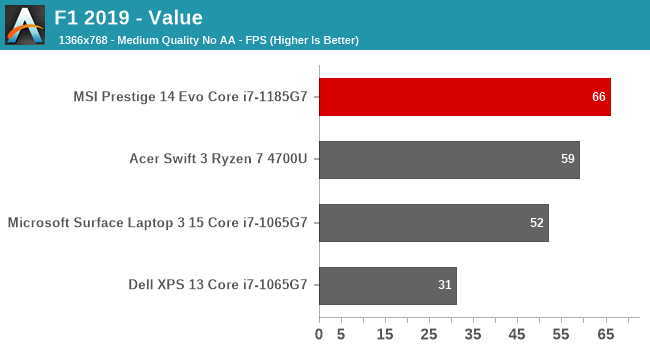 Codemasters' F1 2019 has traditionally been a more CPU bound test, and that seems to resonate here again. Although the game was significantly faster than an Ice Lake system, it was not the 50-100% faster that it is on some other titles.
Far Cry 5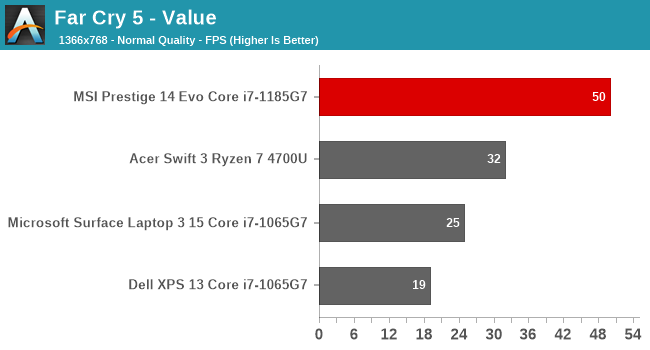 Ubisoft's popular Far Cry series also includes a built-in benchmark, and traditionally integrated graphics have been right on the cusp of being playable. The MSI Prestige 14 is really the first device we've tested with integrated graphics that can actually play this top-tier FPS at reasonable framerates, once again being about double the performance of the outgoing Ice Lake SoC.
GPU Summary
After years of offering integrated graphics that were adequate for desktop work, Intel has clearly focused a lot of their resources on improving GPU performance. The new Xe graphics were up to twice as fast in real-world games than the outgoing Gen11 GPU with 64 EUs. That is very impressive. The new larger GPU wins across the board, and easily outpaces the Vega graphics found in competing AMD systems. It is an impressive achievement. With Intel moving into the dGPU space, hopefully this progress continues.