Final Thoughts
Today's preview focused solely on the performance metrics of the new chipset, which only cover a very small subset of the new features that the chip will be bringing to devices next year. A lot of the talking-points of the new SoC such as 5G connectivity, or the new camera and media capabilities, are aspects for which we'll have to wait on commercial devices.
For what we've been able to test today, the Snapdragon 865 seems very solid. The new Cortex-A77 CPU does bring larger IPC improvements to the table, and thanks to the Snapdragon 865's improved memory subsystem, the chip has been able to showcase healthy performance increases. I did find it odd that the web benchmarks didn't quite perform as well as I had expected – I don't know if the new microarchitecture just doesn't improve these workloads as much, or if it might have been a software issue on the QRD865 phone; we'll have to wait for commercial devices to have a clearer picture of the situation. System performance of the new chip certainly shouldn't be disappointing, and even on a conservative baseline configuration, 2020 flagships should see an increase in responsiveness compared to the Snapdragon 855.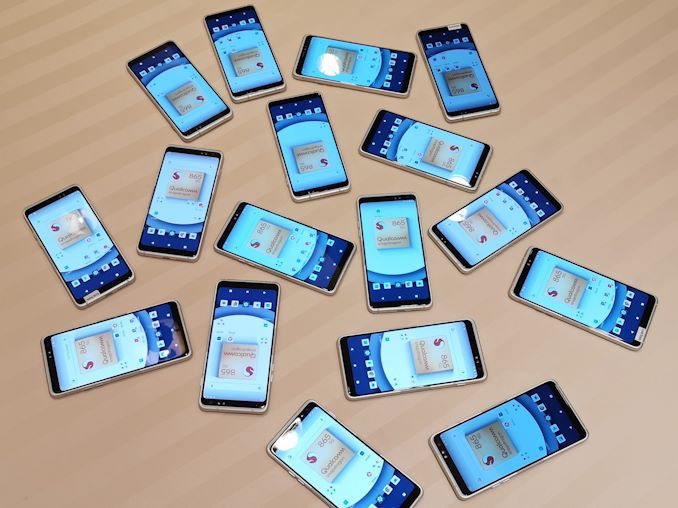 AI performance of the new chip is also improved – although our limited benchmark suite here isn't able to fully expose the hardware improvements that the S865 brings with it. It's likely that first-party camera applications will be the first real workloads that will be able to showcase the new capabilities of the chip.
On the GPU side, the improvements are also quite solid, but I just have a feeling that the narrative here isn't quite the same anymore for Qualcomm, as Apple's the elephant in the room now here as well. During the launch of the chipset the company was quite eager to promote that its sustained performance is better than the competition. While we weren't able to test this aspect of the Snapdragon 865 on the QRD865 due to time constraints, the simple fact is that the chip's peak performance remains inferior to Apple's sustained performance, with the fruit company essentially dominating an area where previously Qualcomm was king. In this regard, I hope Qualcomm is able to catch up in the future, as the differences here are seemingly getting bigger each year.
Overall, the Snapdragon 865 seems like a very well-balanced chip and I have no doubt it'll serve as a very competitive foundation for 2020 flagships. Qualcomm's strengths lie in the fact that they're able to deliver a complete solution with 5G connectivity – we do however hope that in the future the company will be able to offer more solid performance upgrades; the competition out there is getting tough.